Convergence –
Learning Communities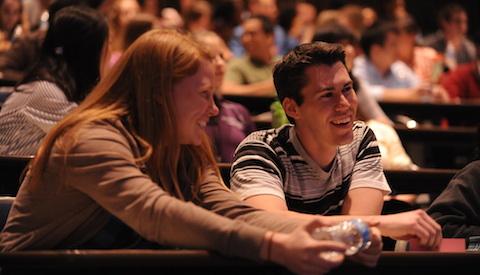 Convergence collaborates with established learning communities to bring students together for interactive, interprofessional education. Goals and curricula are developed together by faculty and student representatives from the participating schools: UT Southwestern Medical School, UT Southwestern School of Health Professions and Texas Woman's University College of Nursing.
Each school supports a unique learning community design. These different designs serve as structures for advancing interprofessional education among the three schools. The learning communities within each school are:
Academic Colleges
The UT Southwestern Medical School sponsors Academic Colleges. Each of the six Academic Colleges brings together clinical teaching faculty as mentors for small groups of students. Students are mentored in clinical medicine and reasoning, interpersonal and communication skills, ethics, professionalism, and human behavior.
Interprofessional Development, Education, and Active Learning (IDEAL) Teams
The UT Southwestern School of Health Professions sponsors Interprofessional Development, Education, and Active Learning (IDEAL) teams. Each team is composed of a small group of students from the various health professions training programs. Faculty advisors who have experience with interdisciplinary communication and other skills lead the groups.
Clinical Rotation Groups
Building upon a strong Liberal Arts education, the TWU College of Nursing challenges students to develop critical thinking and clinical decision making in the delivery and coordination of care. Facilitated by nursing faculty, small groups of students engage in clinical experiences at area health care facilities and community agencies. Caring for patients and their families enables nursing students to grow in professional responsibility and personal accountability.