Passions for ophthalmologic research, care inspire 2023 Ho Din Award winner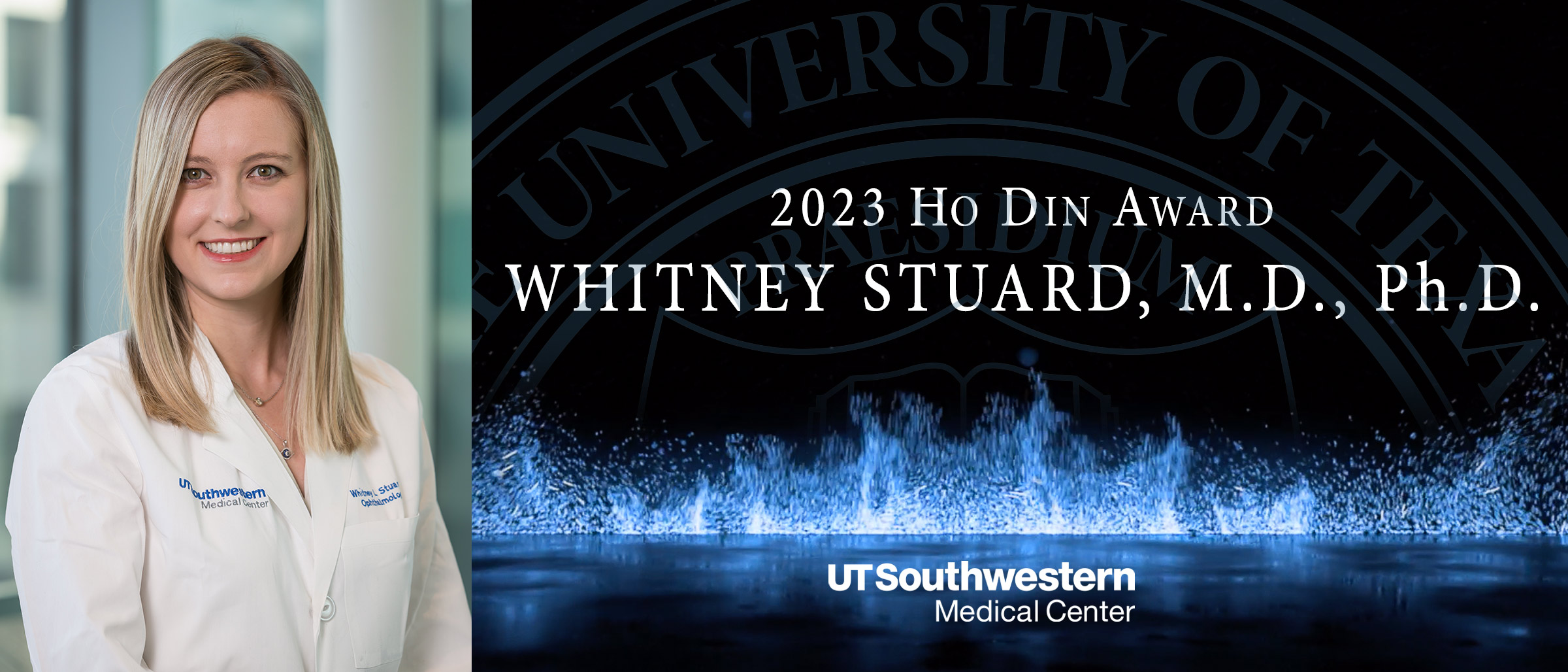 The field of ophthalmology immediately hooked Whitney Stuard, M.D., Ph.D., as she found that her passions for patient care and research fused seamlessly into a specialty with unlimited potential for impact.
"As a physician-scientist, I will have the opportunity to effect change," Dr. Stuard said. "The eye's value and importance in everything we do attracted me to the core mission of the profession."
Beyond Dr. Stuard's devotion to research and clinical care focused on the eyes, she also has spent the past four years of medical school at UT Southwestern getting involved in every way imaginable. She excelled in community service, leadership, and clinical care, leading to her selection for the Ho Din Award, UT Southwestern Medical School's most prestigious honor. The award, bestowed annually by the Southwestern Medical Foundation to a recipient with the skills of a great physician, was established in 1943 and comes with a medal, certificate, and $10,000 scholarship.
"Whitney Stuard is a tremendous choice for the Ho Din Award," said Michael McMahan, President and CEO of Southwestern Medical Foundation. "She has lived the values of wisdom and compassion that this Award represents through her dedication to deep academic accomplishment and community service. We will be delighted to follow her life and career as she continues to lead and serve in medicine during the years to come."
"Dr. Stuard has a lengthy record of excellence in academics, service, and scholarship. She developed an interest in research early in medical school and was accepted to the Dean's Research Scholar program for 2018-2019, during which she discovered a love for basic science research," added Blake Barker, M.D., Associate Dean of Students, Associate Professor of Internal Medicine, and Chair of the Student Awards Committee.
After her third year of medical school, Dr. Stuard joined the Perot Family Scholars Medical Scientist Training Program (MSTP) at UT Southwestern. She received a National Institutes of Health F30 Predoctoral Fellowship grant from the National Eye Institute to study dry eye disease mitochondrial health.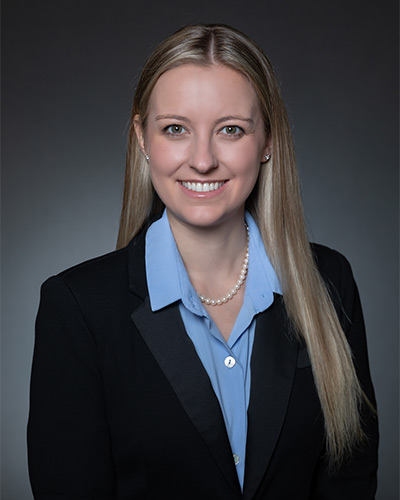 "After one year of dedicated research, I acquired a passion," Dr. Stuard said.
As an MSTP student, Dr. Stuard investigated what happens in cells of the cornea during eye disease. Working in the laboratory of Danielle Robertson, O.D., Ph.D., Professor of Ophthalmology, she published nine first-author papers. Last year, Dr. Stuard successfully defended her Ph.D. and published a study in the Federation of American Societies for Experimental Biology's journal.
"To me, the eyes are the most magical part of the human body: a combination of art, emotion, and science," she said. "I hope to mold this interest I have developed through both my laboratory and clinical experiences to make contributions in restoring sight to those who have lost it."
She gives credit to outstanding mentors for her success, especially the support she received from Dr. Robertson.
"Dr. Robertson emphasized the importance of eloquently conveying my vision and growing my network, and she helped me prepare for national presentations. Most of all, she gave me the opportunity to cultivate mentorship skills of my own," Dr. Stuard said, adding that she would like to model herself after Dr. Robertson and physician-scientist Andrew Zinn, M.D., Ph.D., Dean of the Graduate School of Biomedical Sciences and a Professor of Internal Medicine with a secondary appointment in the Eugene McDermott Center for Human Growth and Development.
"Like them, I aspire to work as a research scientist at an academic institution and to be a part of the leadership of that institution," she said.
As for her immediate post-graduation plans, Dr. Stuard will head off to Johns Hopkins University this summer, where she matched for her residency to pursue her career in ophthalmology.
Growing up in Plano, Texas, with two sisters, Dr. Stuard loved math and science from an early age and graduated from the Texas Academy of Mathematics and Science in Denton. She then enrolled in UT-PACT, a seven-year combined B.A./M.D. program at UT Dallas and UT Southwestern.
Her initial attraction to medicine has a family connection. Her mother is a registered nurse in emergency medicine, while her father recently retired as an elementary school principal. Another strong influence was Robert Gunby, M.D., who delivered Dr. Stuard when she was born and remains her physician to this day.
"He is a leader in the Texas Medical Association (TMA). One of my favorite memories was being able to work alongside him in the TMA since we were both delegates of the TMA to the American Medical Association," she added.
Dr. Stuard's dedication to community service grew from her work in middle and high school in the National Charity League, a mother-daughter philanthropic organization. At UT Southwestern, that devotion continued as she co-founded a student interest group focused on disabilities and a 501(c)(3) nonprofit organization, Cradled with Love, which has provided more than 1,000 mothers with baby wraps to allow for "kangaroo care," skin-to-skin contact between a caregiver and child to promote bonding. In addition, she was one of three medical students who co-founded and manages Brother Bill's Helping Hand student-run free clinic – which provides pediatric care and public health education in an underserved community in Oak Lawn.
Through an international Schweitzer Fellowship, Dr. Stuard created a STEM Empowerment and Education Course for 250 middle school students and also used a $2,000 TMA Foundation grant for a STEM project that inspired more than 4,000 students to consider careers as aerospace engineers. While at UTSW, Dr. Stuard received the Gold Presidential Service Award for volunteer hours four times and was a finalist for the UTSW Martin Luther King Jr. Scholarship Award in 2016.
Through it all, she never stopped learning. She said a clinical rotation at a Dallas County hospital taught her how language and cultural barriers can impact patient care. "In hopes of better relating to my patients, I took Spanish classes through medical school, building on my previous exposure during a college semester abroad in Spain," she said. "While not a substitute for a medical translator, I found that small conversations and actions were crucial in bringing comfort to a patient's experience. I found this personal touch to be an integral part of my own satisfaction and joy in practicing medicine."
Anytime she encounters a need, she tries to envision a response. A past President of UTSW's TMA student chapter, Dr. Stuard helped lead its selection as the 2022 TMA Student Chapter of the Year, and she helped author more than 30 policies to improve patient care through her volunteer advocacy, she said.
Asked how she can do it all, she laughed, "A lot of coffee and a continual hunger to keep pushing forward!"
Watch: Whitney Stuard receives 2023 Ho Din Award
Medical school also held one more adventure for Dr. Stuard.
During a traditional multiday Indian wedding in the Dallas area in April, she married UTSW Medical School graduate Varun Sambhariya, M.D., who was completing his residency in orthopedic surgery at John Peter Smith Hospital in Fort Worth.
"We first met each other when I was only 15 years old and joined the Texas Academy of Mathematics and Science. He was one year ahead of me and went off to the University of Southern California for college. We re-met my first year of medical school when he was an MS2," she said. "We started dating a couple of weeks into my first year of medical school and have been together for the last eight years!"
The couple plans to reunite in Baltimore after Dr. Sambhariya completes a spine fellowship at Harborview Medical Center in Seattle during the next academic year. And although she planned to walk at graduation under her maiden name, once she arrives in Baltimore for her next adventure, she will be known as Dr. Whitney Stuard Sambhariya.