MSTP student honored as TMA Student of the Year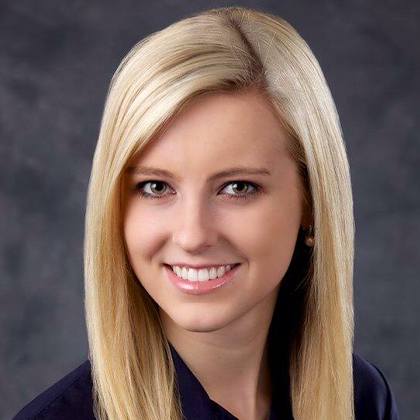 From her earliest days at UT Southwestern, Whitney Stuard has passionately volunteered in areas of the community where she saw barriers to health care access. But her hours of service were never enough.
"The more I volunteered, the more it became clear that just helping out vulnerable communities did not help end the health care disparity impacting them," said Ms. Stuard, now completing her sixth year in UTSW's Medical Scientist Training Program (MSTP). "The Texas Medical Association gave me the opportunity to take the disparities I saw and write policy to help end those gaps in treatment."
One policy Ms. Stuard wrote – which she hopes will be adopted by the Texas Medical Association (TMA) – advocates to eliminate sobriety requirements within current Texas Medicaid laws that prevent many patients with hepatitis C virus (HCV) and co-occurring substance use disorder from having access to treatment for HCV.
"It is important to me that people are able to access treatment and that TMA and I advocate to break down the existing barriers that still hinder access to health care," she said.
Earlier this year, Ms. Stuard received the TMA Student of the Year award, which is given annually to a Texas medical student exemplifying outstanding service to the TMA Medical Student Section.
Ms. Stuard serves as co-President of UTSW's student chapter of TMA and the American Medical Association. Through the TMA Medical Student Section Mentorship Program, she is mentoring three medical students this year. She also helped implement an advocacy project – "STEM Education and Empowerment" – to inspire girls and minority students in the Richardson and Plano school districts to pursue science, technology, engineering, and math. That initiative was awarded a TMA Foundation grant.
In addition, Ms. Stuard is a 2020 Albert Schweitzer Fellow, a student adviser of DFW Hepatitis B Free Project, a past Monday Clinic manager, and a past Director of the Free Clinic Committee Board.
"Ms. Stuard has boundless energy, enthusiasm, and talent. She exudes leadership," said Dr. Andrew Zinn, Dean of UT Southwestern Graduate School of Biomedical Sciences and MSTP Director. "The National Institutes of Health awarded her a competitive fellowship to support her development as a physician-scientist."
Growing up in Plano, Ms. Stuard discovered her passion for ophthalmology as a young patient. She was 6 years old when her eye was punctured by a pair of scissors, an injury that almost resulted in blindness.
"I never forgot the fear of nearly losing my vision, and since then I have wanted to become a doctor who works with eyesight," she said.
That passion for medicine motivated her decision to join the UT-PACT program, a seven-year B.A./M.D. program through UT Dallas and UT Southwestern. As a medical student, she soon found a zeal for research in the lab of Dr. Danielle Robertson, Associate Professor of Ophthalmology.
During her third year of medical school, as she contemplated how to continue to participate in research, Ms. Stuard was selected as a Dean's Research Scholar. "After a year in this program, I knew that research would forever be a part of my career path and I was granted the opportunity to transfer into the M.D./Ph.D. program," she said.
Ms. Stuard aspires to be a physician-scientist in the field of ophthalmology and work as a research scientist – and ultimately in leadership – at an academic institution.