The importance of embracing diversity and celebrating LGBTQ pride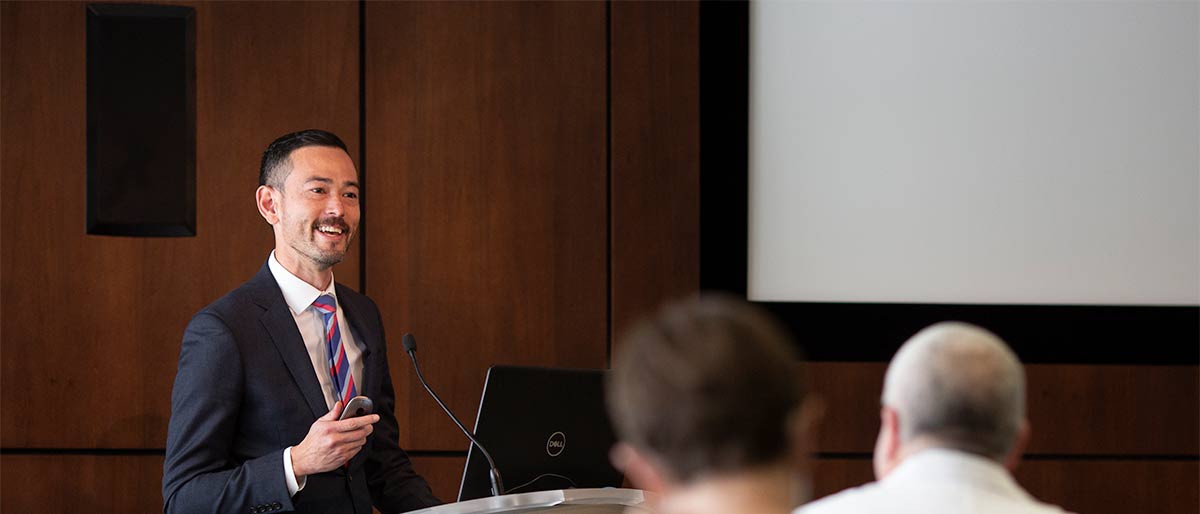 "Pride is important because someone tonight still believes they're better off dead than being themselves."
Those stark words from Jaime Almandoz, M.D., M.B.A., keynote speaker at UT Southwestern's Pride Month Signature Celebration on June 15, illustrated why it is important for members of the LGBTQ community to keep reinforcing pride in who they are. About 52% of transgender and binary youth, aged 13 to 24, considered suicide last year, and 20% tried to kill themselves, according to a report he cited, the Trevor Project's National Survey on LGBTQ Youth Mental Health 2021.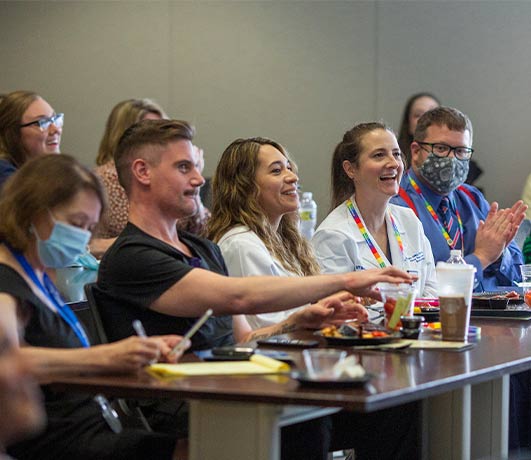 The event was the second Pride Month Signature Celebration at UT Southwestern, held this year both online and live at William P. Clements Jr. University Hospital. The first took place in 2019, then was paused for two years due to the COVID-19 pandemic. It was also the second live signature event this year, drawing a packed audience, as earlier ones had been virtual during the pandemic.
"Pride Month is not just a time to celebrate how far we've come, but also to acknowledge how far we've got to go," said Marc A. Nivet, Ed.D., M.B.A., Executive Vice President for Institutional Advancement, who also spoke at the event. "It's nice to have the recognition that UT Southwestern is on that journey."
Dr. Almandoz, who told the group he is gay, is an Associate Professor of Internal Medicine at UT Southwestern who specializes in obesity medicine and endocrinology. He grew up in Trinidad and Tobago, a Caribbean island country where, until 2018, consensual same-sex relations were punishable by 25 years of imprisonment. Dr. Almandoz left for boarding school in the United Kingdom at age 11, then went to Ireland at age 18 for medical school at the Royal College of Surgeons in Dublin, graduating first in his class.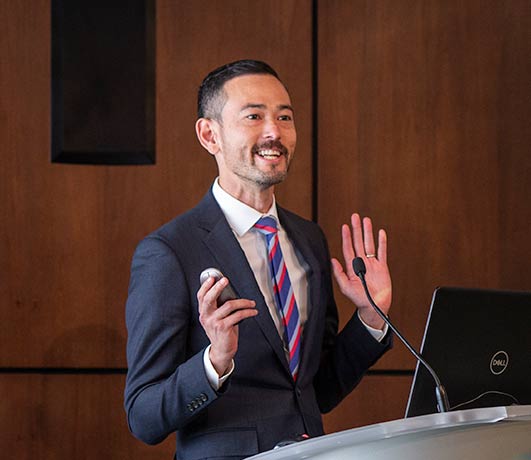 He completed an internal medicine residency and endocrinology fellowship at the Mayo Clinic in Rochester, Minnesota, then a fellowship in nutrition and metabolic diseases at UT Southwestern. He joined UTSW in 2013, having by that point adjusted to the culture of four countries other than his own. As an openly gay man since a teenager, he faced challenges and feelings of anxiousness navigating the culture of upper-level education as a medical student and eventually trainee.
While Dr. Almandoz's family was open-minded about his sexual orientation, too many others still are not, he said.
Almost 60% of LGBTQ people have experienced slurs, and more than half have been subjected to violence, he said, citing another study. And more than 1 in 6 LGBTQ adults have reported avoiding health care due to anticipated discrimination, he added.
Scientists are not immune to such treatment. A 2021 study highlighted in Nature found that LGBTQ scientists are 30% more likely to have experienced harassment at work in the past year than non-LGBTQ scientists.
It can be difficult to speak out in a hierarchical situation where it can affect your career, Dr. Almandoz said. The Association of American Medical Colleges has called for adding LGBTQ individuals to the list of groups underrepresented in medicine in an attempt to increase their numbers, he added.
For now, one of the most effective ways that LGBTQ individuals can care for themselves is by building resilience – and one way to do that is to forge strong and supportive relationships, Dr. Almandoz said. Reaffirming relationships with parents and friends, especially before the age of 20, is key to a person's resilience level, he said.
Alison Isabelle, RN, Manager of Clinical Operations, who has a 17-year-old daughter who is a lesbian, said she almost cried during Dr. Almandoz's talk. "I thought it was really emotional … just the history of everything that this community has gone through. It made me feel like I need to know more," she said.
Jacob Hopgood, M.H.S.A., M.P.H., said he thought Dr. Almandoz did a "phenomenal job" of presenting research and data to illustrate issues the LGBTQ community faces. "It was a real call to action to continue fighting for equitable care for our community," added Mr. Hopgood, a Project Specialist in Health System Affairs.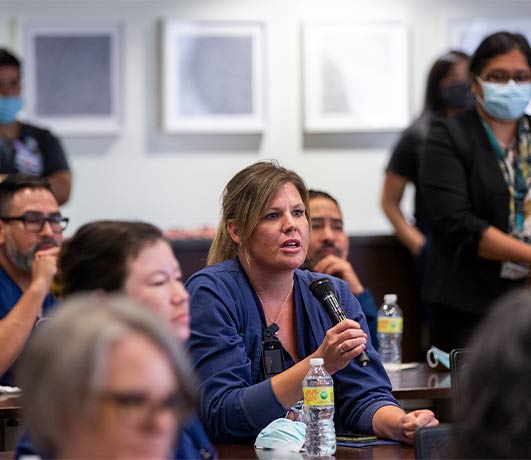 Several organizations are available on campus as resources for LGBTQ individuals. They include the LGBT & Allies Business Resource Group (LGBTA-BRG), which sponsored the event along with the Office of Institutional Equity & Access' Division of Diversity & Inclusion, for employees; PRIDE and oSTEM (Out in Science, Technology, Engineering, and Mathematics) for students; and HEAL (Housestaff Emerging Academy of Leaders) for LGBT & Allies for faculty, a leadership development program.
The signature event rounded out a series of activities that the UTSW community participated in for Pride Month, including a Pride Brunch on Dr. Donald Seldin Plaza and UT Southwestern's inaugural participation in the Dallas Pride Parade in Fair Park. Other Pride Month events included an all-day Volunteer Service Project on June 25 at the Resource Center on Cedar Springs Road in Dallas and a networking social at the Liquid Zoo slated for June 30 sponsored by the LGBTA-BRG.