Campus, wider community celebrate opening of Peter O'Donnell Jr. Biomedical Research Building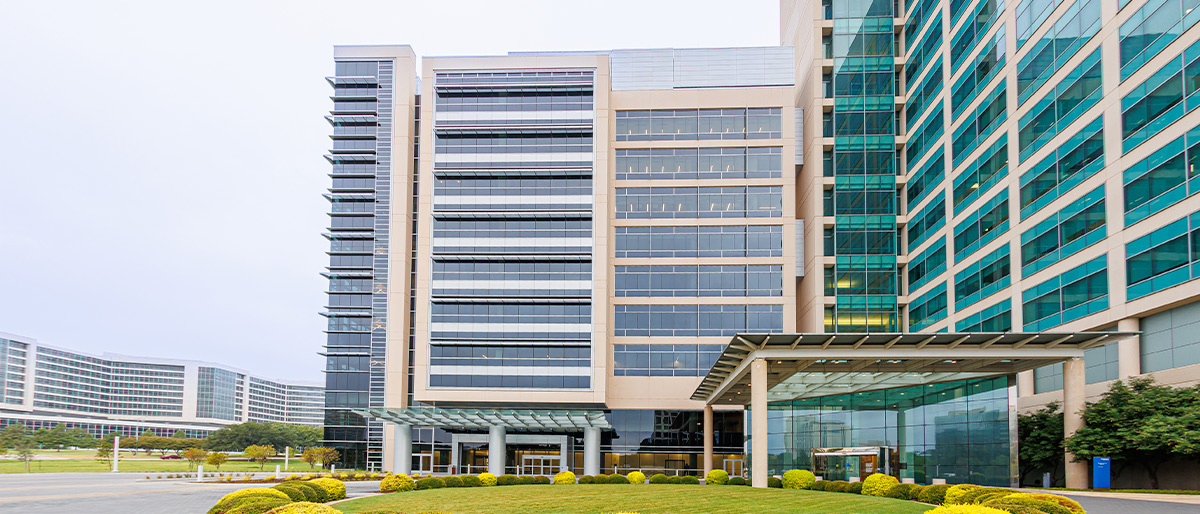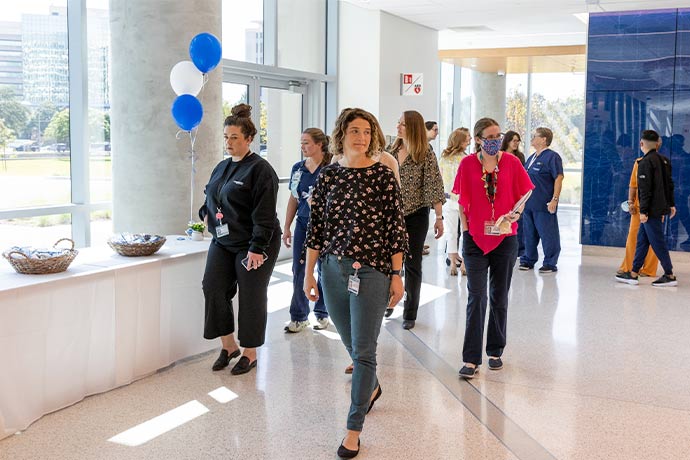 It was a day of celebration as UT Southwestern welcomed the campus community for tours of the new Peter O'Donnell Jr. Biomedical Research Building prior to the new facility's Oct. 6 dedication ceremony that was attended by faculty, staff, and donors who helped to make the project a reality.
The nine-story, nearly 300,000-square foot building was designed to foster collaboration among faculty and trainees in Biophysics, Immunology, and many of the labs that comprise the Peter O'Donnell Jr. Brain Institute (OBI).
Campus leaders planned the space to facilitate the communication of ideas across departments – similar to the way the branch-like dendrites of neurons speed the chemical messages called neurotransmitters throughout the body. Those dendrites are depicted in the tiles that line the walls of one elevator lobby.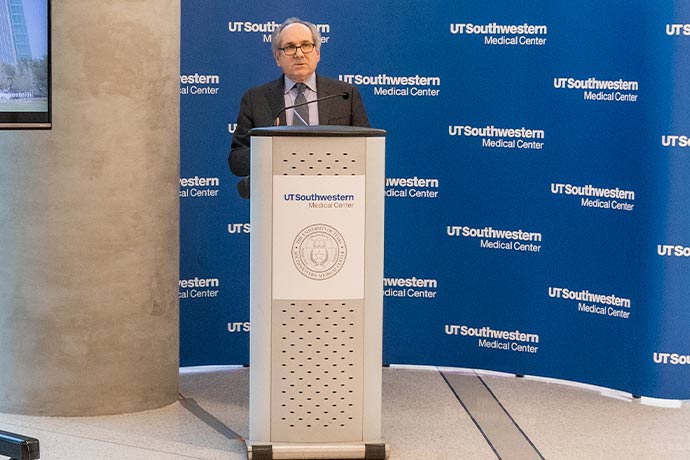 The dedication was held in the Linda and Mitch Hart Lobby of the new building. Daniel K. Podolsky, M.D., President of UT Southwestern, described the tower as one in a series of projects that will transform the campus in coming years.
Some of the microscopes coming to the new facility will be the first such instruments in Texas. All technology will be shared between laboratories and even between departments. Dr. Podolsky said the instruments look at the very structure of the individual molecules in a cell to find out how they work to help determine how they can be modified via new compounds to achieve therapeutic benefit for patients.
The President shared his enthusiasm for the new technology while also acknowledging several project benefactors including the UT System, the state of Texas, the O'Donnell Foundation, and Terry and Robert Rowling, who gave generously to fund the building named in honor of Peter O'Donnell Jr.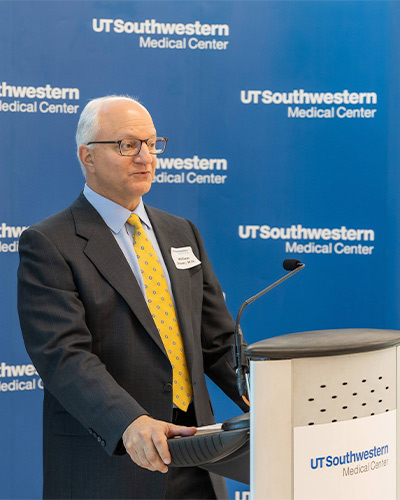 "Deciphering and discovering how to effectively tackle brain disease in a way that meaningfully improves the lives of our patients is among the most difficult and puzzling areas of biomedical science. But the real differentiator will be the amazing people who work here and those who are attracted to come to this space," said William T. Dauer, M.D., a neurologist acclaimed for his research into dystonia and Parkinson's disease and Director of the O'Donnell Brain Institute.
The labs already up and running in the new building include Dr. Dauer's lab and that of Helen Lai, Ph.D., Associate Professor of Neuroscience and Anesthesiology & Pain Management, who studies neurons involved with body sensations with a goal of revealing novel ways to treat chronic pain.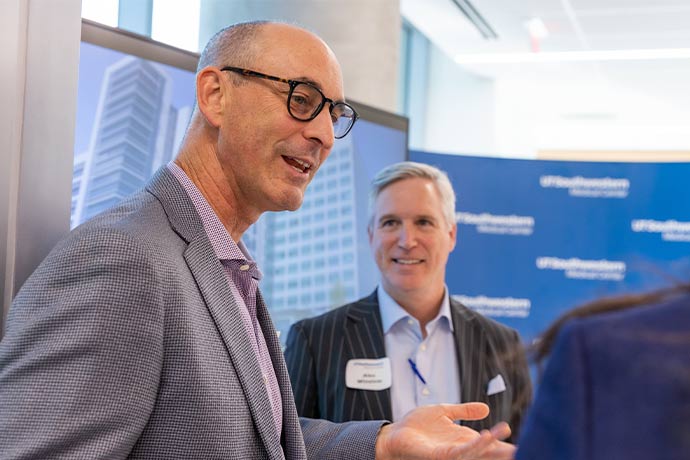 Marc Diamond, M.D., Director of the Center for Alzheimer's and Neurodegenerative Diseases and a Professor of Neurology and Neuroscience, will move into the building early next year, followed by Immunology Chair Lora Hooper, Ph.D., and her department. The Department of Biophysics, chaired by Michael Rosen, Ph.D., will remain in its current location while installing some key equipment for cryo-electron microscopy structural biology into the building to further collaborations. Drs. Hooper and Rosen are Howard Hughes Medical Institute Investigators.
Dr. Hooper said the new space will bring her growing Department into a unified, interactive area that gives junior faculty members room to expand their research programs. In addition, the new tower will open up opportunities to investigate the fascinating interactions between the nervous system and the immune system that are important to many aspects of health and disease.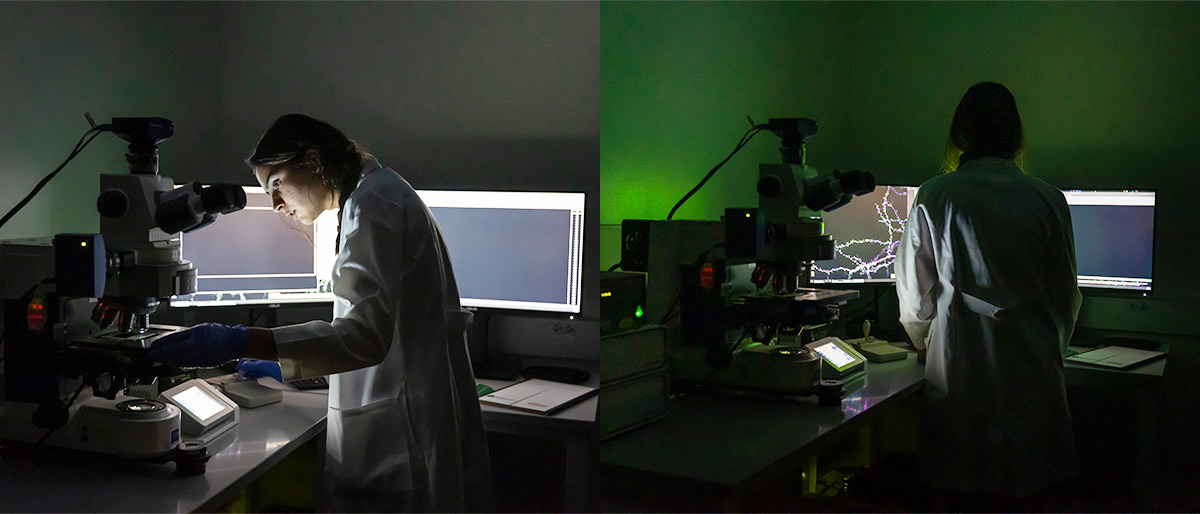 The building features carefully planned open floor space. To foster interaction, individual labs open to one another in one continuous research area. Walls and doorways separate that area from desk space for trainees and postdoctoral researchers, which are in another open-plan area to enhance collaboration. That's where scientists can analyze their data and speak quietly in small groups. Nearby group gathering rooms are designed for larger meetings.
Inviting gathering spaces line several hallways away from those work areas – sections designed to promote crosstalk between labs as well as between basic science and clinical colleagues. The design is expected to encourage discussion that leads to translational advances in a bench-to-bedside-to-bench cycle of creating and improving therapies.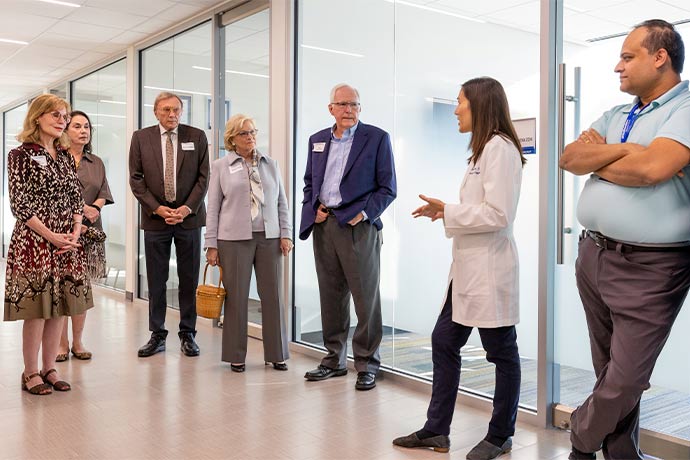 The morning tours began in the Thompson Family Conference Center, a large educational space with seating for 100 near the OBI's administrative offices. Both events provided commemorative sugar cookies depicting the building.
Assistant Dean Lisa Gardner, Ph.D., who oversees student recruitment for the Graduate School of Biomedical Sciences, said the building "with its incredible state-of-the-art labs and spaces – some designed specifically for spontaneous scientific discussions among colleagues – will attract the most promising young trainees and faculty to UT Southwestern. Collaboration is 'in our DNA' at UT Southwestern, and I love the fact that every new building maintains that commitment. I am excited to show this new space to prospective graduate students and watch their eyes light up."
Sushobhna Batra, a graduate student in the Diamond lab, said moving the desks away from the lab benches means she expects to score more walking steps each day in the new building. Moreover, she'll be able to drink coffee at her desk while analyzing data.
"Jokes aside, I look forward to more one-on-one interactions and collaborations between all the lab mates on a regular basis with our desk spaces closer together," she said. "The new setup reminds me of the research space that one of my friends pursuing a Ph.D. at Cambridge had described a few years ago. I am excited about the change."