Topping out marks latest milestone in UT Southwestern expansion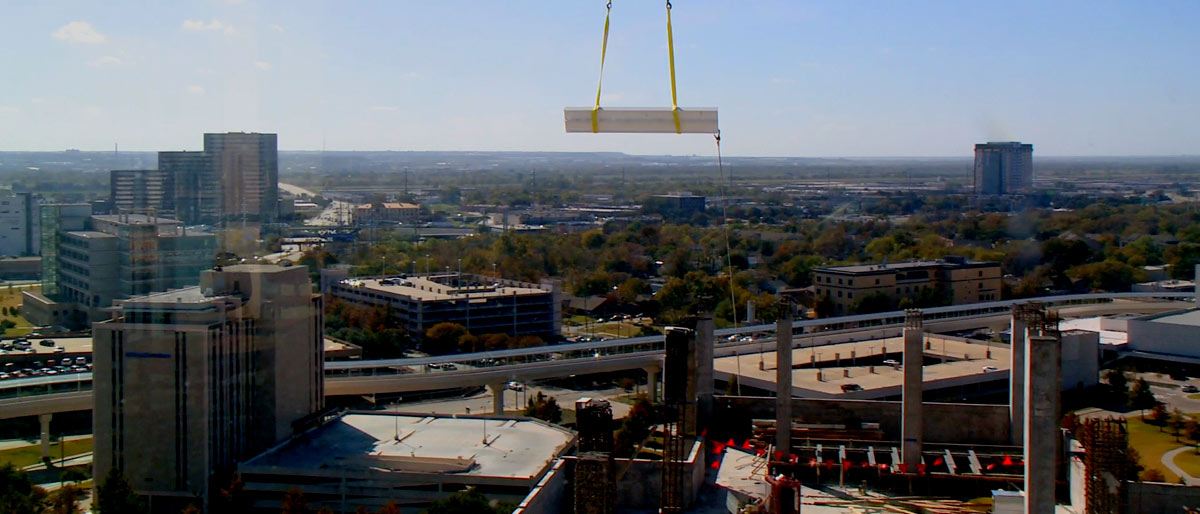 The next phase of development on North Campus reached a significant milestone with completion of the exterior framework on a new two-tower building dedicated to the growing research programs of the Peter O'Donnell Jr. Brain Institute and the outpatient care efforts of the Harold C. Simmons Comprehensive Cancer Center. A virtual topping out ceremony was held Nov. 30 to celebrate the occasion.
Watch: Topping Out virtual celebration
Dr. Daniel K. Podolsky, UT Southwestern President, watched as the last steel beam was ceremonially placed atop the building, marking a tangible commitment to patient-centered growth.
"This project epitomizes the close interrelationship between our commitment to heal, discover, and educate," Dr. Podolsky said. "It marks a milestone in writing the next chapter of UT Southwestern's journey and is creating a place and an opportunity for us to care for our patients and their families, juxtaposed to dynamic research programs in an environment that provides opportunities for training the next generation of physicians, medical scientists, and other health care providers."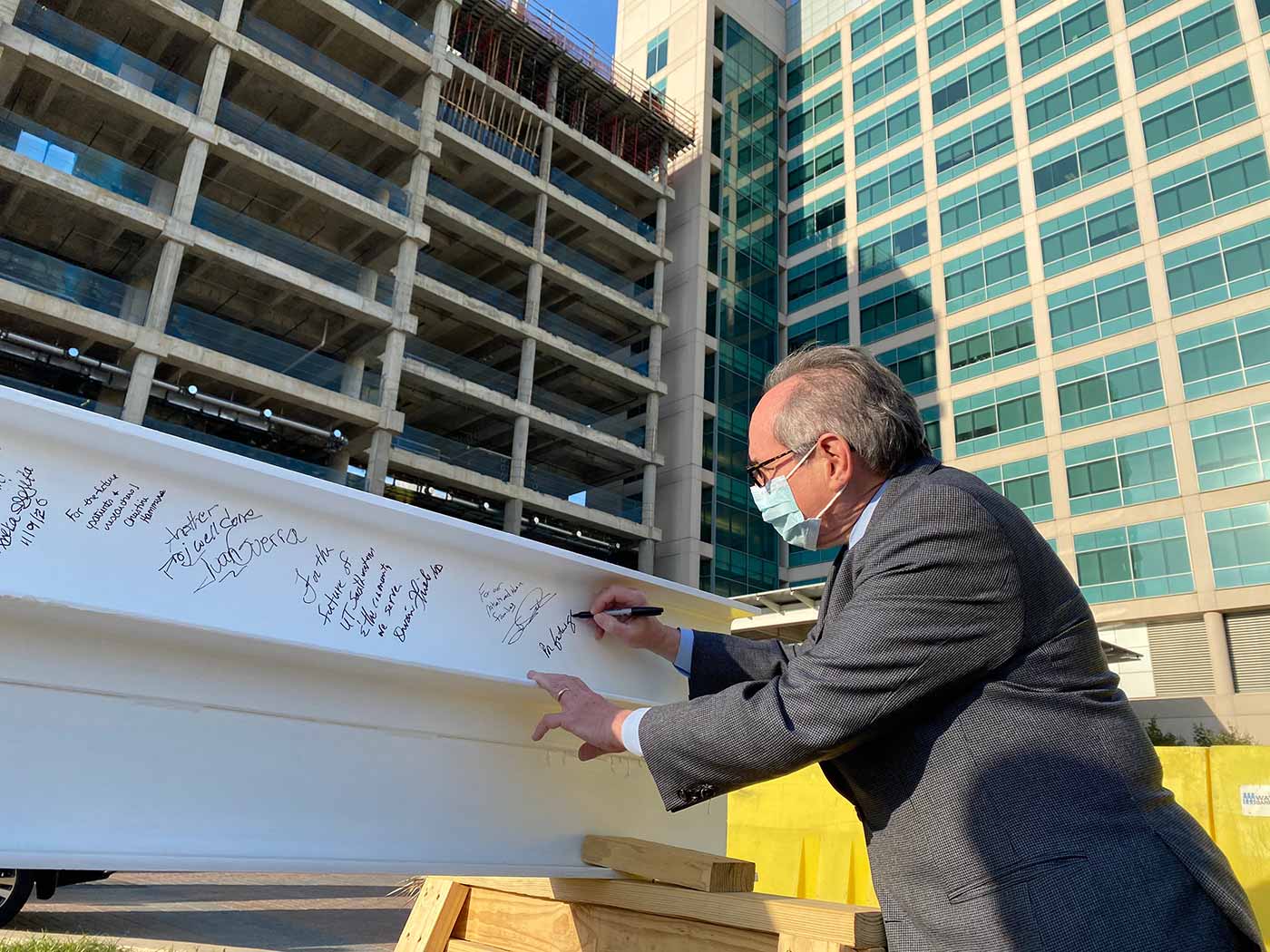 The new structure, which broke ground in 2019, shares a four-story footprint topped off by two distinctive five-story towers. Rising above Harry Hines Boulevard just north of the C. Kern Wildenthal Research Building, the $328.5 million facility will add more than 600,000 square feet of space to North Campus when it opens in mid-2022.
It's part of a wave of construction underway across campus. Across Harry Hines, a 654,000-square-foot third tower has been added to William P. Clements Jr. University Hospital that is expected to be fully open by mid-January. Other major projects include a second Radiation Oncology Building adjacent to the existing building off Inwood Road, scheduled for completion in June, and renovations at both the former Red Bird Mall in South Dallas, where UT Southwestern will establish a clinic next year, and the James W. Aston Ambulatory Care Center, where upgrades began in August.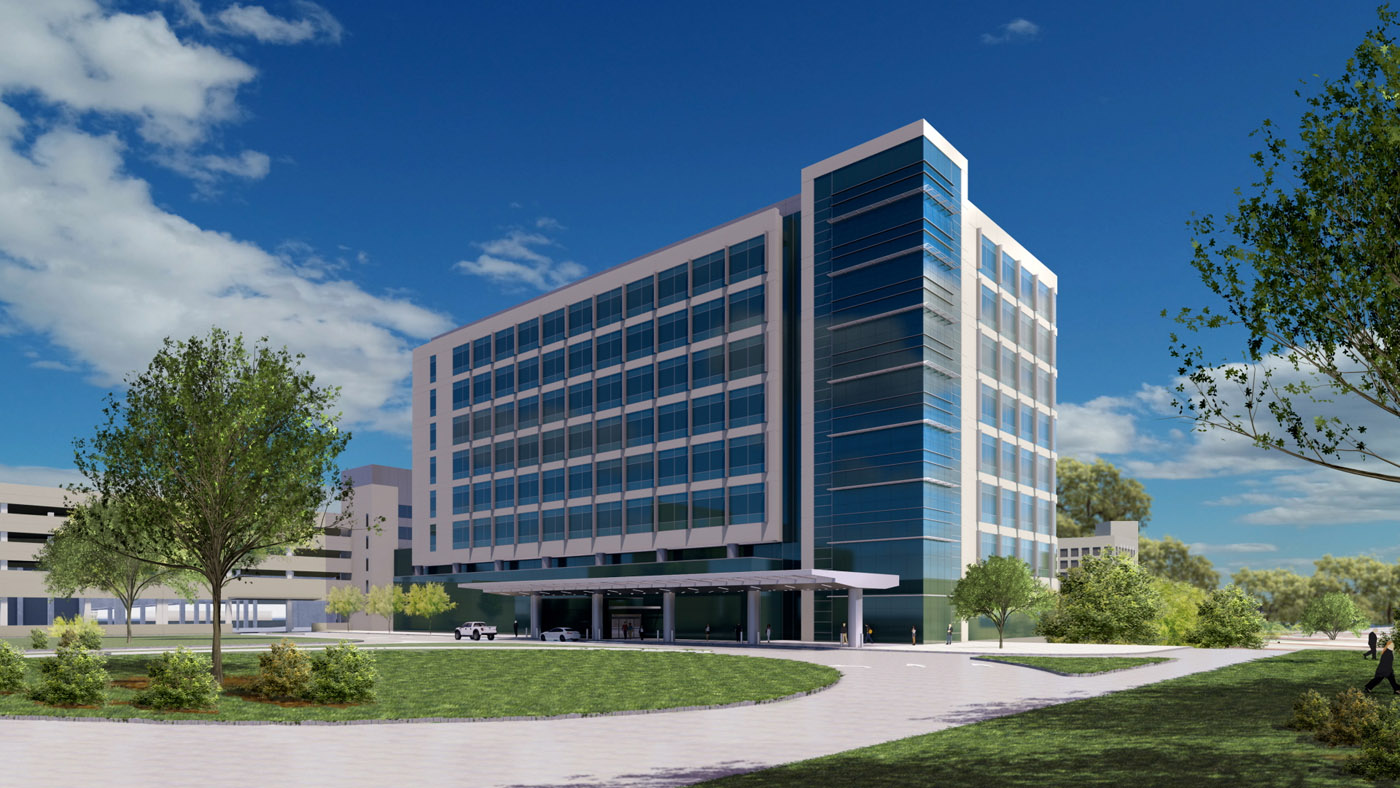 Also speaking at the topping out event were Dr. Carlos L. Arteaga, Director of the Simmons Cancer Center, and Dr. William T. Dauer, Director of the O'Donnell Brain Institute. The towers will offer opportunities to further expand cross-collaborative clinical and research initiatives, they said.
"This building will double our current cancer care capabilities on campus," Dr. Arteaga said. "It also will harbor our large infrastructure for clinical trials. We expect the Outpatient Cancer Care Tower not only to be the exceptional destination for cancer patients seeking the latest standards of care, but also a shining light for clinical investigations, innovation, and progress."
"The new tower will allow us to nucleate unique groups of exceptional researchers in diverse disciplines required to comprehensively explore and advance brain science, with a focus on those areas that are ripe for human translation," said Dr. Dauer.
Although virtual because of the COVID-19 pandemic, the event included well wishes campuswide from scores of UTSW faculty and employees who were invited to offer their messages electronically so that they could be written on the final structural steel beam before installation.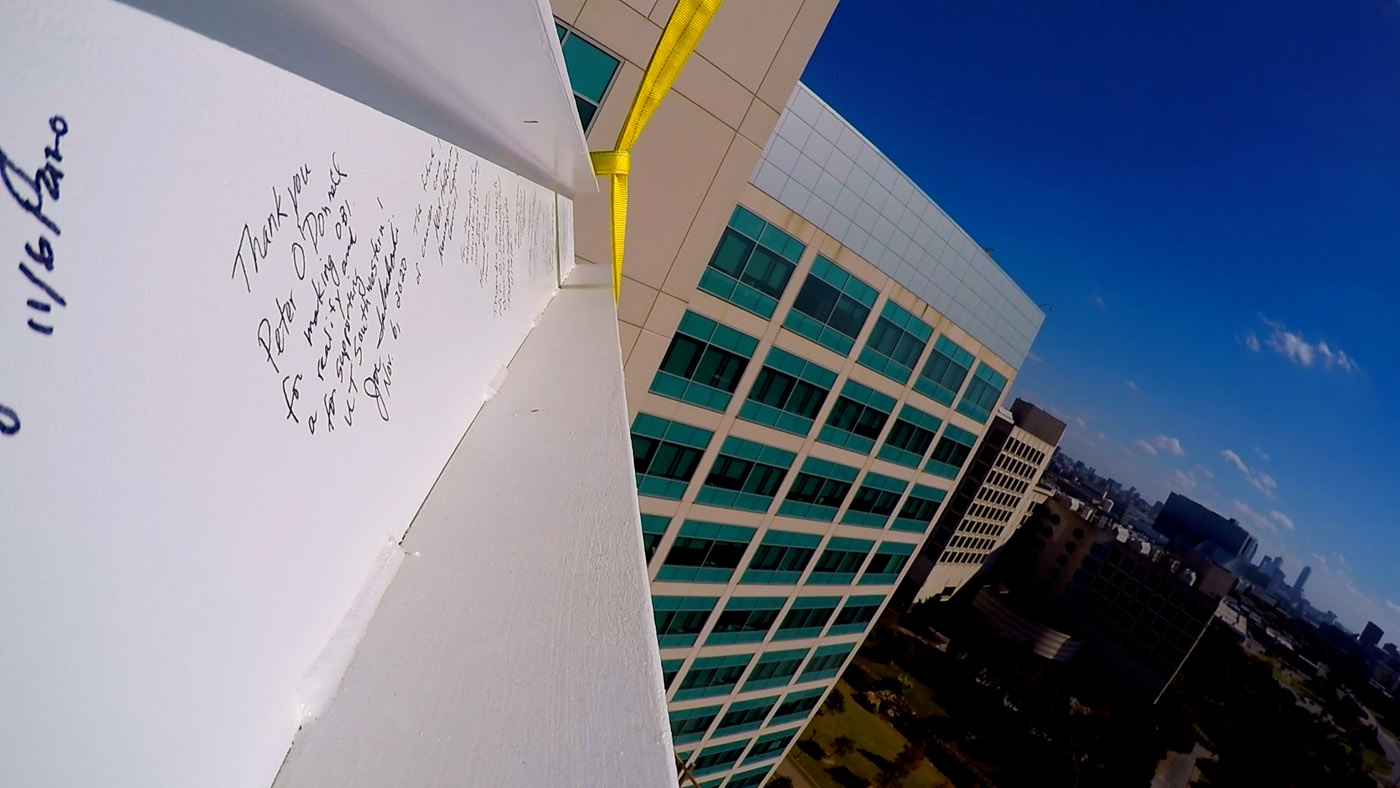 "The building in particular really allows us to go one step further both in patient care and in research," said Dr. Dwain Thiele, Vice Provost and Senior Associate Dean of Faculty Affairs and Initiatives, who championed the project before subsequently serving on its planning committees.
UT Southwestern's campus currently consists of about 14 million square feet of building space. More than 4.5 million square feet of new construction or renovation projects is either underway or in planning stages, including 1.75 million square feet of new buildings and garage space for 3,200 vehicles. This unprecedented growth at the institution reflects burgeoning opportunities to serve patients while also addressing the need for additional research laboratories.
"The new building has put patient care at the forefront," said Alexandra Huffman, Manager of Support Services at the Simmons Cancer Center. "It is a game changer, not just for clinical care but also supportive care. We can really ensure patients have access to everything they need."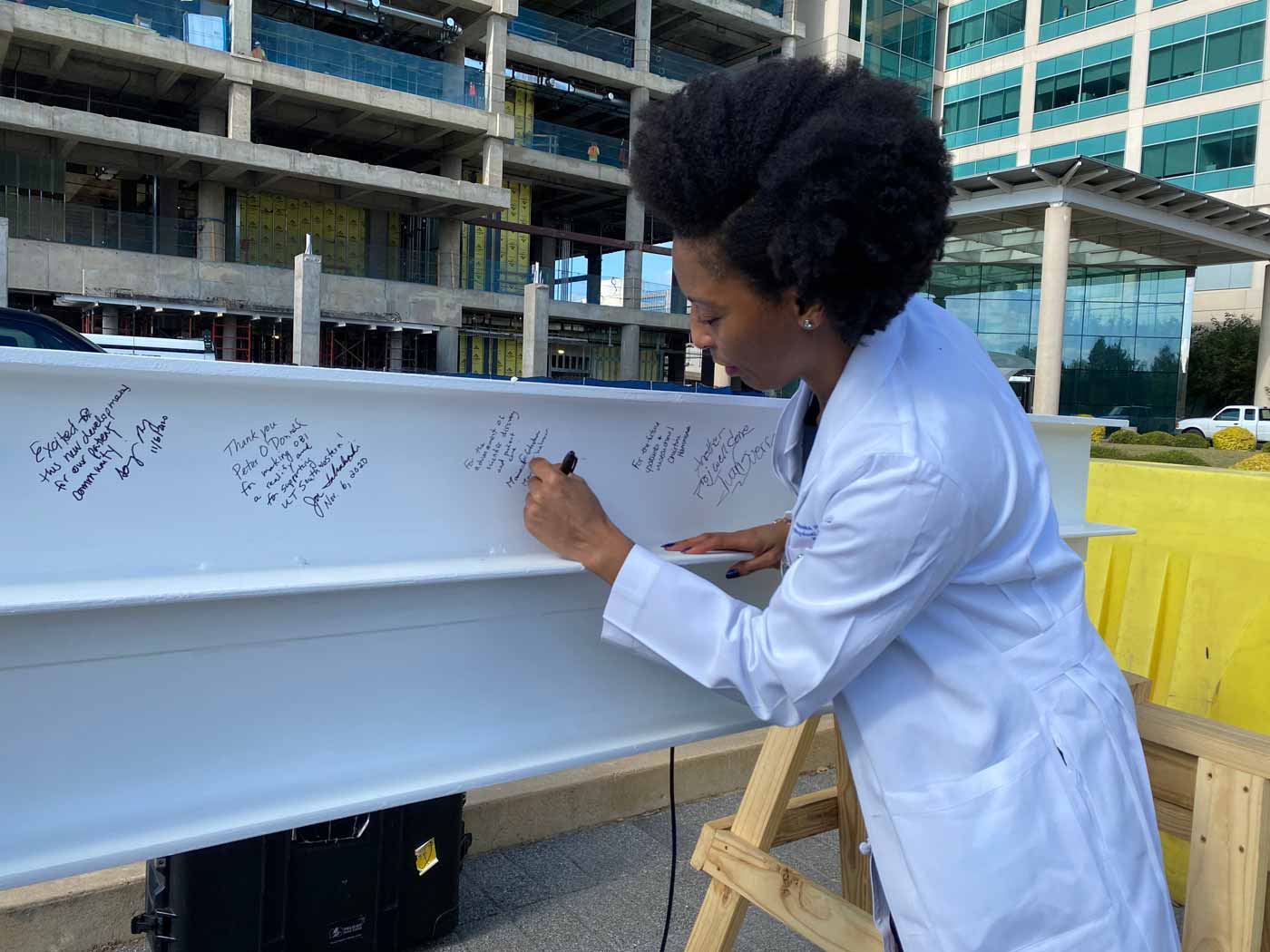 Stroke expert Dr. Nneka Ifejika, Associate Professor of Physical Medicine and Rehabilitation, noted, "This means the world to us when it comes to translational science. It's our goal to integrate all aspects of clinical and basic research in this building. It's wonderful having a place science comes together, and we're excited about what this means for brain recovery."
The expansion of Clements University Hospital, which began in 2017, will also contribute to expanded care for UTSW neurology patients. With the addition of more operating rooms, an expanded emergency department, and an increase in the number of patient rooms to about 750, CUH will also serve as the new home of relocated neurology services from Zale Lipshy Pavilion.
Capital projects across campus
Juan M. Guerra Jr., Vice President for Facilities Management, leads the brick-and-mortar efforts across campus. His docket includes nine current and five future capital improvement projects.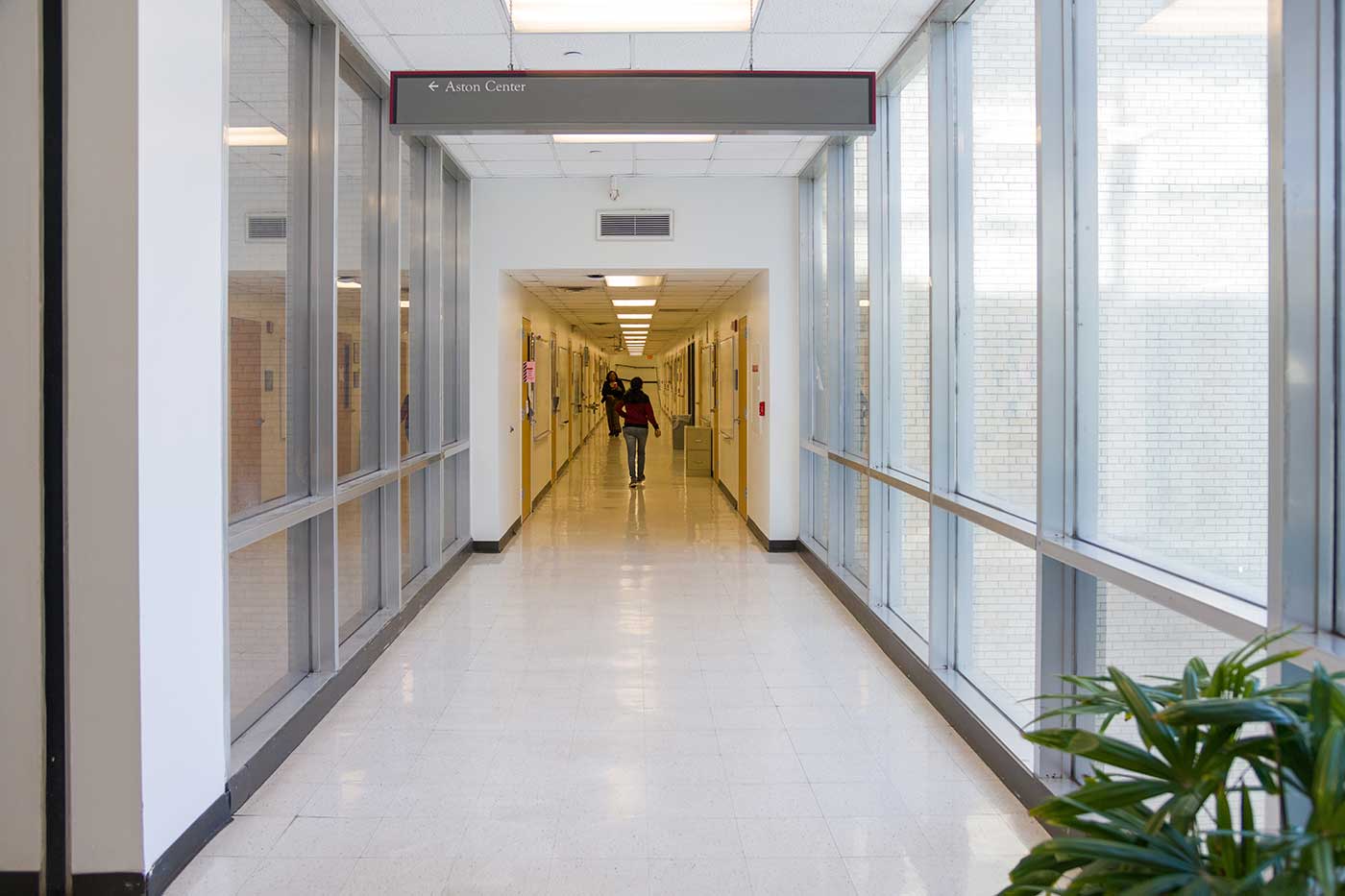 New projects approved by the UT System become part of the Campus Construction Master Plan. Some factors that must be considered and that can affect any new project include land usage realities, FEMA flood plain outlines, mixed-use possibilities, and FAA flight considerations.
"I got here in 2016, and I can't remember a time when construction cranes weren't part of our campus landscape," said Mr. Guerra, who leads a department of 440 that oversees construction and ongoing building maintenance. "That's exciting, but what I also have to be concerned with every day is how do we best position ourselves to adequately maintain the existing buildings."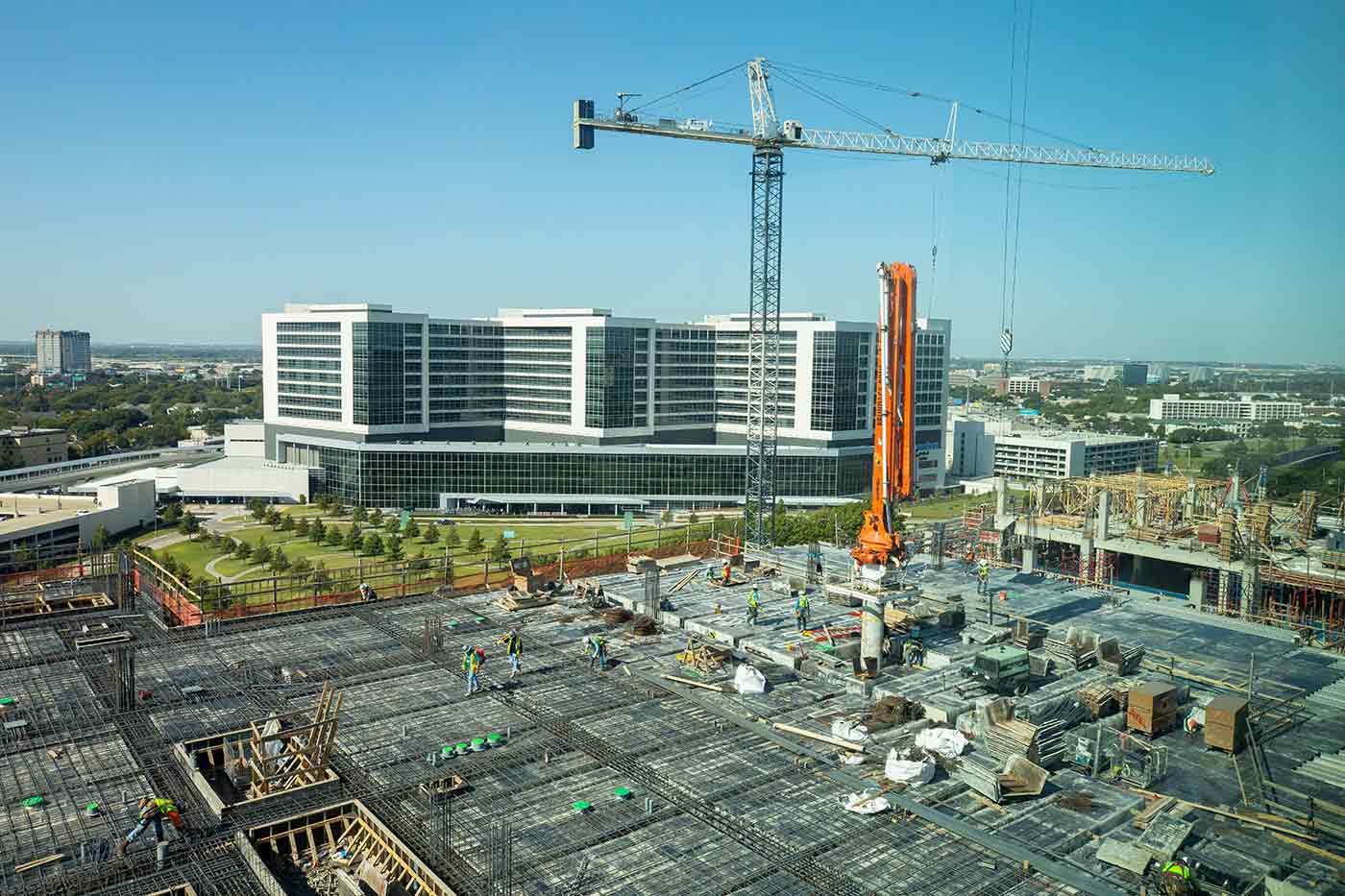 Factors involved with improvements to existing facilities include infrastructure, upgrades to bring buildings into compliance with the Americans with Disabilities Act, the age and condition of the facility, and the possibility of working around the current occupants of the space.
"The Aston Ambulatory Care Center is undergoing a complete floor-by-floor overhaul while occupied," Mr. Guerra said. "When that happens, we carefully consider things like noise, vibration, dust, artificial light if a crew is working at night, and even smell. Any of these can disrupt the comfort of those nearby, and we always strive to avoid that."