Innovative 3D modeling advances surgical and medical training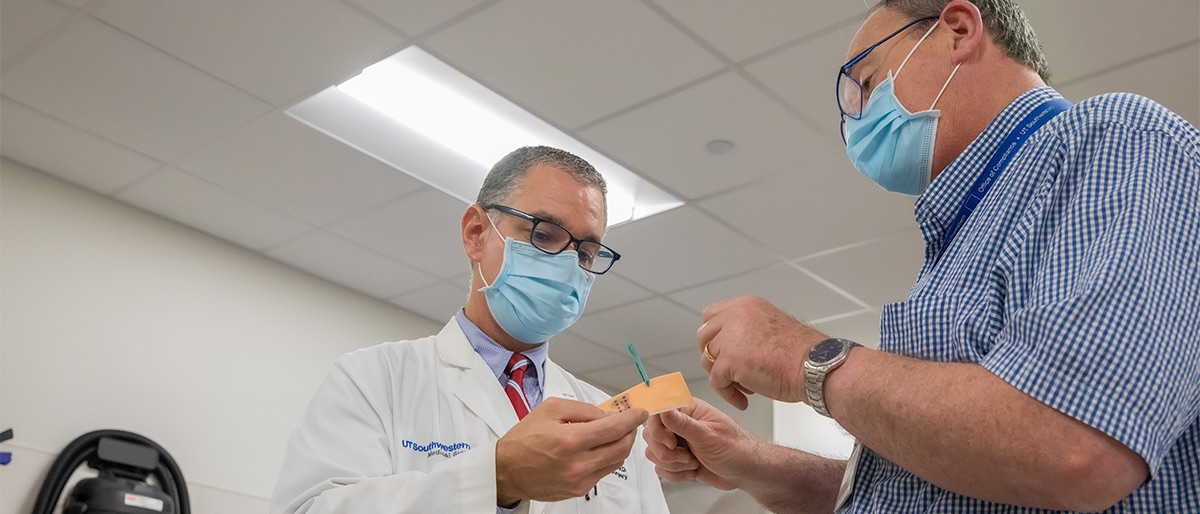 A few years ago, Kirk Atkinson served as a Navy corpsman in Afghanistan, where he trained medics how to respond to catastrophic injuries seen on the battlefield. Often, he had to use fake body parts and wounds he had fashioned from plastic to familiarize soldiers with what they might face.
Today, Mr. Atkinson, a Senior Operations Specialist in UT Southwestern's Simulation Center, uses sophisticated 3D printers to create simulated body parts and training tools for the hundreds of physicians, medical students, and other health care professionals who train here.
UT Southwestern is one of the few medical schools in the U.S. with such an expansive 3D model development operation, allowing creation of specialized plastic body parts and tissue – simulated bones, ears, hands, and more – using six 3D printing machines.

In Afghanistan, explained Mr. Atkinson, a former Navy Petty Officer 2nd Class, the goal was to make medics intimately familiar with war injuries so that they could perform effectively while treating amputated limbs and bullet wounds as gunfire exploded around them.
While most UT Southwestern graduates and physicians will never face such conditions, honing their expertise on sophisticated manikins and stitching wounds in silicone suture molds benefits both them and the people they treat, said Daniel Scott, M.D., Assistant Dean, Simulation and Student Integration, Graduate Medical Education, and Professor of Surgery. "Training people in the Simulation Center translates into better patient care without having to practice in the clinical environment," Dr. Scott said.
In fact, an early study examining this issue, published in 2000 in the Journal of the American College of Surgeons with Dr. Scott as first author, determined that such training improved laparoscopic surgery skills of surgery residents during actual operations.
Mr. Atkinson, along with fellow 3D expert and Senior Clinical Simulation Educator Rahm Heymann, now are working on an advanced suture pad for training in laparoscopic surgery. The pad will enable learners to practice suturing while using the less-invasive equipment of laparoscopic surgery, which relies on tiny cameras and surgical tools to operate through small incisions. The pad is a 5-inch strip of flesh-colored silicone with two rows of dots to provide practice targets for learners to place laparoscopic sutures.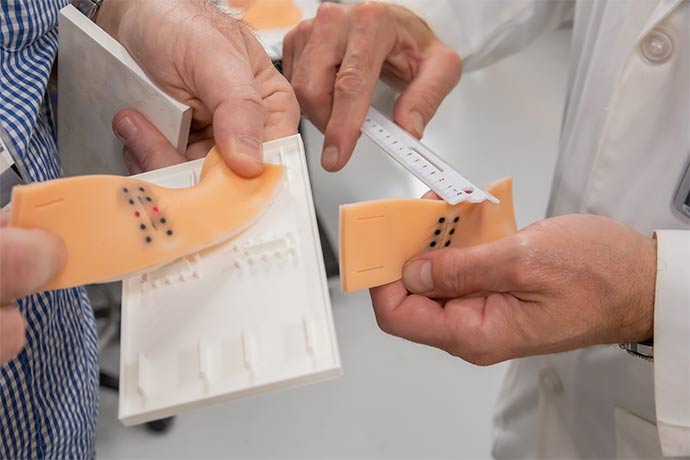 Dr. Scott, past President of the Association for Surgical Education, is working with the 3D team to develop the pad for possible use in the Association's Advanced Training in Laparoscopic Suturing (ATLAS) program. The goal, Dr. Scott said, is to create a training device that will be more durable and lifelike than the suture pads trainees now use.
The 3D team already makes the suture pads available for medical students to practice conventional suturing. Holding a pad with its simulated wounds ready for stitching, Mr. Atkinson points out the four separate layers – two simulated skin layers atop a sticky "fat" layer, with a "muscle" layer at the base. UT Southwestern used to purchase similar pads from vendors, but they were less durable, less realistic, and had only three layers, he said. Plus, they cost more than it costs the 3D team to make them, Mr. Atkinson added.
The 3D team also created an "ear" to train students on how to suture that tricky body part, said Krystle Campbell, Director of Simulation Center Operations. "It's challenging to suture on a patient's ear," she said. While difficult to treat, ear lacerations occasionally show up in the Emergency Department as patients come in from traffic accidents and other mishaps, thus it is important that UTSW trainees have an opportunity to practice this delicate skill on a simulated ear prior to suturing on real patients.
Joseph Martinez, M.D., a Professor of Emergency Medicine who helped lead the development of the ear model, said he values the Simulation Center's 3D capabilities – in particular the Center's ability to create training models for procedures that might occur rarely but where proficiency is very important. "The 3D models created at the Sim Center provide precise models for the specific skills being taught," he said, which is something outside vendors cannot always do.
Mr. Atkinson said UT Southwestern's 3D machines can make higher-quality models at lower cost and also repair some of the sophisticated, lifelike manikins used for training in the Simulation Center.
The boxlike metal machines – ranging in size from less than 2 feet tall to one almost 4 feet long, large enough to build a human torso – line the walls of the Simulation Center's Innovation Lab. Containers of different plastics and color pigments cover a table. Melted plastic is fed into the printers, then pushed out into a preprogrammed shape, much like a baker would push decorative icing onto a cake.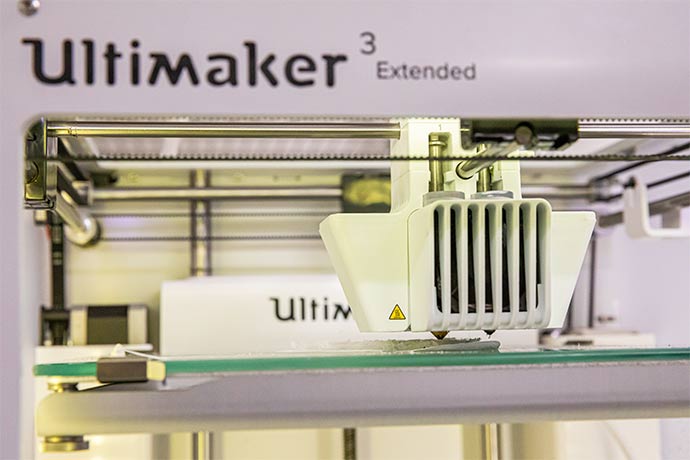 The Center is pursuing marketing some of its creations, said Ms. Campbell. "We have unusual models that you don't see on the market," she said. The ATLAS mold is one possibility, she said. A second is a novel simulation being developed with Jeffrey Kenkel, M.D., Chair of Plastic Surgery, that is designed to solve a clinical problem facing those in the field.
"We had a concept that required design, materials consideration, and implementation with the experts at the Simulation Center," said Dr. Kenkel. "Our group is top-notch, from administration and implementation of a plan to design and production," he said.
Dr. Scott recalls the days when he was training to become a surgeon and needed a way to practice suturing. He jury-rigged a device by twisting two rubber exam gloves and pinning them inside a wooden box. "I sutured two gloves together," he said.
As a clinician and a researcher, he has helped transform such training for today's students.
"We're much further along than where we started a mere 20 years ago," he said of simulation training in general. And when it comes to 3D work, "not too many are doing what we're doing in creating our own models."
"It all translates to better patient care," he said of the end result.