Medical School Class of 2024 hits record level of underrepresented minority students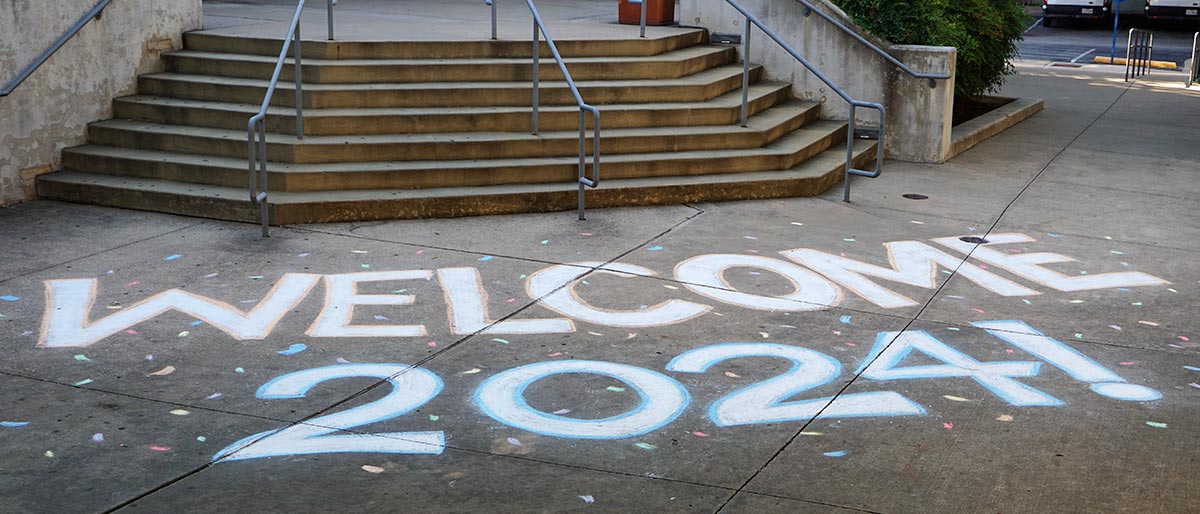 Growing up outside of Pittsburgh, Dr. Shawna Nesbitt was well aware that minorities were greatly underrepresented among health care professionals.
"In those days, being a minority in America usually meant you were Black or Hispanic, and their numbers in medicine were really low," recalled Dr. Nesbitt, Associate Dean, Student Diversity and Inclusion at UT Southwestern. "It didn't improve much until recently. The percentage of minority applicants to medical schools was consistently around 7 percent until around 2013."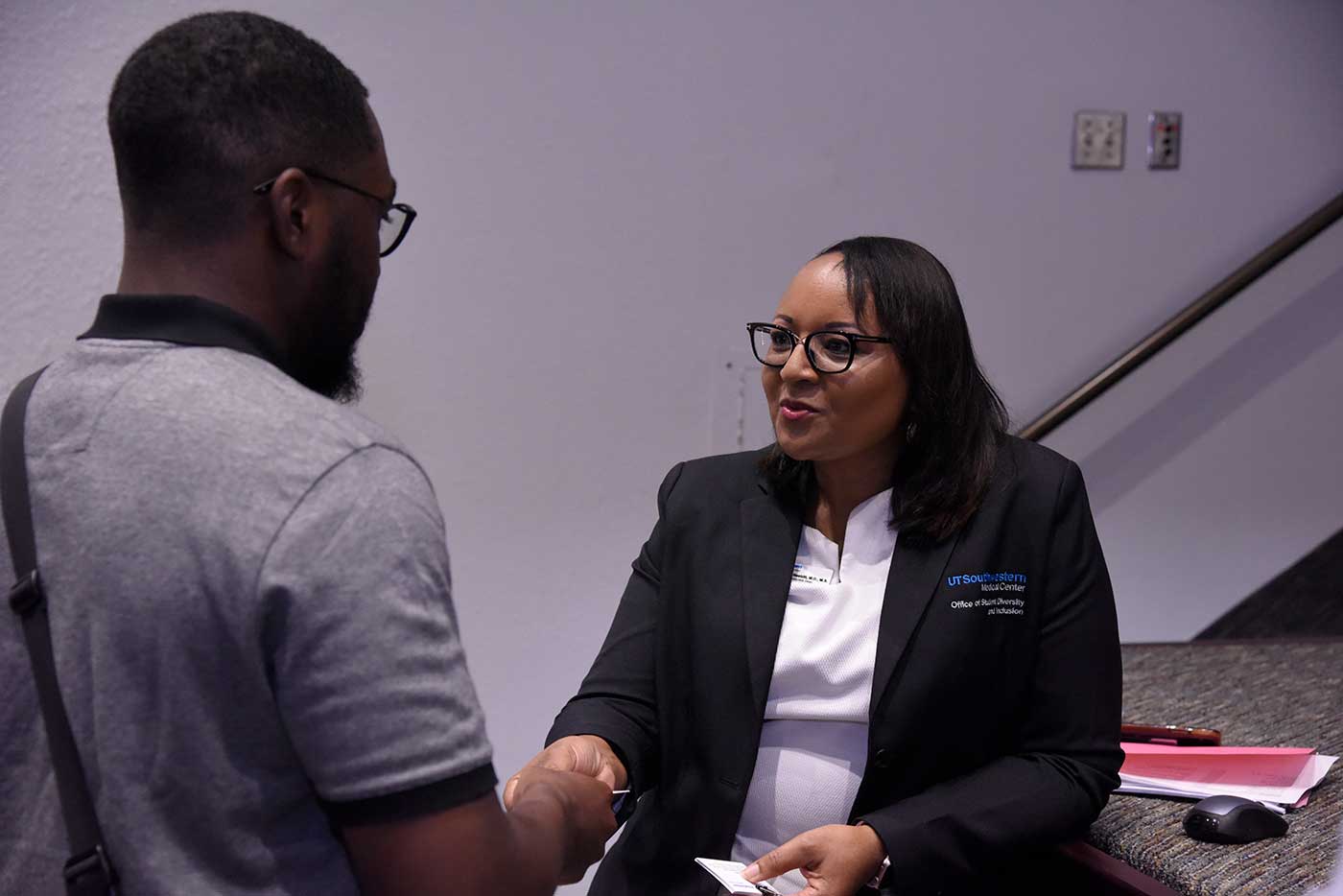 That's why it's a remarkable achievement that underrepresented minority (URM) students make up a record 27 percent of the UT Southwestern Medical School Class of 2024 – significantly higher than the nationwide average of 14 percent cited by the Association of American Medical Colleges (AAMC). At UT Southwestern, URM groups include African American, Hispanic, Native American, Pacific Islander, and multiracial students.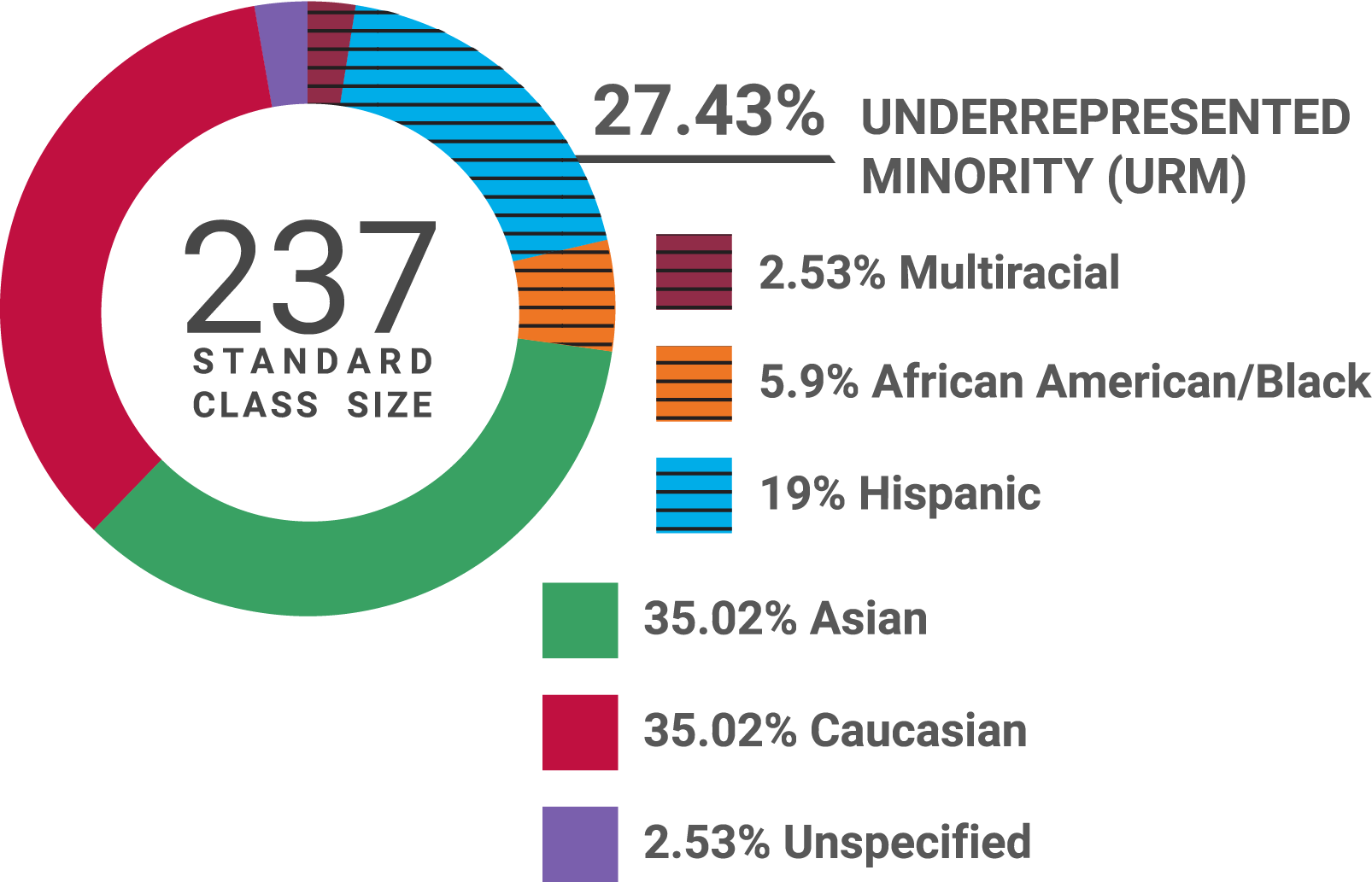 Dr. Nesbitt, who joined UTSW in 2001 as a Professor of Internal Medicine, has led efforts within the Office of Student Diversity and Inclusion to increase representation on campus for underrepresented minorities since 2011, when UTSW's URM levels hovered around the national average.
The Office of Student Diversity and Inclusion uses speakers, webinars, mentors, and cultural celebrations to honor diverse backgrounds and help students develop empathy and greater understanding. Students of all three UTSW schools (Medical School, Graduate School of Biomedical Sciences, and School of Health Professions) are welcome at the events.
Speakers are recruited to discuss topics that are often recommended by the students themselves, such as microaggressions (indirect, subtle, or unintentional discrimination against members of a marginalized group) and imposter syndrome (a psychological pattern in which a person doubts their accomplishments or talents and has a persistent fear of being exposed as a fraud).
Celebratory events such as Dia de los Muertos (Day of the Dead), Juneteenth, and Eid al-Fitr (an Islamic holiday that marks the end of Ramadan) are well-attended. They often include foods and traditions representing different cultures. Some focus on one school while others bring all three schools together.
Today, the positive trend toward inclusiveness is apparent not only in the Medical School but also at the School of Health Professions, where 25 percent of students are classified as URM, and the Graduate School of Biomedical Sciences, where 30 percent are URM.
"Our URM program is about celebrating your individuality and sharing it with your class. Inclusion really matters. It's inclusion that begins the conversation that we need so desperately in our culture, in both medicine and education," Dr. Nesbitt said.
For some learners, minority representation can be a deciding factor in choosing their school. "During my interview, there were others here who looked like me. That's one reason I chose to come here," said second-year medical student Brianna Wilson, who is Black and of Caribbean descent.
Ms. Wilson and three other students from different cultures and backgrounds, representing the four Medical School classes, shared their thoughts with Center Times on being part of the UT Southwestern community.
Hector Chaires, first-year student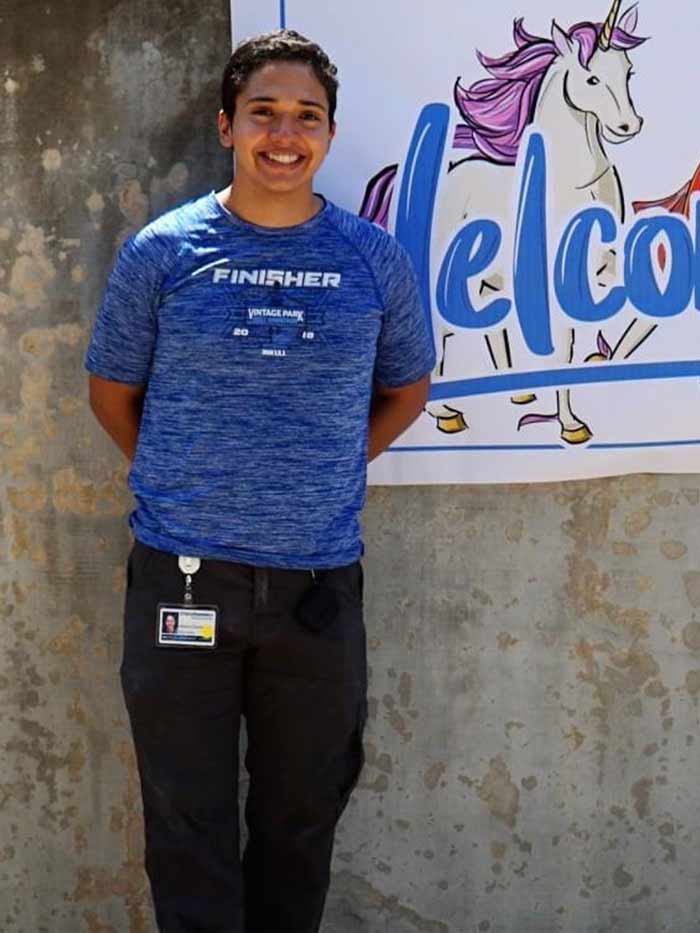 Age: 23
Hometown: Juarez, Chihuahua, Mexico
Race/ethnicity: Hispanic/white
Specialty interest: Orthopedics or infectious diseases
First-year medical student Hector Chaires does his homework. He applied to 28 medical schools and interviewed at many of them. Ultimately, UT Southwestern won his vote of confidence.
"Many other schools have a much lower percentage of underrepresented minority students. Here, I can be surrounded by people that I can identify with," he said. "We can bring a different perspective to medicine. The URM program helps us to envision ourselves in leadership positions in health care."
Mr. Chaires grew up in Mexico, then attended college at Rice University, where he enjoyed performing in a Colombian folklorico dance group. He explains that Latin countries share similar values, emphasizing family and a love of traditional dance and music. During a gap year, he used the other side of his brain to study the use of structural data to overcome resistance to antibiotics, a National Institutes of Health-funded year of research experience at the University of California-San Francisco.
While the current pandemic has presented challenges for educators and students, he's not concerned that it will impact his training. "We may miss some of the tactile learning experience, but the software and other components will help us learn successfully," said Mr. Chaires. He's interested in both infectious diseases and orthopedic surgery.
"I hope this pandemic will push more funding to the infectious diseases field. Our biggest fights are viral," he said. "We need to have systems in place to address these dangers."
Brianna Wilson, second-year student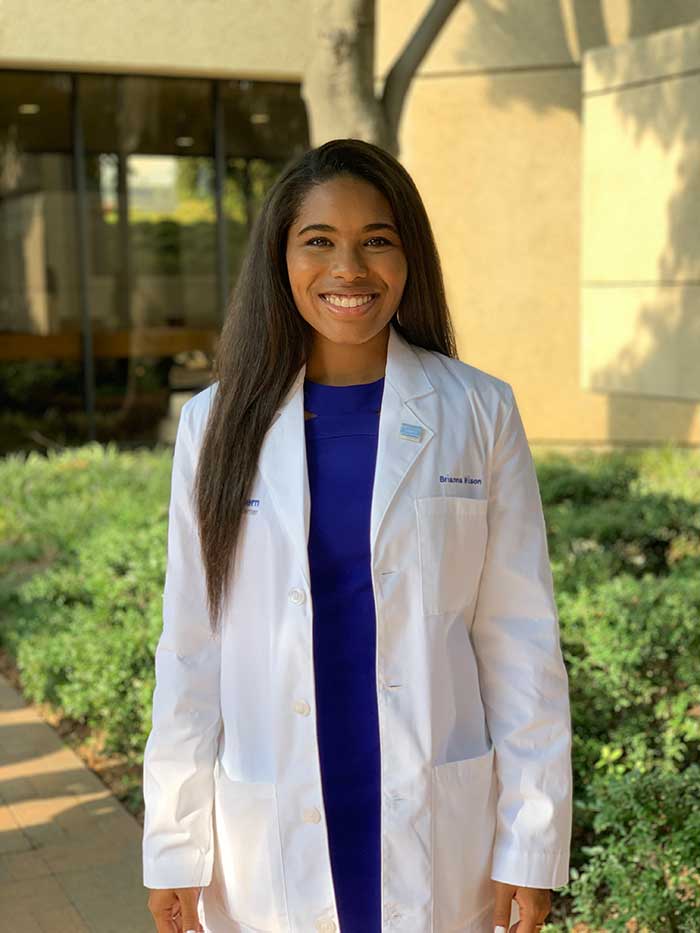 Age: 22
Hometown: Indianapolis, Indiana
Race/ethnicity: Black, Caribbean American
Specialty interest: undecided
Some people dream their whole lives of becoming a doctor. For second-year student Brianna Wilson, a dramatic event convinced her she could have a great impact on someone's life.
When Ms. Wilson was a teenager, the daughter of a close family friend in Jamaica accidentally set herself on fire while playing with a lighter, sustaining second- and third-degree burns. "The resources she needed weren't available in Jamaica," she said. Her family eventually brought the friend to the U.S. for treatment. "This motivated me to pursue the knowledge and skills I will gain in medical school to make a difference in underserved and under-resourced communities."
As she was growing up, Ms. Wilson visited relatives and friends in Jamaica on holidays and during summers. Her family moved around the U.S., then she attended Northwestern University. Interacting with Student Diversity and Inclusion Office staff during her interview at UTSW tipped the balance toward Dallas when she chose a medical school.
"The Office of Student Diversity and Inclusion is one of my favorite parts of the University. They really support their students," she said. Now, Ms. Wilson is the Diversity and Inclusion representative for her class, helping to organize programming.
Adjusting to life as a medical student during a pandemic hasn't been fun. Ms. Wilson said it's been mostly work, with little social interaction for her class. But she has found new perspectives, even during the isolation of 2020.
"Seeing the impact of COVID-19 in minority populations continues to motivate me to work with marginalized communities," she said.
Gabriela Alejo, third-year student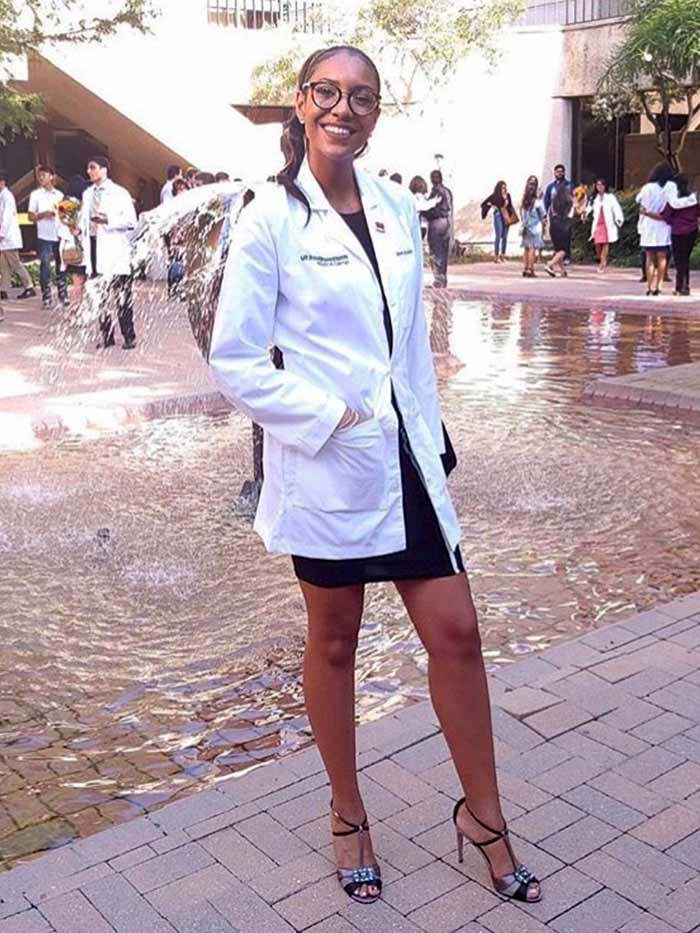 Age: 25
Hometown: Colorado Springs, Colorado
Race/ethnicity: Mexican and Black (Nigerian)
Specialty interest: undecided
What's it like when you grow up identifying as both Black and Hispanic? Third-year medical student Gabriela Alejo said it's complicated.
"Often the ways in which we are treated and addressed is based on how we look," said Ms. Alejo. "However, the complexity of a person's background is not always obvious, so I've found myself in many awkward situations where people are talking down one half of my ethnicity or the other without realizing they were directly offending me."
Both of her parents are U.S. immigrants who moved from Colorado to Texas for employment. Her dad is an engineer and her mom is an interpreter. Ms. Alejo studied science, nutrition, and Spanish in college. When she visited UTSW for interviews, she felt an immediate connection.
"Dr. Nesbitt and everyone in the Office of Student Diversity and Inclusion helped me feel that I have a home within UTSW," she said. "Sometimes I go into their office just to chat. They've created such a comfortable and welcoming space for us."
Ms. Alejo has enjoyed social gatherings, lunches with minority physicians, and the opportunity to mentor local area high school students through the Health Professions Recruitment and Exposure Program, known as HPREP. It's an educational outreach program for high-potential students who are passionate about science and health-related careers.
"When I was young, my dad told me this is a country of opportunity," said Ms. Alejo. "He said, 'You can do it if you're willing to work for it.'" Now in her third year of medical school, that philosophy is working for her.
Darara Borodge, fourth-year student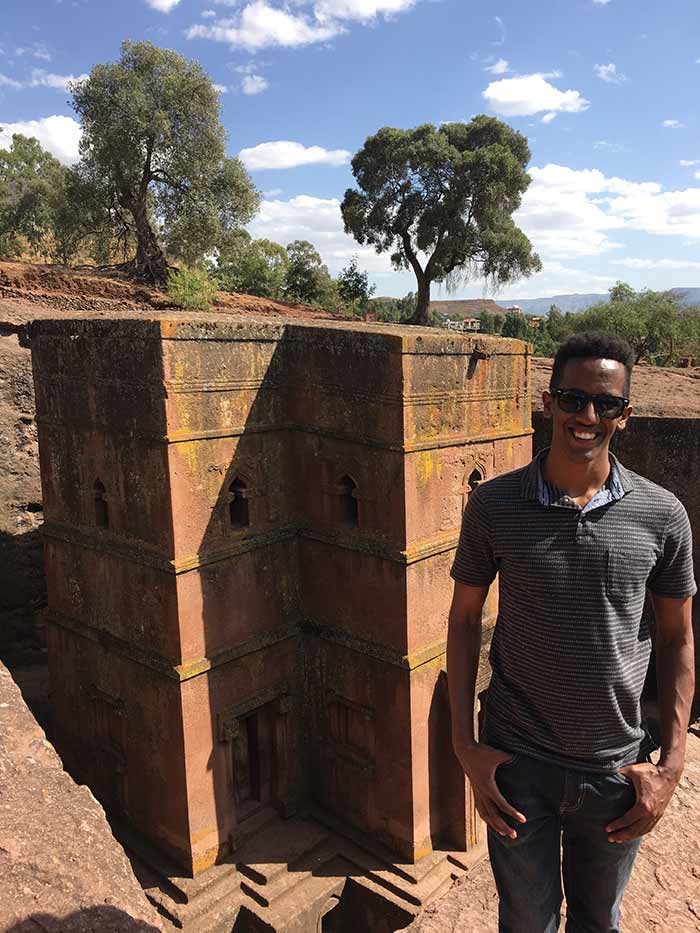 Age: 27
Hometown: Rockwall, Texas
Race/ethnicity: Ethiopian
Specialty interest: Psychiatry
After spending a gap year teaching science to first-graders, fourth-year UTSW medical student Darara Borodge decided he was interested in pediatrics. He accepted an offer to work at a clinic for adolescent spinal disorders in his parents' native country of Ethiopia, where he would be working with the only spine physician in the country.
"We had a 15-year-old patient whose brother helped him walk 500 miles over eight days to reach our clinic. His brother sold possessions to pay for the trip," Mr. Borodge remembered. "My mentor was someone who saw an unmet need and created an impressive medical care system for these patients."
There were other memories made, like reconnecting with many relatives who still live in Ethiopia and learning to adjust to a different pace of life with less technology. Ultimately, Mr. Borodge left Ethiopia with a desire to improve global health care, starting with attending medical school. "My dad is a diabetic and a cab driver, and mom works as a caregiver in a nursing home. Growing up, I saw their daily struggles to buy insulin and put food on the table."
When he visited UT Southwestern to interview for medical school, he was welcomed by the URM program staff and students. On his first day, he rounded with a Spanish-speaking trauma physician at Parkland Memorial Hospital (where Mr. Borodge was born) and noticed a lot of staff were Ethiopian. "I could see that I was reflected in the community of students at UTSW. I was able to see myself included as a provider at Parkland, and I felt this would be the best place for me to learn how to serve underserved communities."
Social justice: How have the events this year surrounding the Black Lives Matter movement influenced you?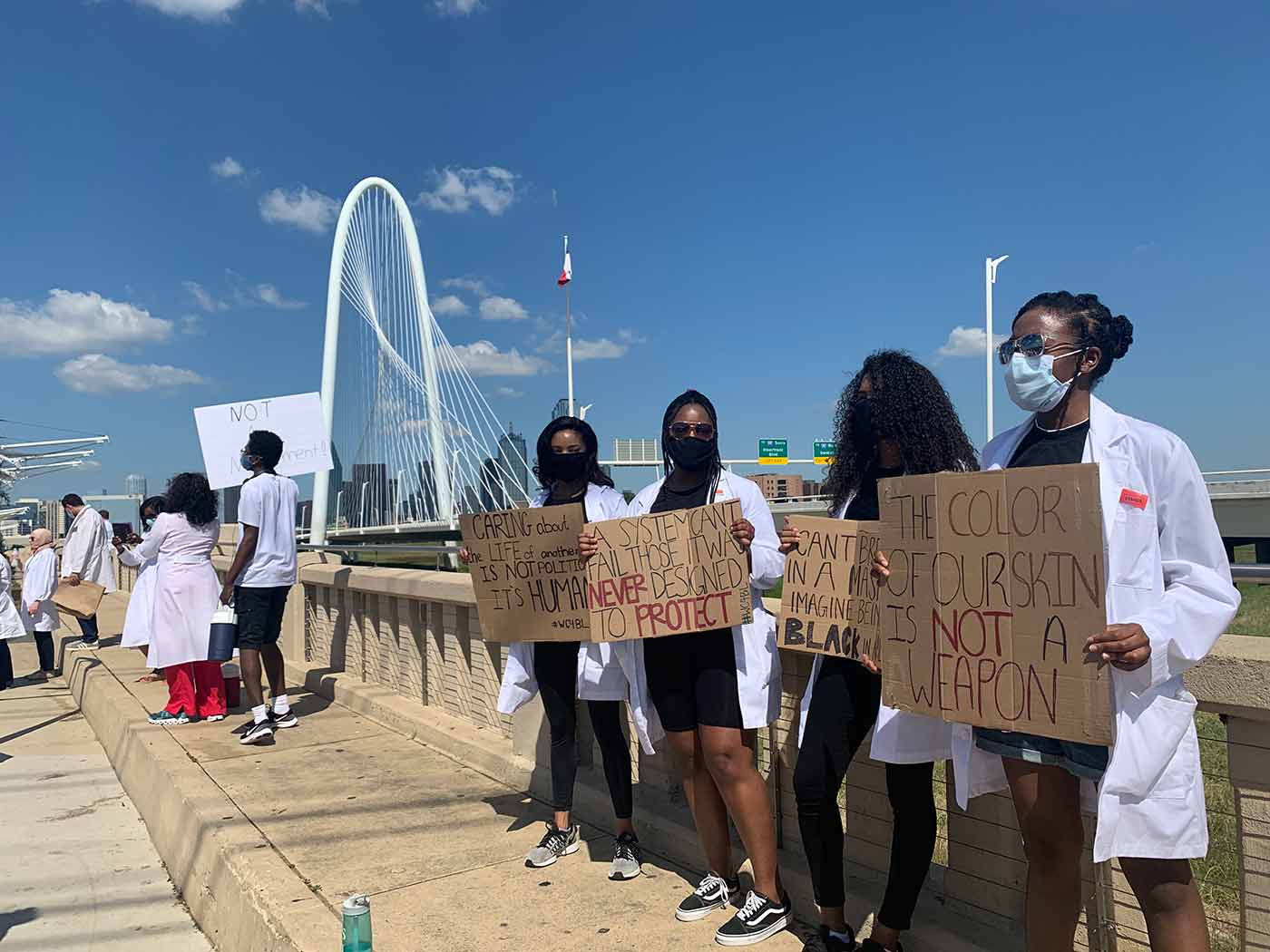 "I hope to motivate other Latinx people to take part in their health care and actively advocate for themselves. I want a future where I can be confident that my family will receive the best quality of care regardless of the color of their skin, familiarity with the language, or any other reason."
– Hector Chaires, first-year medical student
"Medicine is not exempt to the systemic racism that invades our housing, employment, criminal justice system, and education. Moving forward, I want to educate others on these issues, uplift communities of color, and continue to learn how I can be a part of the solution as a future physician."
– Brianna Wilson, second-year medical student
"It has been very emotionally trying, especially when we can't get together in person to support each other as a community. It has motivated me to make space for my underrepresented brothers and sisters at the table, where we will use our voices personally, rather than depending on others to make a voice for us."
– Gabriela Alejo, third-year medical student
"The grassroots protests from people from all backgrounds have inspired me to be unapologetic in my own work for justice. These events have renewed my sense of the importance of community-building and activism that I have been a part of here at UTSW."
– Darara Borodge, fourth-year medical student