Singers lift spirits of health care workers with healing power of music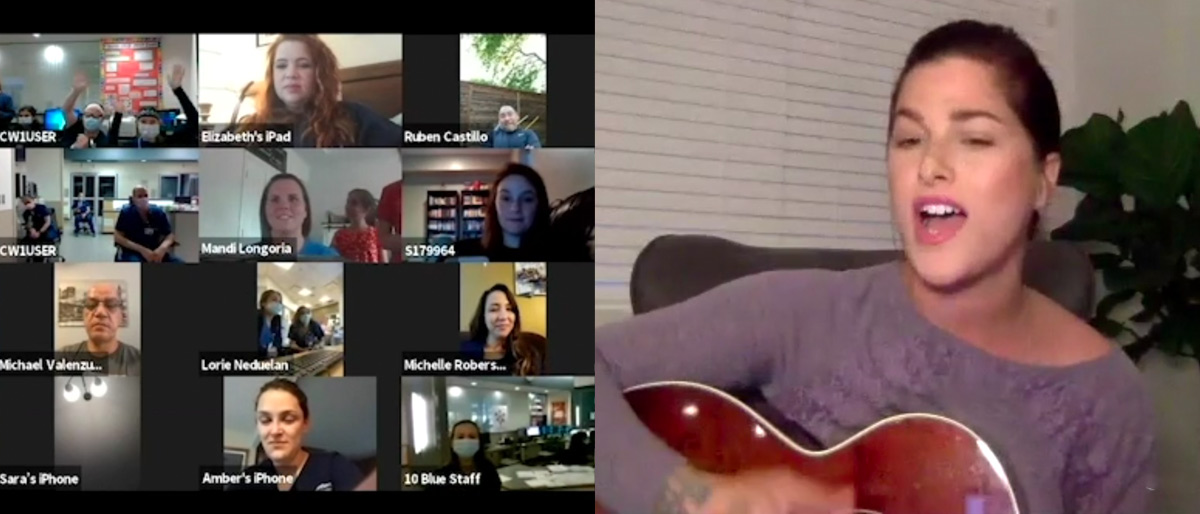 Clusters of face masks and scrubs filled almost every inch of available screen space as health care workers joined the Zoom meeting. Anticipation grew as the host dropped hints about the surprise celebrity guest they were about to meet.
The country musician was the first woman to win "The Voice." Her duet with Chris Young titled "Think of You" reached the top of the Billboard Country Airplay chart. And, finally, the Grammy-nominated, platinum-certified singer-songwriter headlined the CMT Next Women of Country Tour in 2019.
Soon Cassadee Pope's face and warm voice greeted UTSW viewers from Nashville, Tennessee, and she sang two songs: "Take You Home" and "One More Red Light."
"UTSW is making things happen," Ms. Pope told the audience. "My heart is with you guys, you're on the front lines and you're spending time away from your families and taking care of everyone. I can't tell you how much that means to me."
Watch: Cassadee Pope's virtual concert
The live virtual concert hosted by Musicians On Call (MOC) attracted more than 100 UT Southwestern health care workers at shift change on April 22. It was one of several events that has been held to bolster the spirits of front-line medical workers coping with the stress of COVID-19.
Chief Nurse Executive Susan Hernandez, MBA, B.S.N., RN, said shared moments such as these provide an opportunity for UT Southwestern staffers to take time to replenish their stores of mental, emotional, and physical energy.
"With people around the world pressing pause on shaking hands and physically attending large get-togethers during the ongoing coronavirus crisis, many people find themselves searching for opportunities to recreate a sense of community and togetherness," Ms. Hernandez said. "I've been moved by how we are all finding ways to care for each other. We are social distancing, but we are not socially disconnected."
Groundswell of support
Musicians On Call is a nonprofit organization that aims to bring a dose of joy to patients, families, and caregivers in health care settings like UTSW. MOC typically brings live and recorded music from volunteers to the bedsides of patients in hospitals across the U.S., but has adjusted accordingly during the pandemic to safely share the power of music with some of those who need it most: front-line medical workers.
"Since we can't go room to room right now, we wanted to bring UTSW a virtual program," MOC CEO Pete Griffin said. "We love you all so much and know how much you are all doing – especially now. Times are tough and we want to make sure that you know we're on call for you."
Michelle Roberson, a Nurse Manager for the Acute Care for Elders Unit at William P. Clements Jr. University Hospital, said medical staff have been flooded with other supportive gestures. "I'm touched that so many people are thinking about us," she said. "We're seeing our staff members be taken care of in a holistic way."
In May, the UT Southwestern Health System brought in therapy dogs to help health care staff cope with stress related to COVID-19 work. And since March, North Texans have stepped up by providing nonstop donations of meals and medical supplies. Among the donations have been "ear savers," small tools that make masks more comfortable for long-term wear by removing pressure and friction from the ears.
"Our community really thought about everything," Ms. Roberson said. "Even the smallest surprises – like sidewalk chalk messages of encouragement – can bring so much joy for the rest of the day and set the tone for an entire shift."
Donald Jones, RN, Emergency Room Administrative Clinical Coordinator, agreed with that sentiment and offered up his own musical talents to lift the spirits of his colleagues. Mr. Jones, a Dallas Opera member, performed both in the front lobby and back entrance of Clements University Hospital in April with the objective of inspiring fellow health care workers with songs like "Lean on Me" and Simon & Garfunkel's "Bridge Over Troubled Water."
"Music has the ability to connect people, and to me that's the most beautiful thing," Mr. Jones said.
Caring for caregivers
As National Nurses Week ended on May 12, Mandi Longoria, the Magnet Program Manager from the Clinical Education and Professional Practice team, summed up the sentiment that the well-being of health care workers is a priority: "Our senior leadership recognizes that if we are not taking care of ourselves, it is very challenging to continue to pour from an empty cup."
Ms. Longoria said relationship-based care (RBC) is the nursing professional practice model at UT Southwestern. RBC focuses on three specific relationships: care of self, care of team, and care of the patient.
"As a Magnet designated facility, it is vital to embrace the nursing professional practice model now more than ever," she said. "The leaders at UTSW want to make sure that our staff feel that measures are put into place to help us care for ourselves and our teams, so that we as health care providers can focus on our why … the patients and their families."
Under the direction of Ms. Hernandez, the hospital earned this honor from the American Nurses Credentialing Center in 2016. The designation is the nation's highest form of recognition for nursing excellence and serves as a benchmark for quality of care.