The Patricia and William L. Watson Jr., M.D. Award for Excellence in Clinical Medicine
The Patricia and William L. Watson Jr., M.D. Award for Excellence in Clinical Medicine is UT Southwestern's highest honor in clinical care. The award recognizes a UT Southwestern clinician who exemplifies excellence in patient care and is a leader in advancing clinical innovation. It honors a faculty member who has had a profound impact on patients, students, trainees, and colleagues through the quality of his or her clinical work.
---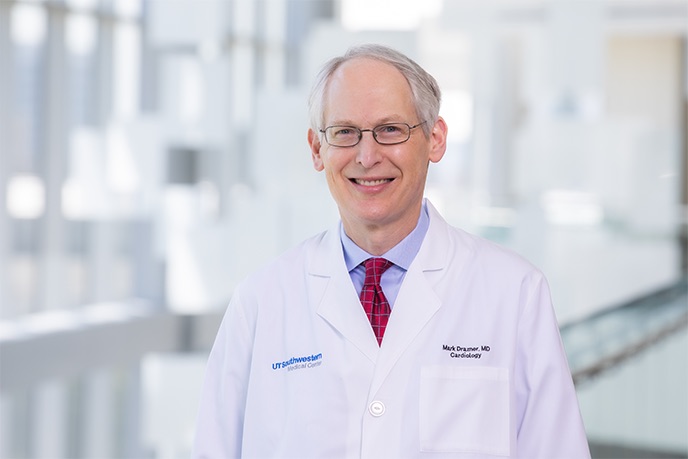 Professor of Internal Medicine
Clinical Chief of Cardiology
In his more than 20 years on the UT Southwestern faculty, Dr. Drazner has built a record of accomplishment and excellence in patient care and medical education that has brought hope and health to his patients, enlightenment and inspiration to his trainees and students, and distinction and recognition to his institution.
A cardiologist with special expertise in treating cardiomyopathy and advanced heart failure, Dr. Drazner cares for some of UTSW's sickest patients. For the past 14 years, he has led UTSW's Advanced Heart Failure/Transplant within the Division of Cardiology, during which time the program has grown substantially, emerging as a leader on the national stage. In 2016, he assumed the additional role of Clinical Chief of Cardiology, coordinating clinical activities across UTSW for both inpatient and outpatient care.
Dr. Drazner's lengthy tenure in leadership roles underscores his reputation as a "doctor's doctor," yet it is his long history of expert, attentive care that is especially noteworthy. The family of one patient commented that, "His decision-making skills were outstanding, and amazingly, he was always there and always available." A colleague calls him an "extraordinary clinician and person" and notes, "He works tirelessly for his patients."
Along with being highly regarded as a clinician, Dr. Drazner is an equally admired and accomplished educator. In 2018, the American Heart Association's Council on Clinical Cardiology awarded Dr. Drazner the prestigious Laennec Master Clinician Award, which recognizes lifetime achievement in patient care and teaching in cardiology. At UT Southwestern, he has been recognized repeatedly with teaching awards and is routinely selected by UTSW house staff as one of the top-rated teachers in the Cardiology Division. His mentoring and guidance have fostered the career development of UTSW faculty members who are highly valued on campus and beyond.
Outside the clinic and classroom, Dr. Drazner also has been at the forefront of research in the arena of heart failure and cardiac transplantation. Additionally, he was one of the first physicians in North Texas to be certified by the American Board of Internal Medicine when it introduced the subspecialty of Advanced Heart Failure and Transplant Cardiology. He recently was appointed President-elect of the Heart Failure Society of America.
Dr. Drazner also has been orchestrating the Cardiology Division's response to the COVID-19 pandemic. Approximately 15-20% of SARS-CoV-2-infected patients develop cardiovascular symptoms, which can be severe. Dr. Drazner has worked tirelessly to ensure the Cardiology Division was organized to provide excellent care, regardless of how the pandemic evolved.
Whether caring for patients or training the physicians of tomorrow, Dr. Drazner stands out. "A truly exemplary physician," says his nominator for the Watson Award, and a "kind and compassionate human being."
Dr. Drazner earned his medical degree from Washington University in St. Louis and completed his residency in internal medicine at UT Southwestern, where he was Chief Resident. He has completed fellowships in cardiology at Duke University, and in heart failure/cardiac transplantation at Brigham and Women's Hospital. He also has a master's degree in epidemiology from the Harvard School of Public Health.
In his words: "Receiving the Watson Award is a humbling experience, especially given the large number of talented clinical faculty we have at UTSW. At this moment, I think back to the training I received as part of the UTSW Internal Medicine residency program, a pivotal time in my career that played a large role in shaping me as a physician. I also want to thank my Advanced Heart Failure/LVAD/Heart Transplant team and the entire Cardiology Division. It is a privilege to work with these highly skilled, compassionate health care professionals, and their pursuit of excellence on a daily basis makes me a better doctor. Finally, I must acknowledge my patients. They welcome me into their lives at their most vulnerable times and entrust me with their care, giving far more back to me than I do for them."