Institutional Service Award
This award honors clinical faculty who consistently share time and expertise in service to internal committees, task forces, and other institutional activities that make a significant impact on the care delivered to UT Southwestern patients.
---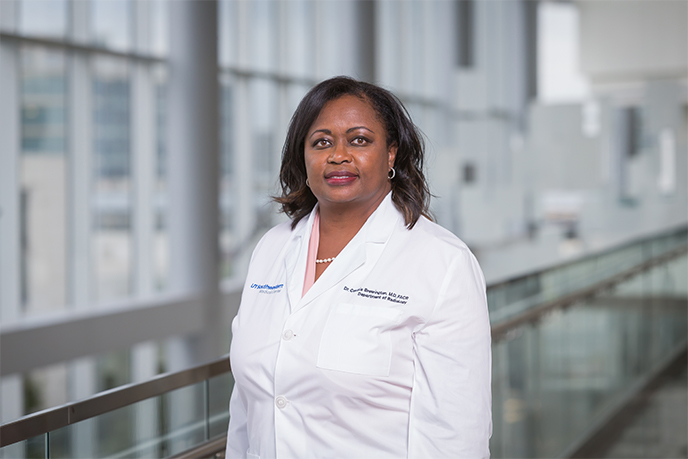 Professor of Radiology
Vice Chair of Clinical Operations
Chief of Community Radiology
Dr. Brewington has spent the entirety of her medical career in service to UT Southwestern, beginning soon after completing a residency in diagnostic radiology and a fellowship in body imaging at UTSW in the mid-1990s. At various times she has served as Medical Director of Imaging Services at the James W. Aston Ambulatory Care Center, Zale Lipshy Pavilion, St. Paul University Hospital, and William P. Clements Jr. University Hospital. In addition, for many years she has managed the radiology operations for UT Southwestern's growing outpatient imaging services, including the establishment of new services in Fort Worth, Richardson, Las Colinas, and Frisco.
Among her 60+ committee assignments at UTSW, Dr. Brewington has held positions involving the incorporation of HIPAA guidelines, the Health System five-year strategic plan, the search committee for the Executive Vice President for Health System Affairs, and membership on the business operations board of the Medical Service Research and Development Plan. One colleague notes that Dr. Brewington "has an extraordinary talent for operations and is particularly adept at shepherding Imaging Services through new initiatives or challenging transitions." She has been instrumental in reducing cancer risks in the community by working with UTSW pulmonologists to establish the institution's first lung cancer screening program and also spearheaded UTSW's colonography program, including continuing to train new readers.
Dr. Brewington is additionally known for being a much-needed advocate for the health of underserved populations, as well as a mentor to women and people of color employed or studying at UT Southwestern. As one colleague remarked, "Beyond all the committee work, increasing gender and racial parity in the UTSW faculty and medical school may be her most important service." Adds another, "Dr. Brewington has continually made UT Southwestern better with each year of service."
In her words: "I am delighted and honored to be awarded the Institutional Service Award by my peers and the leadership at UT Southwestern. I will be accepting this award not as a recognition of my work alone, but more in recognition of the teamwork and collaborations that I have been fortunate to experience these many years working with other dedicated members of the UTSW family – a family of colleagues, staff members and trainees striving to make a difference in the experience and outcomes of our patients during a time of a health challenge and vulnerability in their lives. I look forward to continuing to work shoulder to shoulder with the many creative, skilled, and innovative individuals at UTSW to persistently achieve the 'future of medicine today'."
---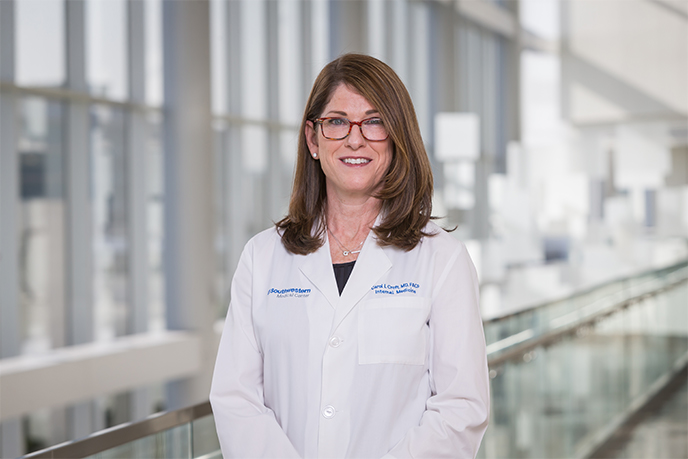 Professor of Internal Medicine

After completing her internal medicine residency at UT Southwestern, Dr. Croft joined the faculty in 1994, and she has served as a critical leader across the entire landscape of UTSW clinical enterprises. Her involvement in institutional service has ranged from education and faculty development to hospital quality and safety to pharmacy/therapeutics and perioperative services. Over the course of her career, she has served on more than 40 different committees at UTSW, including at least 10 where she has been either Chair or co-Chair. She is the founding Chair of the Clinical Care Learning Group, which seeks to improve the care UTSW delivers.
Although her clinical focus is adult preventive medicine, one colleague notes her specialty seems to be bringing people together from all corners of UTSW's clinical network in an inclusive, coordinated effort to contribute to providing patients with high-quality health care in a medically safe environment. "When Dr. Croft asks the most junior person in the room their opinion on a clinical problem, it cannot help but open up dialogue and the possibilities for finding an opportunity to improve," a colleague says.
Those who work with Dr. Croft in one of her many institutional service roles learn one concept very quickly: Her decision-making and motivation flow from her dedication and commitment as a physician. She is an inquisitive diagnostician and a tenacious patient advocate, never forgetting the elements of patient service and human kindness that make her an exceptional doctor, an attribute that is marked by recognition on D Magazine's Best Doctors list for 15 consecutive years. "We are all the better for her willingness to serve and her inimitable talents," notes a colleague.
In her words: "It is very special to be recognized for work done in the interest of optimizing the care we give to patients. I'm fortunate to have worked with so many talented and generous professionals across the organization over my years here at UT Southwestern. Whether the aim was clinical care, patient safety, medical education, or clinical training, the collaboration and shared goals made the work gratifying. UT Southwestern has been my professional home as a physician and if in some ways I've made it better for patients and families and for my colleagues, I've achieved something I truly value."