This award celebrates clinicians who demonstrate exceptional commitment and effectiveness as a mentor to health care providers.
---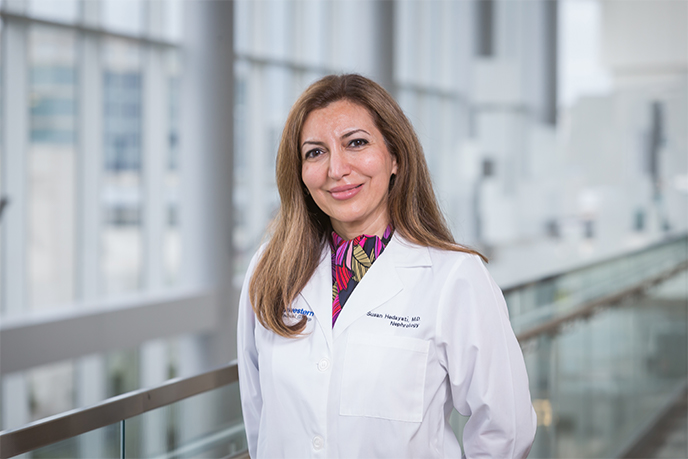 Professor of Internal Medicine – Nephrology
Director, Nephrology Clinical and Population Health Research
Associate Vice Chair, Research and Faculty Development
Being a successful mentor involves not only leading by example and motivating mentees to achieve but, at UT Southwestern, helping to shape and guide the very future of medicine. According to medical students, residents, fellows, and faculty, Dr. Hedayati has epitomized this type of mentorship in an above-and-beyond way since she joined UTSW 16 years ago.
Throughout her years and various roles – including formerly directing the Nephrology Fellowship Program and serving as the Nephrology Division Chief at the VA North Texas Health Care System and currently serving as Director of Nephrology Clinical and Population Health Research and Associate Vice Chair of Research and Faculty Development – Dr. Hedayati has affected the career trajectory of numerous future clinicians and improved the lives and outcomes of countless more patients.
Those she has mentored describe her with words that speak to her success: knowledgeable, experienced, supportive, inspiring, candid, caring, patient, flexible, dependable. Joseph Berger, M.D., Associate Professor of Internal Medicine at UTSW, says, "I can honestly say that in 2020, my career is where I had envisioned at the time of that first rotation with Dr. Hedayati, and I believe that this is in large part the result of her exceptional guidance and mentorship."
Orson Moe, M.D., Professor of Internal Medicine and Physiology and Director of the UTSW Charles and Jane Pak Center of Mineral Metabolism and Clinical Research, says, "Susan not only has a genuine enthusiasm and drive for mentoring and gives of her effort to mentor through several of her university roles, but also uses personal time after hours during nights and weekends responding to texts, emails, and phone calls to work with trainees and faculty to promote their development and academic careers."
Dr. Moe adds, "Her mentoring goes beyond research and clinical projects and, importantly, she provides continued guidance to her mentees as a career and life mentor. Most importantly, she mentors her trainees to mentor others."
In her efforts as the Nephrology Fellowship Director, she introduced simulation-based training for fellows, which improved the safety of kidney biopsies and central line placements. She was instrumental in the creation of dedicated Dialysis Services at Parkland Memorial Hospital, which significantly improved timely and personalized care for dialysis inpatients.
Dr. Hedayati is an independent NIH-funded investigator who has used her research as a platform to mentor a broad range of 24 trainees, from medical students to residents, fellows, and junior faculty. Outside of those concrete results, Dr. Hedayati's colleagues note that she not only inspires trainees to become interested in a career in research and academic medicine, but also to learn and practice evidence-based medicine to advance their clinical skills. She consistently takes this approach when supervising trainees on teaching rotations at Parkland Memorial Hospital and William P. Clements Jr. University Hospital.
For the past five years, Dr. Hedayati has been active as an educator at the national level, including serving as faculty for the American College of Physicians MKSAP Board Review Course and the American Society of Nephrology In-Training Examination.
In her words: "I am humbled, truly humbled. There are so many mentors across the UT Southwestern campus who deserve this award. I am, therefore, honored to receive it on behalf of all of us who work diligently on a daily basis to train, mentor, and support our next generation of M.D. clinicians and research investigators who will, in turn, train, mentor, and support others. I am very grateful to have the opportunity to serve in this way."
---
Associate Professor of Internal Medicine and
Population and Data Sciences
Division of Rheumatic Diseases
While completing advanced training in rheumatology, clinical epidemiology, and aging research through separate fellowships at Yale University School of Medicine more than a decade ago, Dr. Makris had the good fortune to have a mentor who not only positively impacted the course of her career but who, on a fundamental level, changed her life. Since then, she has been passionately involved in paying it forward by assuming the same role for others.
And she does it tirelessly.
In addition to her own active research at UT Southwestern and her clinical responsibilities, where she's been a faculty member since 2011, Dr. Makris goes out of her way to assist faculty and trainees with their research questions, grant applications, and manuscripts.
Rheumatic Diseases Division Chief David Karp, M.D., Ph.D., puts it simply: "Dr. Makris lives the life of a mentor. She personally helps young clinical trainees and clinical investigators become better rheumatologists and researchers. She has been invested in this personally in her own career and has taught others to be good mentors both here at UT Southwestern and across the nation."
At UT Southwestern, Dr. Makris developed the Rheumatology Fellowship Mentoring Program and implemented the Writing Accountability Group, an initiative that has been enormously successful in helping many clinician-scientists document, submit, and publish their research. She regularly conducts career development workshops and is a popular lecturer for rheumatology fellows, providing guidance for their careers in academic medicine or community practice.
On the national level, she helped to establish CARMA (Creating Adult Rheumatology Mentorship in Academia), a program designed to match fellows and junior faculty with mentors across institutions, acknowledging that not every institution has the expertise in mentoring that a mentee might need.
"What always amazes me is Dr. Makris' enthusiasm for team science," Dr. Karp says. "She understands that a group of high-performing individuals will always be more productive than a single individual, no matter how skilled they are. She has the fantastic ability to select the right team members and to blend their different styles in a way that maintains camaraderie and a sense of purpose. While she often 'leads' these teams, she allows others to shine, and the whole effort seems to advance organically and not by executive action."
Dr. Makris is the recipient of numerous awards for her research on aging, particularly in the areas of chronic pain and osteoarthritis. Among other honors, she has received the American Geriatrics Society's New Investigator Award, and in 2019, the UTSW Office of Faculty Wellness named her a Wellness Champion for the Department of Internal Medicine.
In her words: "It is a true honor to accept this Mentoring Award – as a lifelong mentee and now mentor. We are all here because of mentors, the various mentors in our lives who have guided us, inspired us, and role modeled what this looks like. Mentoring is all about relationships and trust and sharing knowledge to help a colleague progress. I am humbled and so grateful that I can be part of the process (even a small part) of what helps a colleague get to where they want or need to be in their career. We are all driven to medicine and research in order to improve outcomes for our patients, and UT Southwestern provides the ideal environment where both mentors and mentees can continue to challenge themselves in order to serve this mission. Thank you to all who invest their time, energy, and expertise into the roles of both mentee and mentor – and to this fantastic institution that values it."