A recipe for success: Chemists step up to make hand sanitizer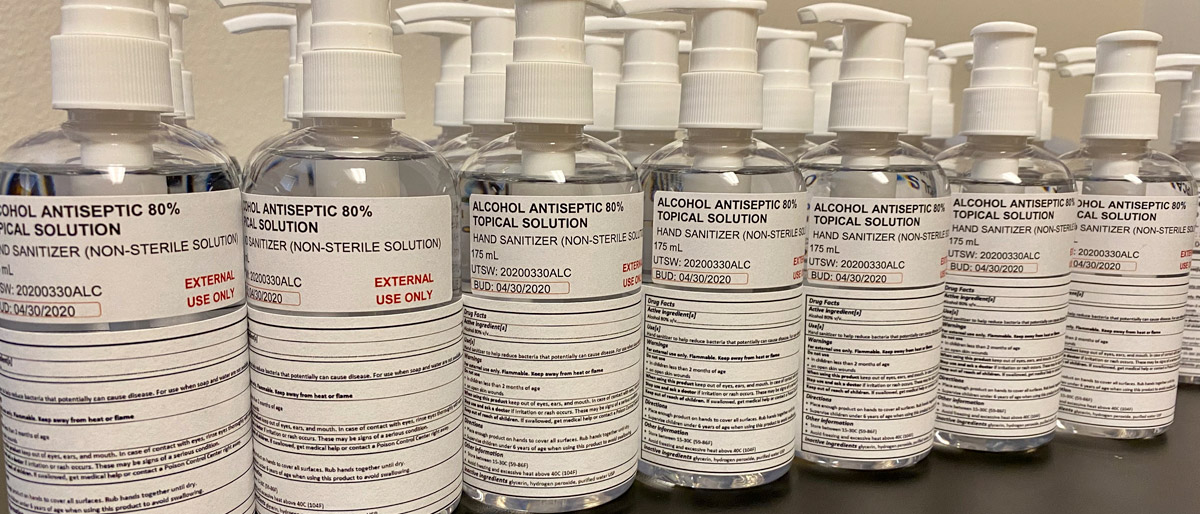 When you are running out of a product, wouldn't it be nice if you could just make more of your own?
That's what two organic chemists at UT Southwestern did when hand sanitizer fell into short supply as the COVID-19 pandemic spread across the country. Now the lab-produced sanitizer is helping keep hands germ-free for UT Southwestern caregivers and staff.
"Our Director challenged us to fill an urgent need in the supply chain," said Dr. Christopher Sleet. "It's a fantastic opportunity to use our knowledge to change lives."
The reaction of the two researchers to the challenge was speedy. Dr. Sleet worked with Dr. Jose Garcia-Rodriguez, both Safety Specialists II in Chemical Safety, to cook up a solution on March 13.
Related video: Watch chemists' process to produce hand sanitizer
"Within 15 minutes, they found a way to solve the problem. Within an hour, they had made their first batch," said Patrick Conley, Director of Biological and Chemical Safety & Environmental Compliance in the Office of Safety and Business Continuity.
The chemists initially produced 24 liters of sanitizer that was divided into 750-milliliter sanitized cartridges and distributed to UT Southwestern's William P. Clements Jr. University Hospital and affiliated clinics. When empty, the cartridges will be returned to them for a refill. The chemists are hoping to produce as much as another 400 liters.
"This is a short-term solution until the supply chain issues resolve. We will make as much as we can, for as long as we can," said Mr. Conley.
Instructions for making hand sanitizer are publicly available on the World Health Organization (WHO) website. However, the high-grade ingredients that meet United States Pharmacopeia (USP) standards are not readily available to consumers, and safeguards must be employed in handling the chemicals.
"We're doing this to help UT Southwestern. Don't try this at home," cautioned Dr. Garcia-Rodriguez. "Without safety equipment, you could burn your skin."
The WHO recommendations include just four ingredients: ethyl alcohol, hydrogen peroxide, glycerol, and sterile distilled water. To ensure the water was sterile, the chemists used a common lab tool called an autoclave to push the temperature to 121 degrees Celsius (250 degrees Fahrenheit) in a process that kills the toughest known microorganisms.
Once combined, the solution rests for 48-72 hours to ensure that it is disinfected of any unwanted stray ingredients that may have been on the containers before distribution.
According to the WHO guidelines document, the detailed step-by-step directions were developed to help countries and health care facilities around the world produce alcohol-based hand sanitizer. Some countries that worked with the WHO as testing sites in the past include Bangladesh, Costa Rica, Egypt, Kenya, Mali, Mongolia, Pakistan, Saudi Arabia, and Spain.
Now those guidelines are helping UT Southwestern fill an urgent need during the COVID-19 crisis.
"We knew this was a way to use our expertise as organic chemists. We hope to stop the virus and prevent more cases from occurring," said Dr. Garcia-Rodriguez.
And that's a great motivation to keep cooking up more.
Faculty whose labs contributed to the effort include: