UT Southwestern mobilizes against COVID-19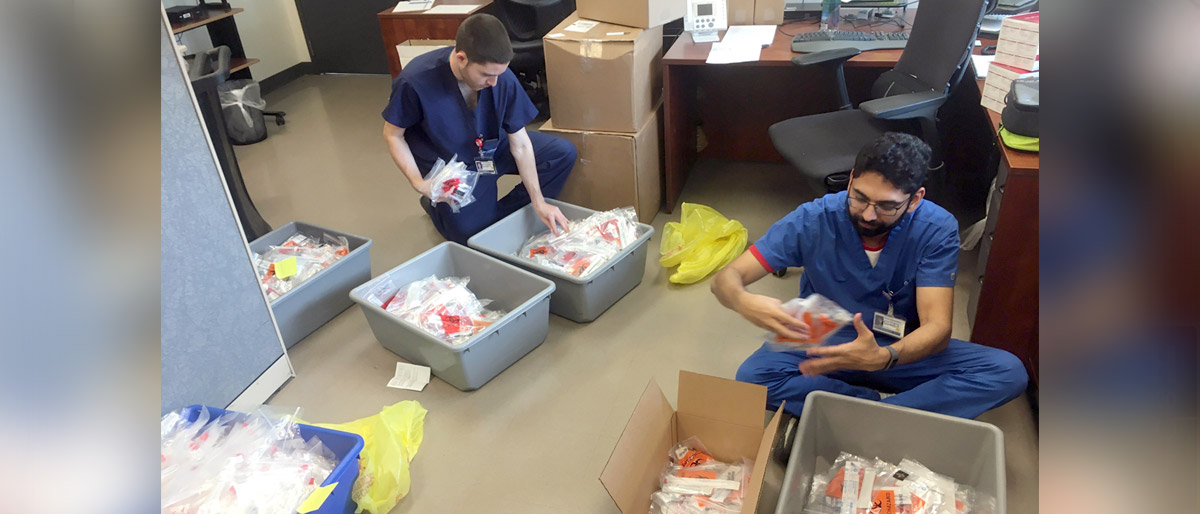 As COVID-19 spread from China across the globe and into Texas, UT Southwestern moved aggressively to protect its health care workers, faculty, students, and staff and to prepare for treating patients struck by the disease.
In a matter of days, life at UTSW was transformed. Most work-related travel was banned, many employees were asked to work from home, and UT Southwestern Medical School classes moved online.
"We are living through a generation-defining experience, and the scope, scale, and pace of the COVID-19 events are unprecedented to us," Dr. Daniel K. Podolsky, President of UT Southwestern, informed members of the campus community as new procedures and restrictions rolled out.
COVID-19 is a respiratory illness caused by SARS-CoV-2, a novel coronavirus. The first outbreak of the disease occurred in Wuhan, China, in December. With symptoms including high fever, cough, and shortness of breath – and no approved vaccine – COVID-19 presents a serious public health risk, particularly for seniors and those with underlying conditions such as heart or lung disease. By late March, the disease had resulted in more than 12,000 deaths worldwide.
As cases started to grow in the United States and officials began taking steps to slow the spread of infection, UT Southwestern leadership formed an Emergency Operations Center (EOC) to centralize decision-making in response to the crisis. Led by Dr. William Daniel, Vice President and Chief Quality Officer for the Health System, the EOC is composed of top leaders from across the institution who meet daily to address COVID-19-related issues and plan action.
Bans on UTSW-related international and domestic out-of-state travel were put in place, effective through at least April 30.
Many UT Southwestern research laboratories scaled back activity, with nonessential visits from research participants suspended and the number of researchers working in a lab initially limited to one person at a time. Effective March 23, lab activities were restricted even further except for high priority research related to COVID-19.
To reduce the risk of infection, free up health care workers, and make room for potential COVID-19 patients at William P. Clements Jr. University Hospital, elective surgeries through April 10 have been rescheduled and nonurgent office visits pushed past June 1.
Medical School education moved to remote learning as campus gatherings on March 16 were limited to no more than five people.
That same day, thousands of UT Southwestern employees were directed to work from home if possible.
On March 17, Clements University Hospital and UTSW clinics restricted entry by closing some entrances and screening visitors and patients for signs of the virus. Visitors deemed a risk were turned away and those admitted were limited to one visitor per patient, with children under age 12 not allowed. At nonclinical campus buildings, use of an employee badge became necessary to gain entry.
As preparations were made to treat the expected influx of COVID-19 patients, UT Southwestern erected a tent near Clements University Hospital's ambulance bay to serve as a triage site for patients arriving with upper respiratory symptoms. On March 20, drive-up COVID-19 testing became available in the Paul M. Bass Administrative and Clinical Center parking lot for patients referred by UTSW physicians.
And, like medical facilities around the country, UT Southwestern searched for additional sources for the protective masks, gloves, and other equipment that will be in high demand if the pandemic continues.
As the EOC kept the campus informed on the fast-evolving situation through a daily newsletter prepared by the Communications staff, UT Southwestern's medical experts also provided information to the larger community.
Dr. Ahmad Raza, Professor of Psychiatry at the Peter O'Donnell Jr. Brain Institute, appeared on KERA FM public radio to discuss how to deal with anxiety during the pandemic. Dr. John Schoggins, Associate Professor of Microbiology, described a study he co-authored that identified a protein that might slow COVID-19's attack on lung tissue to reporters from the UPI news service and other media. And Dr. Trish Perl, Professor of Internal Medicine and Chief of the Division of Infectious Diseases and Geographic Medicine, provided information in The New York Times and other outlets about hand washing as a tool to prevent infection.
Amid the many changes and preparations on campus, there was also innovation and celebration.
This year's Match Day – when graduating medical students across the country learn where they will do their residency training – went virtual. Unable to hold the large gathering of students, family members, and faculty that is a happy tradition at UT Southwestern, the soon-to-be doctors and UTSW officials instead connected via an app called Zoom to share the moment together online.
Summing up the situation in a message to faculty later that day, Dr. Podolsky said: "We will be defined not only by this crisis, but how we respond to it."