Facilities: Creating miracles from the ground up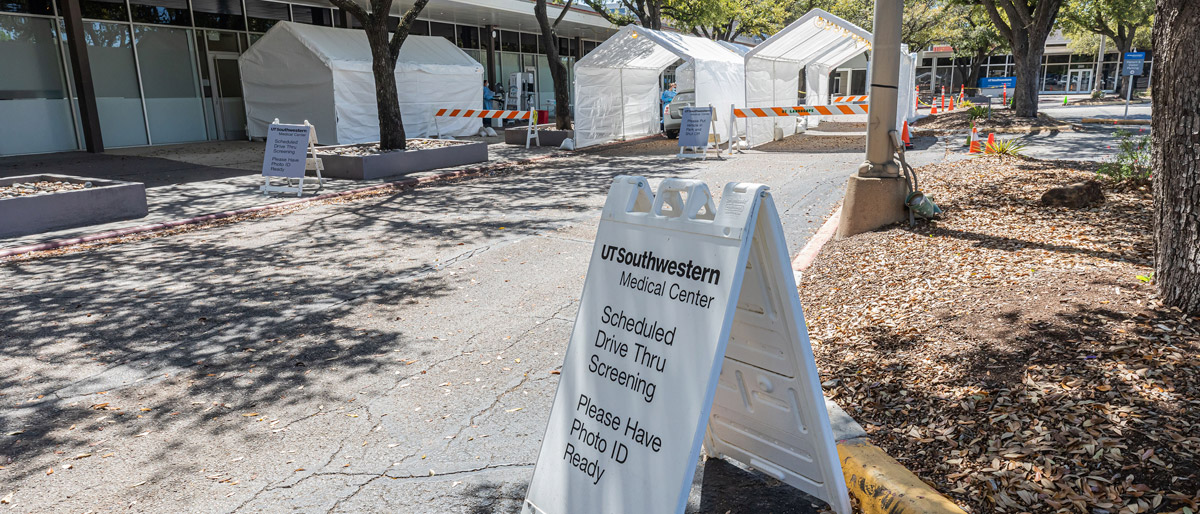 An army of nearly 400 Facilities personnel keep UT Southwestern buildings operating 24/7 throughout the year. During the COVID-19 outbreak, it's been all hands on deck as requests for construction work and other needs have rolled in.
One of their most urgent projects was building a UT Southwestern COVID-19 testing lab facility. Working with several other departments including Clinical Laboratory Services, Facilities Management, Information Resources, UTPD-Access Control, and the Office of Safety and Business Continuity, Facilities quickly renovated 325 square feet of formerly unused space in the BioCenter where new equipment was installed to analyze tests developed by the Department of Pathology. Workers also built a 210-square-foot access corridor.
"In just three days, March 19-21, our building maintenance and utilities crews built the equivalent of a clean room at the BioCenter, sufficiently robust to accommodate all requirements associated with two high-capacity COVID-19 testing devices," said Juan Guerra, Vice President of Facilities Management.
The testing lab set up in the BioCenter is just one example of several high-priority projects completed in record time by the Facilities staff to meet urgent health care needs during the crisis, according to Mr. Guerra.
"This is a deployment on a scale we haven't done before, in a rapidly changing situation," said Ann Tate, Director of General Services for Facilities Management. "We are an army of busy bees working 16-20 hours a day to build and maintain everything this effort requires. Everyone enjoys the honey, but few see inside the hive."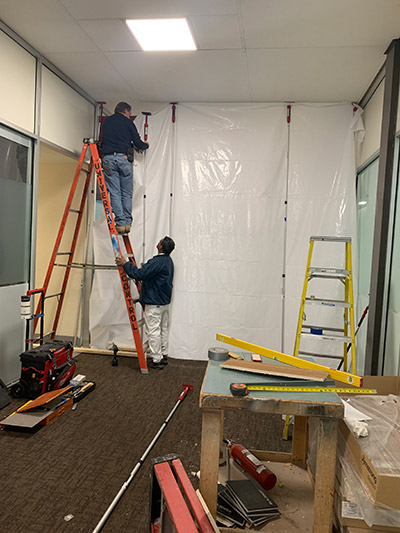 Over one weekend, a vacant dental clinic in the Bass Administrative and Clinical Center was converted into a negative air pressure area for a COVID-19 patient screening clinic. Negative air pressure is a system that pumps air out of a building, away from people inside. Exhaust fans are installed to pull potential airborne contaminants out of the building and maintain a clean environment within. To do this successfully, every nook and cranny must be completely sealed.
"This was an astonishing feat that our team accomplished in the 55-year-old Bass building. Our crews had to create a negative air pressure environment in a space that was never designed for this type of use," said Mr. Guerra. Facilities staff have also converted emergency department pods at William P. Clements Jr. University Hospital to quarantine-ready spaces with negative air pressure. They even erected an emergency department triage tent with a negative air pressure space – "not easy to do inside a tent," as he pointed out.
Outside the Bass Center, a drive-through clinic for preliminary testing of symptomatic patients was set up using tents. Plumbers installed propane heaters to help health care personnel on cold days. Electricians put up tents, and building managers installed signs.
"We all lose our titles in this situation. Everyone simply stands up and asks what needs to be done. It's one thing to do your job, but it's another to keep going into the night and the wee hours of the morning to get it done," said Orlando Salazar, Assistant Director of Building Maintenance.
The Facilities staff has a hand in virtually everything on campus. While many other departments are now working remotely, this staff must be on campus, working in staggered and flex schedules, often taking on new duties or jumping in to help where demand is high. For example, some grounds workers, movers, and carpenters were redeployed to sanitize high-touch areas such as light switches and door knobs throughout the day.
"All of our efforts are so very important in the race to control and defeat this terrible pandemic," said Senior Electrician Anthony Ramirez. "UTSW is literally on the front lines, and I am honored to be a part of our mission. Whatever it takes, you can count on us."
Another common service that never stops moving is UT Southwestern's transportation system. The Campus Connector normally transports 450,000 people a year. Ridership is now limited to five passengers per shuttle to accommodate social distancing. Shuttles are sanitized throughout the day.
"The shuttle drivers are close to my heart. It's vital that they feel safe," said Ms. Tate. "We educate them every day and we have been as transparent as possible."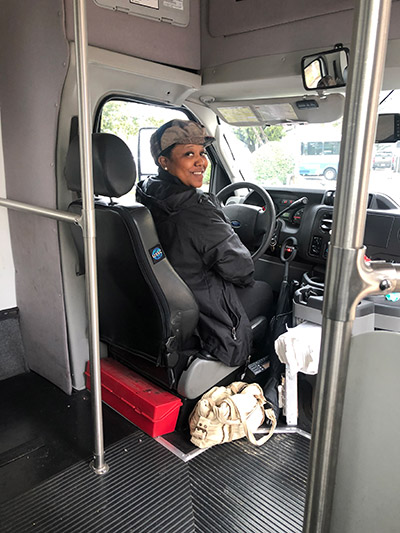 About one-third of the Facilities Department has been with UT Southwestern for more than 10 years, and their sense of commitment is high.
"The rookies have been here for five to 10 years. Many others, including myself, have been with UT Southwestern 20 to 30 years. I think everyone believes in UTSW and that what we do is special and important," said Mr. Salazar.
"Facilities staff work to make your job easier. We are like a family that comes together and does what it takes to get it done," agreed Ms. Tate.