Students jump into action to volunteer during COVID-19 crisis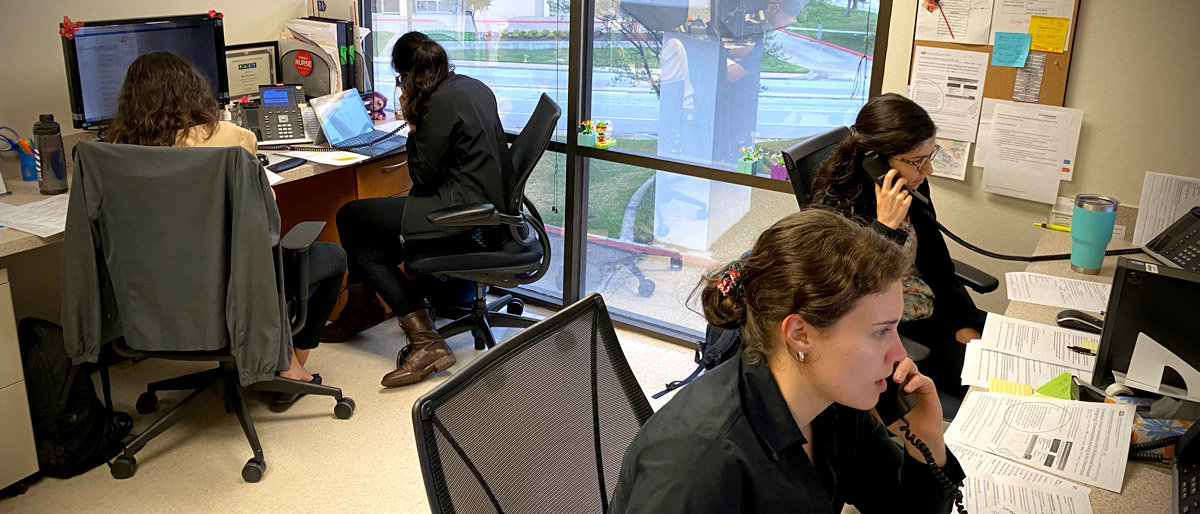 Hundreds of UT Southwestern students, led by class leaders of the Medical School, launched an unprecedented wave of volunteerism in mid-March as campus educational programs and research activities scaled back amid concerns over COVID-19.
While UTSW's three schools adjusted to a new dynamic of remote learning and social distancing, the student leadership group – Oludamilola "Dami" Akinmolayemi, Jennifer Bachand, Anthony Han, Jordan Hughes, Laura Kenyon, Priscilla Tanamal, and Andrew Tran – reached out to deans and faculty members to explore how students could help across the clinical spectrum.
Through a unique and thoughtful process, leadership in Health System Affairs identified immediate as well as long-term needs that could support or supplement the efforts of front-line clinical teams and staff while maintaining the health and safety of students. This partnership between the Health System and the University is fully aligned with national guidelines for medical student volunteerism, allowing learners to provide maximum support while minimizing their own risk.
Volunteer opportunities include helping to screen hospital visitors, answering phones, moving furniture, and delivering supplies, among others.
"I am overwhelmed by our students' generosity of time and their desire and commitment to serve in big and small ways in this time of crisis," said Dr. Angela Mihalic, Dean of Medical Students and Associate Dean of Student Affairs. "The Health System appreciates them responding to the appeal to allow the hospital to continue caring for our patients. In the spirit of teamwork and best care for patients, UT Southwestern leadership responded to the enthusiasm of the students by identifying tasks appropriate for medical students."
Mobilizing a volunteer army
An initial chat room appeal went out to students on March 16, and within a day more than 350 had signed up for various shifts and efforts.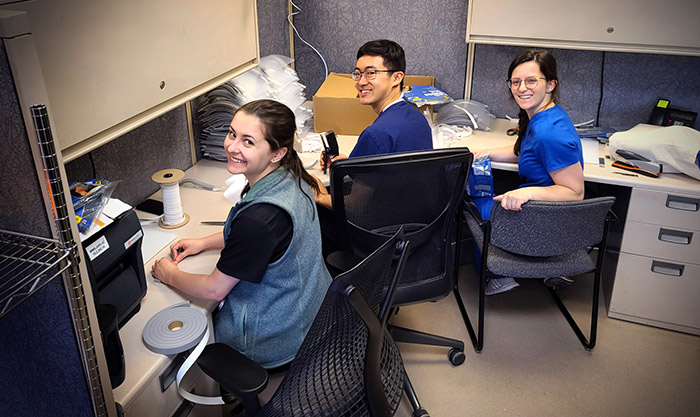 "The response of my fellow classmates has blown me away," said Mr. Han, a second-year medical student who coordinated shifts of entry-point volunteers. "The idea that we can pitch a volunteer network to students one morning and have our first volunteer shift being deployed at 5:30 in the morning less than 48 hours later is amazing to me.
"We knew how concerned everyone was about potentially worsening situations in the hospital and community around us, so we felt we could put together a volunteer network for students to help out any way they could, inside the hospital or out. We figured most students would be willing to step up, but we needed to take the initiative and actually offer our help."
Third-year medical students Reilly Sample and Connie Ma were among the initial volunteers screening hospital staff and patients on March 18, when new policies on hospital visitations went into effect due to the COVID-19 outbreak. They were part of a five-person team on-site at 5:30 a.m. at an entrance to William P. Clements Jr. University Hospital to survey and provide wristbands to individuals cleared to enter while being protected themselves with necessary personal protective equipment.
"Our core clerkships were canceled indefinitely, and so this serves as a way for us to still contribute to the health and well-being of our patients," Mr. Sample said. "Medical students from all four classes came together and filled in wherever needed."
Since then, UTSW has reduced visitations to one person per patient. In order to protect the health of children, those under age 12 are not allowed inside Clements University Hospital, Zale Lipshy Pavilion, or the Outpatient Building. All visitors, patients, and guests are screened at entry points and must meet criteria that include an absence of any respiratory symptoms – fever, shortness of breath, or a cough – or travel outside of Texas within the past 14 days. Individuals cleared receive an orange wristband, which must be worn throughout their visit.
"As medical students, I think we all want to be able to help," said Ms. Ma. "A lot of us do really want to be able to contribute in any way we can. There are a lot of changes going on right now, and it was difficult having to turn some people away from being with loved ones. That said, for the most part people were really understanding, and it's great to see how people are adapting and trying to make the best of some tough situations."
The volunteers adjusted to the changing clinical landscape to ensure the health and safety of patients, visitors, learners, faculty, and staff.
"We had some difficult situations with patients who were having trouble finding child care for their children who were out of school," noted MS2 Anjali Chacko, who pulled screening shifts at the Outpatient Building. "But most patients were overwhelmingly thankful that we were doing our due diligence to minimize the spread of the virus. Being in this health care setting made it very clear that this virus has turned everyone's lives upside down, and everyone is needing to be as flexible as possible in this time of change.
"I chose to join in this endeavor because it was very obvious that there was a severe need for personnel in the hospital. Helping out was the least I could do while physicians are risking their lives every day. I am more than happy to help wherever I am needed."
Mr. Akinmolayemi, an MS4 who is President of the Class of 2020, is used to the heartwarming feeling of giving back. "We are now in a period where all hands need to be on deck to help fight the spread of the COVID-19 pandemic within our community," he said. "There is not a better time in my medical school years to be involved. My community needs me and I am ready to do whatever I can within my capacity."
Cynthia Young, Assistant Vice President, Executive Administration for Health System Affairs, said: "Our commitment is always compassionately delivering exceptional patient care. During a time of unusual challenge, that means all hands on deck – in some areas, more hands than usual. I have been so impressed by the remarkable willingness of so many students to swiftly make a significant, positive difference in the lives of our patients and staff. We are grateful for their contributions, and look forward to seeing the impact this experience will have on their careers as physicians."
More heed call to help
By March 23, a second wave of volunteers from UTSW's other schools was forming as learners from the Graduate School of Biomedical Sciences and the School of Health Professions had ramped down laboratory investigations and experimental protocols of their programs. The School of Health Professions also has rapidly shifted to a remote teaching format for didactic content to first-year students.
"With clinical training and rotations suspended for our second-year students, we are not surprised that many have been seeking opportunities to serve others in our community," said Dr. Jon Williamson, Dean of the School of Health Professions.
"We did not initially limit access to lab operations, so most graduate students have been busy winding things down," added Dr. Andrew Zinn, Dean of the Graduate School. "We're planning to reach out to the student leadership to invite our students to assist with nonmedical support activities like providing child care to help providers continue to work in the face of the COVID-19 pandemic."
Dr. Mihalic, herself a 1995 graduate of UT Southwestern Medical School, said the continued spirit of providing aid is inspiring.
"I could not be prouder of this purely voluntary effort," she said. "I am so grateful to the student body who have contributed in various ways to serve our community and society at large."
Anurag Gupta, an MS2 who worked shifts at the Outpatient Building and Clements University Hospital, summed up the volunteer mindset, noting: "Thousands of folks are working around the clock to contain this crisis. They deserve all the real thanks. Volunteering to help relieve the pressure is the least we can do to try and make their lives just a little bit easier. And when the alternative is to sit on my couch and just watch it all unfold, the choice is clear."
Rising to the task

UT Southwestern's Health System Affairs identified duties that student volunteers could fulfill to support the efforts of front-line clinical teams and staff while maintaining the health and safety of students. Areas identified for student volunteers include:

Entry points: Help to screen staff and patients upon entry at William P. Clements Jr. University Hospital, Zale Lipshy Pavilion, and the Outpatient Building.

Occupational Health Clinic: Assist with phone calls and other tasks.

Hospital furnishings and equipment: Reconfigure lounge and waiting room furniture for social distancing and move extra pieces to temporary storage.

Materials management: Deliver supplies to clinical units.

Executive administration: Answer phones and provide door access, among other duties.

Nutrition Services: Make hospital room deliveries and help in the Call Center with meal ordering or assist with serving lines for patients, guests, and staff.

Emergency Department (MS3s and MS4s only): Provide general assistance, serve as runners to get supplies, and talk with patients' families, among other duties.

Child care (sign-up precludes any hospital tasking): Babysit children of various ages at residences of faculty, staff, and residents via a University-wide WE CARE platform.