New art emits shifting colors across UT Southwestern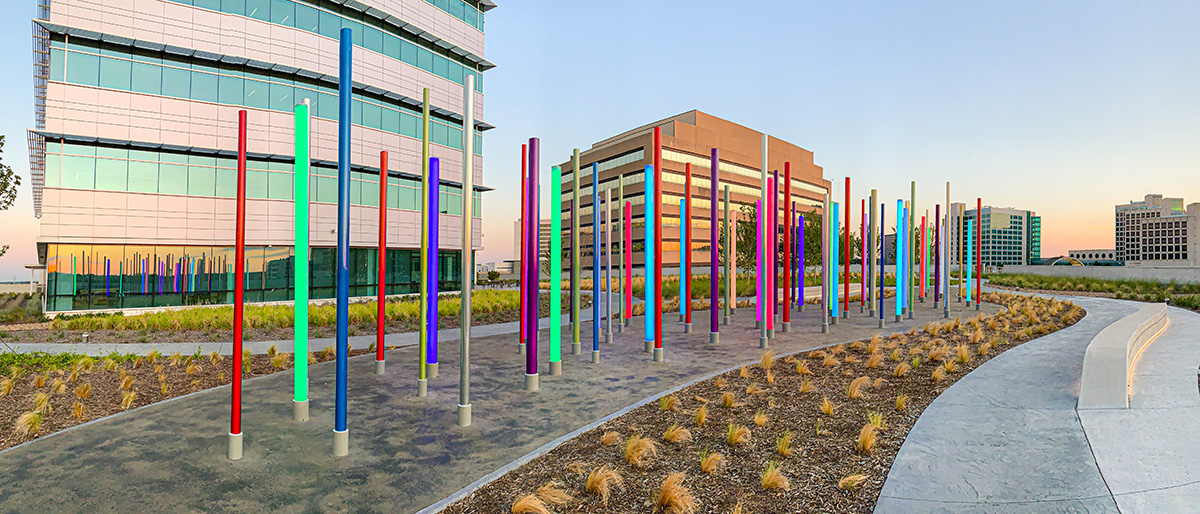 A donor has bestowed another you-can't-miss-it piece of artwork upon UT Southwestern.
Forest of Light, commissioned especially for UT Southwestern, is a collaboration between artists Tom Orr and Frances Bagley and is made of steel, acrylic, and light-emitting diode (LED) lighting. The 23 acrylic tubes housing LED lights and 57 powder-coated steel poles comprise 80 "trees," spanning 1,500 square feet of the fourth-floor rooftop garden at West Campus Building 3.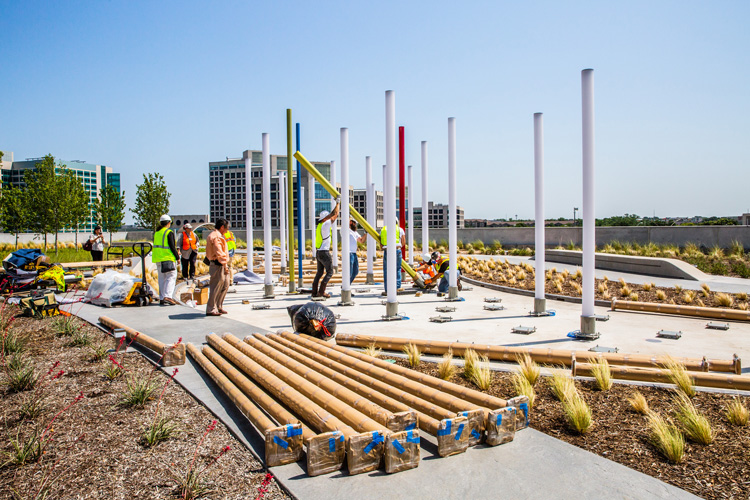 Employees and visitors are encouraged to experience the ever-changing work by taking a quiet moment to walk through the forest at different times of the day. During the day, the painted steel poles dominate the experience; at night, LEDs prevail.
The technical piece, which took two years to plan and a month to install, can be viewed from several spots across the main campus and allows for a broad range of programming options.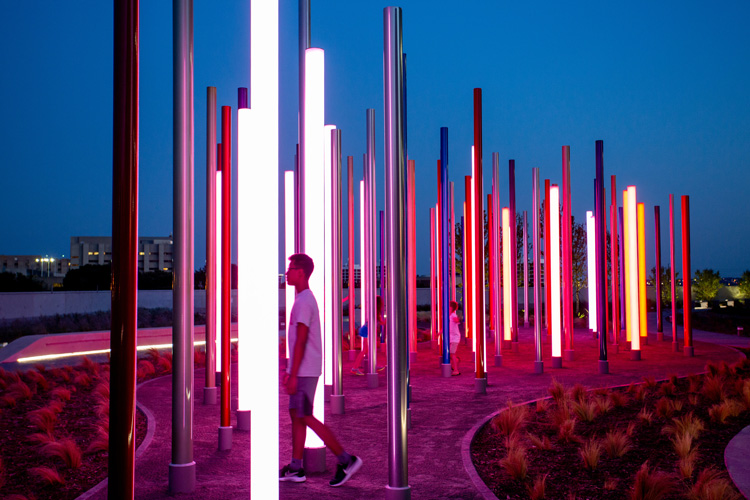 The light color may be fixed, it may slowly shift through the full color spectrum, or it may vary between LED poles, said Courtney Crothers, Art Curator at UT Southwestern. The LEDs create a dynamic display, and programming them will be a source of inspiration and experimentation in the months and years ahead.
Married duo Ms. Bagley and Mr. Orr are highly respected independent artists who periodically collaborate on projects. Born in Dallas, Mr. Orr boasts hundreds of pieces throughout Texas – including public installations at Dallas Love Field airport, the international terminal at DFW International Airport, and the El Paso Museum of Art – as well as installations nationally and internationally. Ms. Bagley lives and works in Dallas, claiming projects throughout Texas in places such as Texas Woman's University, UT Arlington, and the El Paso Museum of Art; her work is also represented in the permanent collection of the National Museum of Women in the Arts in Washington, D.C. In 2008, she was the first American to win an award from the biannual Kajima Sculpture Exhibition in Tokyo.
Forest of Light was gifted by an anonymous donor in honor of Dr. John Warner, UT Southwestern's Executive Vice President for Health System Affairs, with the dedication: A heartfelt thanks to John Warner, M.D., from a grateful patient, turned friend.
I am deeply touched by this gift, said Dr. Warner. Situated where it is, in a quiet garden space, the installation reinforces UT Southwestern's dedication to promoting health and overall wellness for our patients, visitors, and employees.