Take 5 with Anand Rohatgi, M.D., M.S.C.S., FACC, FAHA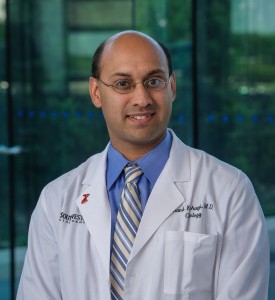 Dr. Rohatgi is an Assistant Professor in Internal Medicine and a specialist in preventive cardiology. Dr. Rohatgi has expertise in treating patients with lipid/cholesterol disorders, high blood pressure, premature coronary artery disease (CAD), and a family history of CAD.
Dr. Rohatgi is a graduate of the CTSA master's program and was recently awarded a Career Development Award from the NIH (K08). The Center for Translational Medicine has nominated Dr. Rohatgi to explain his experience with the CTSA's master's program and how it prepared him for the grant writing process.
Where are you from?
I grew up in New Orleans, Louisiana. My parents immigrated from India in the early '70s.
Where did you attend Medical School?
Duke University School of Medicine.
What brought you to UTSW, and how long have you been here?
I came to UTSW in 2005 to do my fellowship training in cardiovascular disease. After I completed my training in 2008, I joined the faculty in the Division of Cardiology.
Why did you decide to go into preventive cardiology?
I have always loved the role of prevention and being a guide to patients for pursuing healthy living. Most of my interests have centered on cholesterol and lifestyle, and the patients I enjoyed the most either had heart disease already or had family histories of heart disease. I thoroughly enjoy the process of teaching patients about heart disease and ways to prevent the disease.
During my fellowship I sought to advance my skill sets in terms of developing research questions and understanding statistical analytical techniques enough so I could plan and analyze my own data sets. I wanted to become independent in my ability to plan a research idea and execute it to completion. I also sought the ability to network with investigators at the same level of training and experience so we could help each other.
What was your favorite course from the program?
I enjoyed the "Packer" courses (Clinical Research Questions and Methods, Clinical Research Design and Analysis, and Clinical Research Protocol Development) the most as they were the most relevant to clinician-scientists and were interactive. These courses really hit home how to develop a research idea and refine it into a proposal.
In your eyes, what does it take to write a successful grant application?
Mostly persistence. It helped significantly to review successful grant applications to glean writing style and how to develop a convincing proposal. The aims page should be critically reviewed by mentors and colleagues multiple times until it's perfect, then the rest of the grant can be written. For a K grant, the career development section is probably the most important and needs the most attention.
How did the master's program prepare you for writing your K08?
A peer in the master's program actually suggested I submit my idea as a K grant. The master's program helped me identify the steps to take to write the various parts of the grant, craft more concise wording to communicate my ideas, and provided me the statistical background to work with a statistician on developing a well-designed statistical plan for human subjects studies. This helped immensely in alleviating my fears of the daunting task of writing a K grant and provided a support structure along the way.
What advice would you give someone entering the master's program?
I feel it's most helpful when the clinician-scientist already has a project or area of research focus identified and has some pilot data or access to data. The courses can then be applied in real-time to their development of a grant proposal.
Take advantage of your fellow students and the instructors' experience to develop a network of colleagues and support structure to guide you along the way. Pursue the top three to five experts in the field to develop collaborations and obtain letters of support from them.
In the end, I think it's mostly persistence that helps the most. I had three to five grant proposals to various funding agencies go unfunded over a period of two years before I got my first funded grant.
In your eyes, what is a valuable resource at UTSW that most people don't know about?
Many scientists are involved in translational studies that require specialized and sometimes expensive research assays. The pilot grant mechanism along with the core lab facilities allow many investigators the opportunity to get pilot data efficiently and on a budget.
Tell us a little bit about the paper you published in the New England Journal, "HDL Cholesterol Efflux Capacity and Incident Cardiovascular Events."
I began this project in 2008 as I transitioned from cardiology fellowship to faculty (joined in July 2008). I spent the first two years on faculty training on the methods (including at University of Pennsylvania) as well as completing my master's in Clinical Science at UTSW. I began applying for grants in 2010 but was unsuccessful mostly due to lack of preliminary data. With some luck and a few angels, I was able to generate preliminary data and was funded the AHA SDG grant in 2012 then the NIH K08 in 2013.
The K08 is the primary mechanism that has allowed me to do the research. The project involved measuring HDL function markers in the Dallas Heart Study. The DHS Committee was very open and collaborative in allowing me to pursue this project. Teresa Eversole was critical in helping me generate pilot data and coordinating access to the DHS samples. In particular, Colby Ayers, the main statistician, was instrumental in working me with on acquiring and analyzing the large data set. Of course, it always take a village.
James de Lemos, M.D., has been my main professional mentor since fellowship and I would not be here without his unconditional support. Philip Shaul, M.D., graciously took me on in his lab and has given me the basic science tools and infrastructure as well as expert guidance to carry out the assays. The Division of Cardiology has been very supportive, in particular Sharon Reimold, M.D., as well as our Chief, Joseph Hill, M.D. Lastly, my wife, Susan Matulevicius, M.D., also a cardiologist, was one of those key angels that helped get on my feet and move this project forward.
When you're not busy with work, what do you do in your free time?
Spend time with my wife, kids, dogs, and guinea pigs, watch professional football and college basketball, play tennis, and exercise.