Take 5 with Kate Wilkinson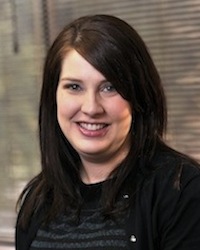 Kate Wilkinson is the project manager for the UT Southwestern Volunteer Research Participant Registry and is working to set up the CTM Research Participant Recruitment and Retention Office. She is also the project manager for the Dallas Heart Study.
What brought you to the CTM?
I started when Dr. (Robert) Toto took over the grant. Dr. (Helen) Hobbs asked me to help her include the Dallas Heart Study in the new CTSA proposal. After the grant was awarded, Dr. Toto asked me to step in as a Research Participant Advocate. I thought it was temporary at the time but it has been five years now! The advocate position has really expanded and with the new grant we decided there was a need on campus for research participant recruitment services.
What was your background experience before you came to the CTM?
Before the CTM I worked and still work as the project manager for the Dallas Heart Study. The Dallas Heart Study is currently in follow-up but we are planning the next phase now.
What did you get your degree or degrees in?
My bachelor's degree in International Relations and I have a master's degree in Physiology. I started my career at NIH doing regulatory work for the National Institute of Allergy and Infectious Diseases. We had an influx of bioterrorism research and our director decided it was important we all be trained as project managers. When I moved to Dallas, I was lucky to become the project manager for the Dallas Heart Study. I started the week before we opened our clinic for the second phase.
Why didn't you go into medicine?
I was still thinking of medical school when I was working at NIH but realized I really liked the management and the regulatory affairs of the trials and just doing what you could to get the trials off of the ground. I really enjoyed that.
What is your role in the CTM now?
I still work for the Dallas Heart Study but most of my time is spent with the CTM and working on recruitment services and our Volunteer Research Participant Registry. We've hired a Clinical Research Recruitment Specialist and are very excited to have her working with us to set up a comprehensive service line to help investigators recruit study participants.
How long have you been with UTSW?
What do you love to do in your free time?
I like to take my kids places like the Arboretum and museums. I also like to read.
What do you like to read?
Mostly fiction. I like to read anything. My favorite book ever is Infinite Jest by David Foster Wallace. I like Harry Potter. I like mysteries and political books, memoirs. I read between 40 and 50 books a year.
Do you have places you like to travel to or have been to?
I went to Italy in May. That was amazing. My husband likes to plan trips and I like to go so it's perfect!
What is your favorite food or dish?
I love pasta. I have never met a pasta I did not like. The food was so good in Italy. I also really like Japanese food like sushi and real ramen.