A Constellation of Research Success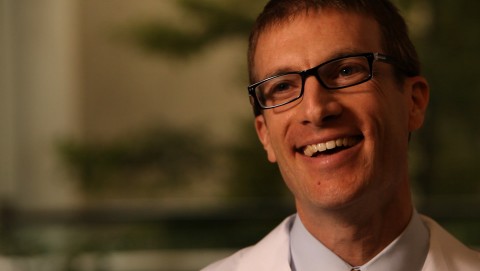 Medical research is often described as "bench-to-bedside," but the tidy phrase belies the lengthy, complex, and convoluted path a therapy might take from initial proposal to final drug approval. At UT Southwestern Medical Center, researchers, physicians, and medical scientists work together to make that path streamlined and uninterrupted, making translational research a reality.
The Center for Translational Medicine, formerly the UT Southwestern Clinical and Translational Alliance for Research or UT-STAR, creates a collaborative and cooperative environment that leads to discovery, innovation, and improved health care. Bringing together the brightest minds across multiple disciplines, the Center helps to accelerate the translation of laboratory discoveries into treatments for patients, to engage communities in clinical research efforts, and to train a new generation of clinical and translational researchers.
David Gerber, M.D., Assistant Professor of Internal Medicine, knows firsthand the benefit that the Center for Translational Medicine provides to physicians, researchers, and, ultimately, patients. As an M.D., Dr. Gerber helps treat lung cancer patients. But as a translational researcher, he asks scientific questions in the laboratory and then uses the answers to design clinical trials for patients. The process is not a simple one, and Dr. Gerber has had help along the way.
Dr. Gerber joined the faculty in 2007 and, about a year later, joined the Center and Department of Clinical Sciences co-sponsored Clinical Scholars Program, which he credits for much of the success he's had as a clinical researcher. When he enrolled in the Clinical Scholars Program, he knew the coursework would be very helpful, but what proved to be priceless was the introduction to the people involved and learning the resources that are available across campus and beyond.
The Center for Translational Medicine is part of a national consortium of medical research institutions that are similarly focused on improving human health through clinical and translational research. The National Institutes of Health (NIH) funds the Clinical and Translational Science Awards (CTSA), which supports the Center and the other institutions that make up the national consortium, led by the National Center for Advancing Translational Sciences (NCATS), part of the NIH.
The Center gives researchers access to a nationwide network. But it also facilitates connections much closer to home, as it did for Dr. Gerber.
Riding Along with Regulatory Assistance
In 2009, Dr. Gerber received a grant to study the distribution and effects of an antibody compound, developed at UT Southwestern, when given to patients with cancer. He had already studied the drug in patients, the results of which he published in 2011. To analyze the drug's metabolism and effects on the body requires attaching radiation to the antibody. With a radiolabeled compound, Dr. Gerber would be able to see where in the patient's body the drug traveled, how it targeted a particular tumor, and what treatments might affect that targeting.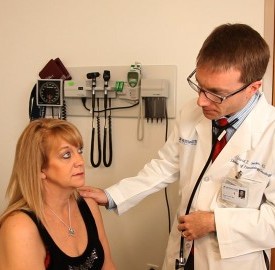 "You can imagine just how complex a regulatory issue that would be," Dr. Gerber says. Multiple approvals would be needed: to support the administration of a drug, to support the use of radiation, to prove that it would be a safe and appropriate amount of radiation, to prove the radiation could be attached sterilely, reliably, and reproducibly, to name just a few.
Dr. Gerber presented the concept of radio-labeling the compound to the Department of Clinical Sciences, and M.E. Blair Holbein, Ph.D., Assistant Professor, offered her assistance. Dr. Holbein has since provided her regulatory expertise to Dr. Gerber at every step of the way. She accompanies Dr. Gerber at his meetings with pharmacologists, nuclear medicine physicians, radiophysicists, radiochemists, and others, to ensure that the regulatory issues are considered as the research takes place, not after. Dr. Holbein determines the relevant implications of numerous Food and Drug Administration regulations and guidance.
"Everything I've done has not only answered a scientific question," Dr. Gerber says, "but because of her guidance, it has specifically addressed a regulatory issue."
Dr. Gerber is planning to apply for Cancer Prevention Research Institute of Texas (CPRIT) funding to collaborate with Scott & White Cancer Research Institute to produce the radiolabeled antibody in a Good Manufacturing Process (GMP) fashion. He will then be able to bring the compound back to UT Southwestern and deliver it to patients. He hopes to submit an exploratory Investigational New Drug (IND) in the first half of this year.
Translational Research Core
Dr. Gerber first worked with David Boothman, Ph.D., Professor at the Harold C. Simmons Comprehensive Cancer Center and Robert B. and Virginia Payne Endowed Scholar in Oncology, when he developed a clinical trial that combined an IV cancer drug with an oral cancer drug and he wanted to analyze the pharmacodynamic effects. That is, Dr. Gerber wanted to know what the cancer drug did in the body as it targets elevated NQO1 (NAD(P)H:quinone) levels that are over-expressed in most solid cancers.
By biopsying the cancer, looking at cells in the blood, and biopsying the patient's skin at serial time points, Dr. Gerber was able to find surrogate markers of the cancer drug's activity. He needed to find a lab that could help him analyze those samples. He found Dr. Boothman's laboratory.
The two have since developed correlative studies for other clinical trials. They have also formed and continue to co-direct the Translational Research Core.
"Our role is, ideally, to support someone like me. Someone can come and say, 'I'm interested in targeting this molecule in a cancer, this is the drug that I might use, what do you think is the best way to study its effect in the body?'" Dr. Gerber says. "All of a sudden, you've got experts from the Cancer Center and elsewhere on campus helping that person."
The Translational Research Core meets every four weeks. In attendance are regulatory representatives, basic scientists, clinical researchers, statisticians, pharmacologists, pharmacokineticists, and others who can provide guidance and assistance. The Translational Research Core can help researchers from start to finish, including but not limited to: developing a protocol, writing a Letter of Intent or grant, collecting specimens, performing tests, tracking data, and analyzing results.
"We are trying to coordinate therapeutic clinical trials in cancer patients—specifically, identifying and developing the best assays and handling the specimens in the most efficient way possible" Dr. Gerber says.
Lending a Hand With Labwork
Another area of research interest for Dr. Gerber is targeting the cancer stroma or microenvironment. In particular, he aims to target angiogenesis, or growth of blood vessels, to improve cancer outcomes. Cancer cells, like all cells in the body, require nutrients that are delivered by the vascular system for survival, which presents a vulnerability of cancer that Dr. Gerber hopes to exploit.
Rolf Brekken, Ph.D., Associate Professor of Surgery and Pharmacology, studies angiogenesis in the Cancer Center. Dr. Gerber approached Dr. Brekken about the molecule PDGFR (Platelet-Derived Growth Factor Receptor), which is a molecule present in some lung cancer cells, and also present in the stroma. Previous research on PDGFR focused on the molecule in vitro, where the stroma does not exist. Dr. Gerber and Dr. Brekken sought to study using animal models.
The first grant Dr. Gerber ever wrote professionally was for a CTSA Pilot Award to study the PDGFR molecule. His first submission was not funded but his second one was, and Dr. Gerber was able target the stromal PDFGR molecule with a monoclonal antibody. The results proved favorable and tumor size decreased. He subsequently wrote and is now the national study chair of an international, Phase II clinical trial, studying chemotherapy with or without a drug that targets the tumor stroma.
Tissue and blood samples from the approximately 135 patients in the trial will be collected and analyzed. Data on PDGFR levels in cancer cells and the tumor stroma will be collected. Dr. Gerber intends to use this data to determine if the original hypothesis is supported and, if so, to predict which patients benefit most from that therapy. Even though the clinical trial is international, all of the tissue is being sent here to UT Southwestern—to Dr. Brekken's lab, specifically.
Dr. Gerber and Dr. Brekken's investigation is yet another example of the collaborative and cooperative environment that the Center for Translational Medicine engenders, for the advancement of medicine and, ultimately, for the benefit of patients.