For 10th year, United to Serve drives community involvement
By Lin Lofley
More than 475 members of the UT Southwestern Medical Center community gathered recently to put on the 10th annual United to Serve health fair, a community event held on the Dallas Independent School District campus of T.J. Rusk Middle School.
From 9 a.m. to 2 p.m. on April 12, the medical center offered health-related information and activities, health screenings, and educational games and food. Many of the volunteers were students from UT Southwestern's Medical School, School of Health Professions, and Graduate School of Biomedical Sciences.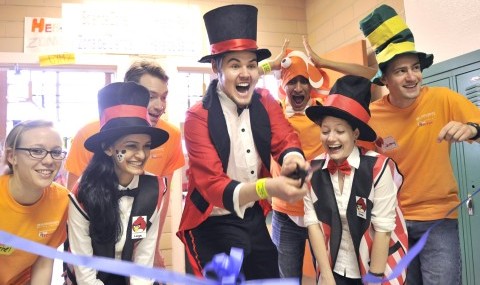 Alisha Simmons of Dallas brought daughters Jasmine, an 11-grader at North Dallas High School, and Genesis, a Ben Milam Elementary School student, to the health fair. The event bore little resemblance to the United to Serve event that she attended several years ago.
"That one was great, but nothing like this," Ms. Simmons said. "Jasmine brought a flyer home, and she needed a physical so we decided to come, and we are so glad we did. The people are absolutely wonderful, and so are the information and demonstrations. It has grown so much."
Second-year medical student Felix Thomas was one of the volunteers at the ready to assist in school physicals, as were Dallas physicians, including Dr. Archana Govindan, a Family Practice resident who was taking part in her third United to Serve.
"We're trying to provide a service, and reach as many as we can," Mr. Thomas said. "It's a physical that covers the requirements of any sport – checking the heart, blood pressure, and many other things." The word was spread across the Dallas ISD, and participation was brisk.
North Dallas High School student Annie Vo got a clean physical, clearing her to participate in wrestling, track, and tennis.
"My coach told me to get it done," said Ms. Vo, 16. "My little sister goes to Rusk, so I also knew about it from the pamphlet she brought home."
Students in the Clinical Nutrition programs of the health professions school dispensed more than 300 samplings of healthy food choices that included morning servings of papusa revueltas with Argentinian chimichurri sauce, Salvadoran pickled cabbage, and strawberry banana yogurt parfait. The afternoon offerings were turkey meatloaf and spinach corn casserole.
Across the hall from the food table, UT System police officers were ready with safety information for children – and a few novelties like reflective wristbands, yo-yos, and the like. Officer Mario Montanez and his comrades were busy with a spin-the-wheel game that helped the children ask important questions that the officers could readily answer.
The hallways at Rusk were lined with volunteer-staffed booths that provided information and the opportunity to check your own health. There were numerous screenings available, including dental, pulmonary, diabetes and cholesterol, and much more.
In the parking lot at the front of Rusk, the UT Southwestern Mobile Mammography Unit staff provided exams to more than 30 women in five hours. All of those served had preregistered, and inside Rusk, more women signed up for future examinations.
Ilda Cano, a member of the clinical staff on the Mobile Mammography Unit, said the trailer stays busy. "In April and May, we're out on the road 18 to 20 days a month at events like this. Sundays are about the only off days," said Ms. Cano, who's worked with the mobile unit for six years.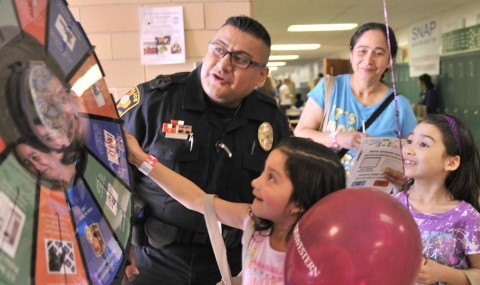 Maria Mendoza, who spoke through one of the dozens of translators, was among those who took advantage of the unit's presence after registering for a mammogram in late March.
"There is no family history, but I'm starting on time," said Ms. Mendoza, 40, who lives in Oak Cliff. "This is my first one. I had a friend who died of breast cancer, so I know it's important to be checked."
All students and volunteers had precise jobs laid out for them, from fitting children for bicycle helmets (a signed pledge to always wear the helmet when playing on wheels, was required) to guiding tours through a human-size mockup of a human artery, complete with the plaque than can cause a stroke.
The translators – decked out in red T-shirts – were much in demand.
"We always need translators," said Hector Marquez, a third-year medical student who led the effort to recruit people fluent in other languages. "Obviously, we're in great need to people who can speak Spanish, and they don't even need to be heavily fluent. We can still use them."
But Mr. Marquez, who grew up in Ciudad Juarez, Mexico, and graduated from UT El Paso with a degree in microbiology, said there was help available for a variety of languages. "We have quite a few Mandarin speakers, and Vietnamese. We also have French, German, and Russian speakers."
By day's end, hundreds had taken part in UT Southwestern's community outreach.
"For many, the school is already a familiar place, and it's very accessible to the neighborhood," said Jack O'Brien, a second-year medical student and one of the event coordinators. ""It's a great opportunity to make a difference, especially for those who usually are underserved. We can provide education, give people the means and the access to health care and information, and provide it in a fun way."