Statins reduce amputation risk in patients with peripheral artery disease
A team of UT Southwestern Medical Center researchers found in a recent study that use of statins greatly reduces the risk of amputation that many patients with peripheral artery disease (PAD) face during treatment. PAD is a circulatory condition in which narrowed arteries reduce blood flow to the limbs.
"Many of these patients have lifestyle-limiting pain in their legs when they walk and frequently require stents and bypass surgery for improvement of blood flow to their legs," said Dr. Dharam J. Kumbhani, interventional cardiologist at UT Southwestern, and senior author of the study recently published in the European Heart Journal. "We found that statins not only reduce the risk of having a heart attack or stroke in these patients, but they may also be limb-saving."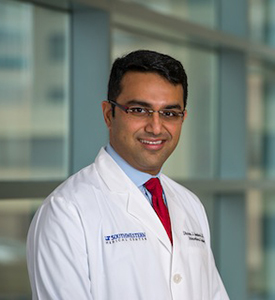 The study examined nearly 6,000 patients with PAD from an international outpatient registry, and then followed them for four years. Although statins – cholesterol lowering medications – are recommended for use in all patients with PAD, researchers found that less than 2/3 of these patients (62 percent) were actually taking a statin.
Patients who were taking statins had an approximate 18 percent reduction in the risk of future limb complications, including worsening pain in their legs and need for procedures to improve blood flow to their legs. More importantly, researchers observed a 36 to 40 percent reduction in the need for future amputations in patients taking statin medications.
These findings highlight an urgent need to raise awareness about statin use among patients with PAD as well as among medical providers treating the condition. Future studies will examine whether patients with PAD might derive greater benefit from being on a higher dose or on a more potent statin, as well as determining the biological pathways that may explain statins' positive effects