"Match Day" lights a celebratory fire for nurses and staff
By Lin Lofley
On a warm spring afternoon in April, nurses, unit clerks, and patient care technicians gathered at UT Southwestern's St. Paul University Hospital to learn what their assignments will be at the William P. Clements Jr. University Hospital when the new facility opens in late 2014.
In a rockin' to the oldies, festive atmosphere, more than 500 staffers were welcomed by Shelley Brown-Cleere, Interim Chief Nursing Officer, and other hospital and staff administrators. There, each was handed an envelope telling them where they'll be serving come November, then they were directed to a table to be greeted by welcoming colleagues.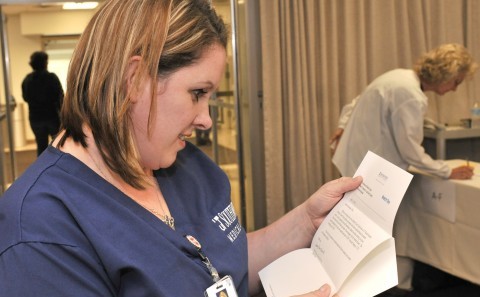 It was a Mardi Gras-meets-pep rally kind of event, with acclaim for the hospital under construction on Harry Hines Boulevard, and for the opportunity to celebrate with colleagues over light refreshments.
The idea for this event grew out of a meeting of hospital staffers, "and a great idea it was," said Ms. Brown-Cleere, who has been with UT Southwestern since 2001. "I would describe this Match Day as festive and joyous. Everyone is happy, and that's the point, isn't it? We want people to feel connected from the get-go. I think this makes it real for everyone."
Dr. John Warner, CEO of UT Southwestern University Hospitals, said, "This was a terrific event. It was a fun, creative way to ensure that members of our nursing staff are involved in the excitement of our upcoming move to the new hospital.
"A great deal of deliberation went into these matches, all with an eye toward ensuring that each nurse has a role in which he/she can maximize his/her unique skills and abilities to make a difference in the lives of our patients," said Dr. Warner. "Personal preference was also an important part of the 'match formula,' of course, and it was great to see the enthusiasm and energy as nurses celebrated their matches with their new team members."
Count James Graff among those in agreement. Mr. Graff is in his second year as a nurse at St. Paul, having left a career as an office manager in a manufacturing firm in order to become a health care professional. He graduated from the nursing program at Brookhaven College.
"Best move I ever made," Mr. Graff said after learning he'll be working in the Medical ICU at Clements University Hospital. "Our new hospital is going to be at the forefront of technology and accessibility. Patient safety will be better, and it will be better for us, too."
Registered Nurse Courtney Cassidy, who will be working in Cardiology with the Left Ventricular Assist Device team, surveyed the auditorium and the smiles and hugs being dispensed all around, and pronounced the event a success.
"Everyone wants to know what floor they're going to be on," said Ms. Cassidy, a Texas Tech graduate who went through UT Southwestern's nursing internship program before joining the staff four months ago. "This is a fun way to do it."
Registered Nurse Tammi Wallace, a nursing manager in the oncology unit, welcomed her team members, and said they're prepared to make the move.
"St. Paul is a great hospital, but our floor and this hospital have seen their time," Ms. Wallace said, "We're ready to move forward. There's going to be a lot of learning and training, and we're going to do it together."
With the opening of Clements University Hospital, Zale Lipshy University Hospital will transform into the region's first dedicated, freestanding neuroscience hospital, one of just a few in the country. The transformation will require some service lines and specialties to transfer to the new hospital, along with the nurses and staff who support them.
Nurse Technician Stephanie Cheatum has worked in the neurological intensive care unit for eight years, and was happy to learn she'll be staying put.
And Kim Register, an assistant nurse manager assigned to Clements University Hospital after 16 years of service at Zale Lipshy, acknowledged it was a bittersweet moment. "I'm excited, and I'm nervous," said Ms. Register, who will work in the surgical specialty unit. "I will have new co-workers and a new management team. But you've got to keep an open mind and be flexible." Her mantra: "Stay positive."
Dr. Steven Leach, Chief Medical Officer of UT Southwestern University Hospitals, took in the celebration while meeting staff, friends, and colleagues. He was joined by many of his fellow physicians. "I'm particularly pleased to see so many of our physicians and medical directors here today," said Dr. Leach, who also is Professor of Internal Medicine. "The physicians and the nurses work together, and now that people know where they're going, we can start building the teams."
One of those team-builders on hand was Dr. Robyn Horsager-Boehrer, Chief of Obstetrics and Gynecology at Clements University Hospital. "This is an important event for our entire staff," said Dr. Horsager-Boehrer, Professor of Obstetrics and Gynecology. "For some units, such as mine, that are moving intact to the new hospital, it might be less of a surprise. But it's exciting to feel part of the larger team and to see where our colleagues are going."
For Dr. Horsager-Boehrer and Registered Nurse Mio Torres, a member of her neonatal ICU team, the excitement was palpable.
"Soon, we'll have the keys to the new hospital, then we'll be running drills to see how everything works," Dr. Horsager-Boehrer said. "On the fifth floor of Clements Hospital, the Women's Services unit has 16 big, beautiful rooms and 30 individual NICU rooms where families can stay with their newborns."
Ms. Torres, a seven-year veteran in the St. Paul NICU, said, "This is a time of so many new possibilities. It's a wonderful new unit and it's very exciting to be a part of that."
###
Dr. Horsager-Boehrer holds the Luis Leib, M.D., Professorship in Obstetrics & Gynecology.
Dr. Leach holds the Irene Wadel and Robert Atha, Jr. Professorship of Internal Medicine, in honor of John W. Burnside, M.D.