Dr. Donald W. Seldin recognized with plaza named in his honor
By Lori Stahl
Dr. Donald W. Seldin, the "intellectual father of UT Southwestern,'' was heralded as a transformative leader during a May groundbreaking ceremony marking the start of renovations for the South Campus plaza, which will now permanently be known as the Donald Seldin Plaza.
Dr. Seldin, widely admired as one of the greatest chairs of internal medicine in American medical history, was movingly portrayed as a visionary, a tenacious leader, and a demanding yet patient teacher in remarks by his former students and protégées – many of whom became major figures in their own right.
In opening remarks, Dr. Daniel K. Podolsky, President of UT Southwestern Medical Center, said, "Dr. Seldin was the driving force in the development of UT Southwestern as a major academic medical center. Moreover, his vision, values, and accomplishments made him an icon of American academic medicine. We are therefore very pleased to have this opportunity to designate this plaza, the iconic front door to our campus, in his honor."
The plaza renovation, which was undertaken to correct structural deficiencies, to improve pedestrian safety, and to provide better handicap access to the South Campus, began in mid-May and will be completed this fall. Prior to this work beginning, the UT System Board of Regents approved naming the plaza in honor of Dr. Seldin.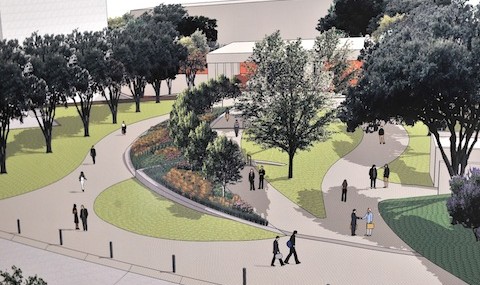 Dr. Seldin was recruited to UT Southwestern in 1951 from Yale University, where he had gone to medical school and was subsequently appointed to the faculty. He accepted the UT Southwestern position without having visited the campus and was quite surprised to find a medical school operating from converted barracks. The following year, at age 31, he became Chairman of the Department of Internal Medicine, and, despite attractive job offers elsewhere, remained in that position at UT Southwestern for 36 years.
During that time, guided by his vision of the core missions of an academic medical center and the standards he set for achieving them, he established a national reputation both for himself and for UT Southwestern through his astute faculty recruitments, his personal involvement in education and training, and his own prowess as a scientist and physician.
"It quickly became clear that he was a man for all seasons, and that he would build up not only internal medicine but the medical school itself,'' recalled Dr. Daniel Foster, one of Dr. Seldin's former students, who later succeeded him as Chairman of the Department of Internal Medicine.
Dr. Seldin quickly moved to the top echelons of academic internal medicine, and he is a legendary figure today, Dr. Foster noted that people lined up to meet Dr. Seldin at a recent medical conference in Chicago.
Dr. Seldin's key strategy for developing UT Southwestern Medical School was to identify promising students, send them off for advanced education and training, and then recruit them back to fill faculty positions at UT Southwestern.
One such former student is Dr. Joseph L. Goldstein, Professor and Chairman of the Department of Molecular Genetics, who, in turn, recruited Dr. Michael S. Brown, whom he met at Massachusetts General Hospital while following Dr. Seldin's plan for his advanced study. Both Drs. Goldstein and Brown went from Massachusetts General Hospital to the National Institutes of Health (NIH), and then they both came to UT Southwestern, where they have worked together ever since, and most notably, shared the 1985 Nobel Prize in Physiology or Medicine.
Dr. Kern Wildenthal, President Emeritus of UT Southwestern, also was a promising student who went off for advanced training and then returned to hold a faculty position during Dr. Seldin's tenure, eventually becoming his partner in developing UT Southwestern as Dr. Wildenthal moved into positions of institutional leadership.
Dr. Jean Wilson, Professor Emeritus of the Department of Internal Medicine, who has long been considered a leading national figure in endocrinology research, set his career path based on work he did in Dr. Seldin's lab during the summer after his third year of medical school. Dr. Wilson subsequently spent time at NIH and later returned to UT Southwestern, where he did ground-breaking cholesterol and endocrinology research.
"Today we honor Dr. Seldin because he had a vision and a plan for the development of this institution, and – equally important, I think – because he stuck to that plan for a lifetime,'' Dr. Wilson said at the groundbreaking.
"Sticking it out was an active, not a passive process,'' Dr. Wilson said. "I personally believe his staying here and sticking it out for more than 60 years stabilized the department, and ultimately the school, and made possible the realization of his dream.''
Dr. Brown, the Nobel Prize winner with Dr. Goldstein, described Dr. Seldin as a pivotal figure in UT Southwestern's development who might have earned a Nobel himself if he'd given less of his time and energy to the broader concerns of the institution.
"Dr. Seldin never got that honor because he was too unselfish,'' Dr. Brown said. "He devoted himself to his students, to the residents, to the faculty, and to making sure that all those people that grew up under him could achieve their greatest dreams.''
For his part, Dr. Seldin said he was pleased that he didn't heed the warning from a mentor at Yale – that moving to Texas was a mistake because the "search for truth would be trivial.'' Heartened that the intellectual vigor of UT Southwestern was "ultimately triumphant,'' Dr. Seldin was, nevertheless, humbled by the recognition during the groundbreaking ceremony, and he continued his long-standing practice of praising the work of others.
"I'm proud of the fact that I've been honored to participate in the development of this institution,'' Dr. Seldin said.
In tribute to his mentor, Dr. Wilson referenced poet William Blake's "Jerusalem,'' which he said mirrored the young Dr. Seldin's early vision, at a time when others questioned the future of a developing medical center.
"Being young and naïve at the time, I thought him overly ambitious in planning to build a new Jerusalem in Dallas, Texas,'' Dr. Wilson said. "In fact, I didn't know whether we could stand it or not. But that's exactly what he wound up doing, and we are the beneficiaries of his dreams, his leadership, his rigor, and his perseverance."
###
Dr. Brown, a Regental Professor and Director of the Erik Jonsson Center for Research in Molecular Genetics and Human Disease, holds the W.A. (Monty) Moncrief Distinguished Chair in Cholesterol and Arteriosclerosis Research, and the Paul J. Thomas Chair in Medicine.
Dr. Foster, Professor of Internal Medicine, holds the John Denis McGarry, Ph.D., Distinguished Chair in Diabetes and Metabolic Research.
Dr. Goldstein, a Regental Professor, holds the Julie and Louis A. Beecherl, Jr. Distinguished Chair in Biomedical Research, and the Paul J. Thomas Chair in Medicine.
Dr. Podolsky holds the Philip O'Bryan Montgomery, Jr., M.D. Distinguished Presidential Chair in Academic Administration, and the Doris and Bryan Wildenthal Distinguished Chair in Medical Science.
Dr. Seldin, Chairman Emeritus and UT System Professor of Internal Medicine, holds the William Buchanan Chair in Internal Medicine.