Medical School Class of 2013: Commit to do good things
Members of the UT Southwestern Medical School took the final steps of their education on May 31 when they walked across the stage at commencement exercises held in the Margot and Bill Winspear Opera House in the Arts District of downtown Dallas.
Daniel K. Podolsky, M.D., President of UT Southwestern Medical Center, presided over the occasion and conferred degrees.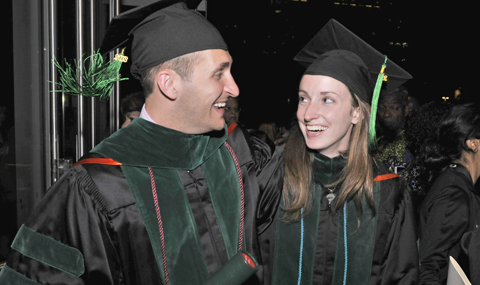 Darrell G. Kirch, M.D., President and Chief Executive Officer of the Association of American Medical Colleges, presented the commencement address – a mixture of fond reminiscences of his days as a medical student at the University of Colorado, and a call for a commitment from those entering the practice of medicine.
Learning As a Gift
Dr. Kirch couched it all as a series of gifts.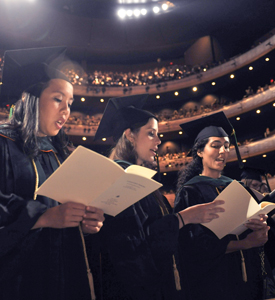 "In Gooch Auditorium in the fall of 2009, you were given the gift of a white coat," he said. "We didn't get that gift; we didn't do white coat ceremonies when I was in medical school. We went to the bookstore and bought a white coat. But many of you here watched them put on the white coat and what you noticed was the same thing I noticed when I ran home and put it on in front of the mirror: I couldn't make it fit, even though it was the right size and even though I wiggled and tugged.
"You know, for some reason it didn't feel natural. And then what followed, and what built memories for me, was a series of gifts that I think finally make the white coat feel very real."
Dr. Kirch recalled the first day of anatomy class, and the doubts that came with that day, and the astonishment that someone in death had given the students their body as a tool of learning. He recalled the first time he was allowed to go into a patient's room alone, and the gift an elderly World War II veteran gave to him by sharing his own life experiences.
He recalled the first time he delivered a baby, and how a young couple gave him a gift when they allowed him to be a part of "one of the most intimate moments of their lives."
Strive to Do Good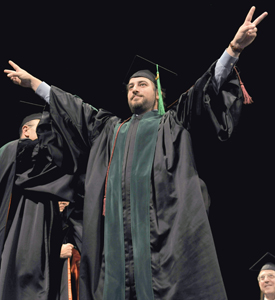 In closing, he called on the graduates to strive for four things:
Do good. "Wake in the morning wanting to do good for patients."
Do no harm. "That gets a little harder. There are people here throughout the room who have seen someone suffer unnecessarily at the end of life because people were well-intentioned and trying to do good, but in the end suffering and pain were unduly experienced."
Be autonomous. "Your ability to make the decisions, and my ability as a patient trump everything."
Work toward social justice. "We need a health care system that doesn't leave people out, because when people are left out they suffer unnecessarily."
The Ho Din Award, given annually since 1943 by the Southwestern Medical Foundation, was presented to David L. Leverenz, M.D., of Fort Worth, a Baylor University graduate who will serve his residency in internal medicine at Vanderbilt University Medical Center in Nashville, Tenn. Kern Wildenthal, M.D., Ph.D., former President of UT Southwestern, presented the award on behalf of the Foundation.
More Photos
See more photos from the 2013 Medical School commencement ceremony on UT Southwestern's Facebook page.