Rembrandt's Anatomical Hiccup
by Amanda and Nicole Strickland, both MS1s
Gross anatomy is undoubtedly the most unique class in medical school. In no other way is a student able to become so intimately familiar with a person's body, learning all of its variations, maladies, and quirks. On our first day of lecture and lab, the instructor showed our class the famous Rembrandt painting "The Anatomy Lesson of Dr. Nicolaes Tulp" in an attempt to illustrate the history of anatomy. It seems like a tradition for medical schools to begin the first anatomy lesson with this piece of art, usually with some simultaneous discussion on lab safety. (notice the spectators' puffy collars almost touching the cadaver!) Having been humanities minors as undergrads (French for Amanda, History for Nicole), we were not about to dismiss the painting without some further investigation. What we discovered was an interesting combination of history, medicine, and art: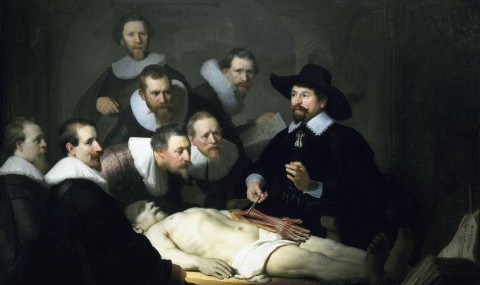 Rembrandt's 1632 painting "The Anatomy Lesson of Dr. Nicolaes Tulp" is considered a work of art and science, though those with a keen sense of anatomy (like first year medical students hard at work in the anatomy lab) will notice something out of place. The Dutch masterpiece, which depicts the January 16, 1632, public dissection of executed robber Aris Kindt, incorrectly shows that the flexor muscles of the forearm originate in the lateral epicondyle instead of the medial.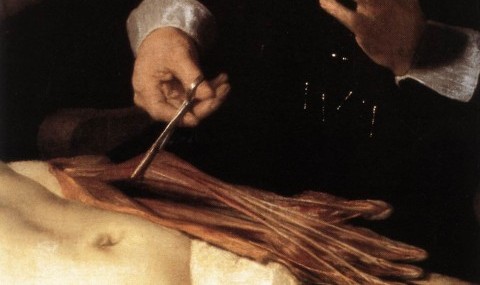 This snapshot of medical history (Rembrandt actually attended the dissection) shows how this scientific craft was considered a public spectacle. Dr. Tulp (1593-1674) is shown in his role as city anatomist, a position that only the most respected and talented physician of Amsterdam would hold. However, Dr. Tulp is immortalized by more than just this painting.He was also the first to describe the ileocecal valve, also known as Tulp's valve.