Goodman named 2014 Piper Professor
By Deborah Wormser
As a student, Dr. Joel Goodman struggled to choose between a career as a scientist and one as a concert pianist. Since then, the UT Southwestern Medical Center Professor of Pharmacology has enjoyed a life filled with discoveries, including the realization that he could do both.
His ongoing efforts to instill a passion for science in young North Texas students, as well as supporting their teachers, captured the attention of the San Antonio-based Minnie Stevens Piper Foundation, which annually recognizes 10 outstanding educators from Texas universities as Piper Professors. Each university is allowed one nomination per year for the award, which includes a certificate of merit, a gold pin, and an honorarium of $5,000.
UT Southwestern President Dr. Daniel K. Podolsky said, "UT Southwestern is delighted to see Dr. Goodman recognized for his outstanding dedication as an educator. His passion for teaching is evident. We are especially proud of the initiatives he leads in outreach to middle and high school students."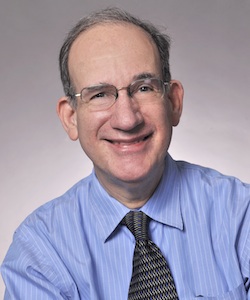 In addition to lecturing in the medical and graduate schools on antibiotics, chemotherapy, and mechanisms of drug action, Dr. Goodman directs STARS – UT Southwestern's major outreach for students starting in middle school. The STARS (Science Teacher Access to Resources at Southwestern) program offers daily tours for high school science classes, a basic science series for teachers, an Exploring Post for students involved in Boy Scouts, as well as hands-on science workshops for middle school and high school teachers and students during the school year. It also offers summer research opportunities for high school seniors and teachers.
Dr. Goodman's free time also includes other diverse opportunities. While playing in the Molecular Biology Institute orchestra as a postdoctoral trainee at the University of California, Los Angeles, he realized he could pursue both music and science. For the past several years, Dr. Goodman has entered piano competitions in the U.S. and abroad, and in 2010 he was a soloist with the Fort Worth Symphony.
As a teacher, Dr. Goodman believes in inspiring students by revealing the full range of a scientific career. "I think it's really important for science to come alive. To do that you have to teach the history of science and the personalities involved in the discoveries," he said.
Since joining the UT Southwestern faculty in 1982, Dr. Goodman's research has focused on the assembly of peroxisomes (organelles that undergo many oxidative reactions, including fatty acid metabolism) and lipid droplets (organelles once thought to simply store fat in the cell but now known to have important metabolic roles).
"I am honored to represent UT Southwestern as a 2014 Piper Professor, and grateful to my colleagues who nominated me," Dr. Goodman said. "I am doubly honored to receive this award from a foundation that has helped so many students attain higher education for more than half a century."
Randall Gordon Piper and Minnie Stevens Piper created the foundation in 1950 and in 1951, beginning a loan program that allowed economically disadvantaged students in Texas to attend college. After the Pipers' deaths in 1955, their foundation initiated the Piper Scholars Program for undergraduates, the Pipers Fellows Program for graduate students, and the Piper Professors program to recognize inspiring educators.
Dr. Goodman was born in New York City and grew up in Los Angeles. He earned a bachelor's degree with honors from Revelle College at the University of California at San Diego with a major in biology and a minor in music, which included coursework with pioneers of electronic music.
He was about to begin graduate school in Colorado when he decided to work as a research technician at Children's Hospital Los Angeles and to give classical piano recitals in the Los Angeles area while considering his career choice.
Still ambivalent about his future path, he began doctoral studies in pharmacology at the University of Southern California, where one class made all the difference. "I took a class in protein trafficking as a senior in graduate school. That class hit it for me and convinced me a career in science would be fascinating," he said.
Previous Piper Professors still on the faculty at UT Southwestern are Dr. Erwin Thal (2000), Clinical Professor of Surgery; Dr. James Richardson (2008), Professor of Pathology, Molecular Biology, and Plastic Surgery; Dr. Eugene Jones (2009), Chairman of Physician Assistant Studies; Dr. Ellen Vitetta (2011), Director of the Cancer Immunobiology Center; and Dr. Jerry Shay (2013), Professor of Cell Biology.