United to Serve teaches healthy lessons to community
More than 1,000 people participated in the 2013 United to Serve health fair, an annual event that provides free health-related activities, information, and screening for underserved Dallas residents.
The fair, whose theme this year was "Carnival of Health," is run by students from all three of UT Southwestern Medical Center's schools with help from hundreds of alumni, staff, and faculty member volunteers.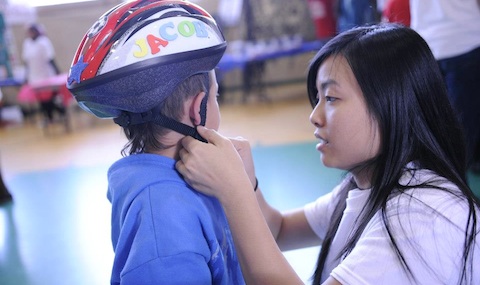 "It's been a privilege to be a part of this," said Fiona Nicholson, who will graduate from UT Southwestern Medical School in May and who organized the April 20 event at T.J. Rusk Middle School. "I've been a part of United to Serve for four years now, and I think it's amazing how much my colleagues have accomplished here today." Visit the Bryan Williams, M.D, Student Center Center's Facebook page for more photos from the event.
Volunteers Help and Learn
Volunteers such as Alaa Daghlas, a clinical lab assistant in the UT Southwestern Blood Bank, get as much out of the experience as do attendees. Ms. Daghlas manned a booth that introduced children to "Abnormal Aging vs. Normal Aging."
"I learned something today," Ms. Daghlas said. "The kids already know the difference between what's normal and what's abnormal. They impressed me a lot."
The idea was for the children to identify what they see in the elderly people around them as either something to be expected or out of the ordinary. Among the categories were motor skills and cognitive connections.
Ashley Jancuska, a first-year medical student, headed up the Bicycle Safety booth, one of the busier areas at the carnival.
The students teamed up with Spokes for Folks, a nonprofit organization that refurbishes donated bicycles for children in families that might not be able to afford them, and with the Texas Medical Association's Hard Hats for Little Heads program, which works to get children to protect themselves from head injuries.
Ten bicycles, donated by Spokes for Folks, were given away during the day, and the Bicycle Safety station workers dispensed nearly 200 helmets to kids in exchange for a pledge that they will wear the helmets when they use bikes, skateboards, or inline skates.
Dizzying Exhibit
Across the gymnasium, at the Heart Health booth, first-year medical student Katie Kinser brought over her 9-year-old brother, Shaun, to look at the exhibit that included pathological specimens of three human hearts.
"It was my first time seeing a real one," Shaun said. "I didn't really want to, but I picked it up. I started to get a little dizzy, but I'm all right now."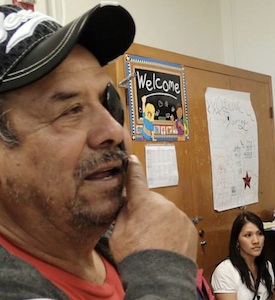 Second-year medical student Rohin Moza said the kids quickly pointed out the heart that had undergone a bypass: "They knew that didn't belong there," Mr. Moza said.
Volunteer coordinator and second-year medical student Elizabeth Sloan helped track the more than 450 volunteers. "We had nearly 150 Spanish-speaking volunteers to act as interpreters, and that's really key in a largely Hispanic neighborhood," she said.
Dallas-area clinicians such as Dr. Adriana Cano, a Dallas physician in private practice and member of the UT Southwestern Class of 1986, and Dr. Amrutha Pavle, a first-year resident at Parkland Memorial Hospital, conducted sports physicals. Health screenings for diabetes and heart disease also were offered.