'Keep Cool': Simple advice for biomedical sciences graduates
More than 60 graduates of the UT Southwestern Graduate School of Biomedical Sciences – most of whom will now move into careers in research – walked across the stage during Commencement exercises May 30 in the Tom and Lula Gooch Auditorium.
Degrees were conferred by Daniel K. Podolsky, M.D., President of UT Southwestern Medical Center, in the ceremonies presided over by David Russell, Ph.D., Vice Provost and Dean of Basic Research.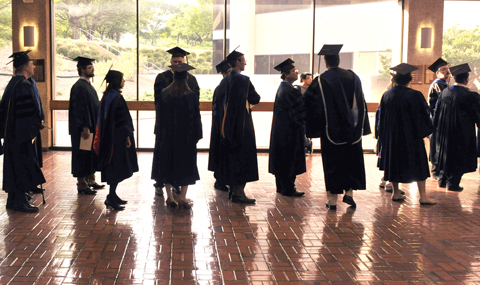 David Mangelsdorf, Ph.D., Chair of Pharmacology, presented the commencement address, telling the graduates about the memorable speaker at his high school graduation in 1976: Arizona Superior Court judge Sandra Day O'Connor, who five years later would become the first woman to serve on the U.S. Supreme Court.
"Many of us may remember who spoke at a graduation ceremony," Dr. Mangelsdorf said, "but to be honest: How many of us can actually recall what the speaker said? I really remember only one of those speakers, but more important: I remember what she said. Her advice to me that day is the same advice I'm going to share with you this evening. And it comes from the label of a jar of Hellman's Real Mayonnaise."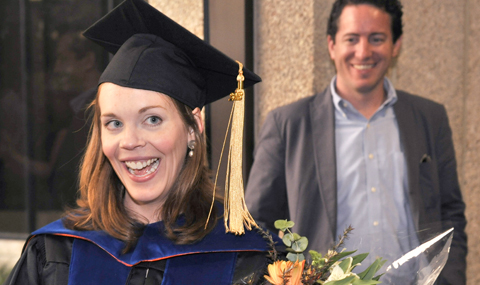 Brandishing a jar of the product, and even enjoying a dollop of it a couple of times, Dr. Mangelsdorf worked his way through a discussion of the ingredients, their benefits, and unusual uses for the product – including as a treatment for head lice.
He told the graduates that the most important thing to remember about the product was printed right on the lid of the jar: "Keep Cool – But Don't Freeze."
"To survive," he said, "you really need to keep your cool and stay on the level. Keep cool but don't freeze is not just applicable to the execution of experiments in the lab, but also to how you interact with those around you in your future roles as postdocs and eventually as Principal Investigators in your own laboratories.
"Keep cool and do not freeze. Do not let the fear of failure keep you to the point that you lose your ability to keep things together. Nobody likes rancid mayonnaise."
More Photos
See more photos from the Graduate School of Biomedical Sciences' commencement ceremony on UTSW's Facebook page.