The Stars Align
The stars – not the ones in the sky – recently aligned at UT Southwestern.
Bruce Beutler, M.D., a star in his own right as UT Southwestern's newest Nobel Laureate, recently met with eager STARS program students and teachers to share his research, encourage students to pursue science-related careers, and broaden teachers' knowledge about science.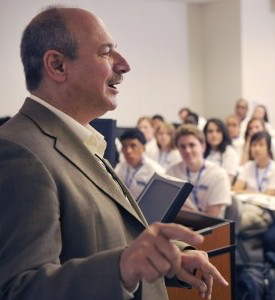 STARS (Science Teacher Access to Resources at Southwestern) was developed in 1991 to improve the quality of science education in North Central Texas. The program has since grown to serve more than 7,800 teachers and 39,000 students in 4,900 schools in the Dallas/Fort Worth and surrounding areas.
Dr. Beutler, Professor and Director of the Center for the Genetics of Host Defense at UT Southwestern, urged the participants to forget the myth that scientific inquiry always requires a hypothesis—something we all learned in science class.
"This is absolutely not true, so get that out of your minds," Dr. Beutler said.
The Nobel laureate pointed to several serendipitous discoveries, such as Alexander Fleming's discovery of penicillin, Christian Friedrich Shoenbein's discovery of guncotton, and Percy Spencer's discovery of microwaves, which led to the invention of the microwave oven.
"Is there a way to plan for serendipitous discoveries?" he asked.
The answer is yes. One way is to use forward genetics, which entails generating random mutations to create phenotypes, and then finding the precise mutations that caused the phenotypes.
By starting with a phenotype, Dr. Beutler and his lab demonstrated that mammalian Toll-like receptor TLR4 acts as one of the receptors for lipopolysaccharides (LPS), which is found on gram-negative bacteria. When LPS binds with TLR4, mammals generate an intense inflammatory response. He won the 2011 Nobel Prize in Physiology or Medicine for this research.
For many in the audience, it was their first time meeting a Nobel Prize winner.
"It was very informative," said Brian Bolster, a physics teacher at Dallas' Bryan Adams High School. "Listening to his methodology and how he found his discoveries was illuminating."
"The STARS program allows me to give my students a better understanding of science. Instead of giving my students truncated lessons, I can give them the whole picture," Bolster added.
Other teachers trumpeted the value of the STARS program.
"The program requires us [teachers] to create action plans, which are in-depth lesson plans, and they have a section that relates to what each of us are doing in our labs," said Lisa O'Connor, who teaches forensics and pharmacology at the Birdville Center of Technology and Advanced Learning.
"It's something innovative for us to take back to our classrooms. Instead of staying within my own school district to get ideas, I'm getting it from the best of the best from all over Dallas/Fort Worth."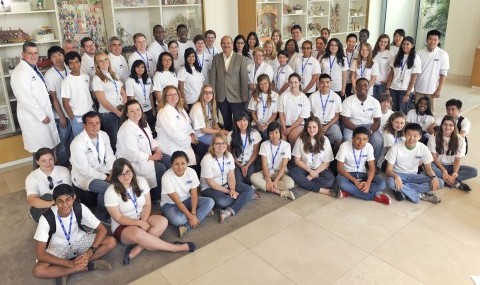 The students were equally engaged, asking insightful and thoughtful questions about Dr. Beutler's research.
"It was really cool to hear about his discoveries," said Taelor Oppliger, a student from Newman Smith High School in Carrollton. "It was also cool to meet a Nobel laureate and be around someone who has such prestigious credentials."
Mostly the audience admired Dr. Beutler for his discoveries and his humble and easygoing personality.
"He's made great strides in science and is very intelligent, but he's very personable," O'Connor said. "He is someone you can sit down and carry a conversation with. And he took the time to spend with the kids and us."