House calls help patients, doctors
Doctors making house calls seems like a chapter from history. But even in today's high-tech world, some physicians do visit patients at home, with positive results.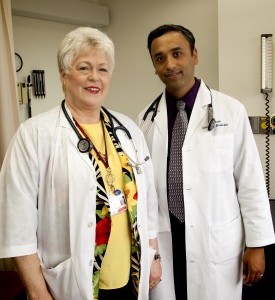 Amit Shah, M.D., Assistant Professor of Internal Medicine and Director of the Mildred Wyatt and Ivor P. Wold Housecalls Program at UT Southwestern, makes house calls a half day each week. Along with Natalie Garry, a nurse practitioner, they care for about 70 frail, homebound patients. They are assisted by Heather Nemec, a social worker, and staff from the UT Southwestern geriatrics clinic.
Dr. Shah said making house calls has allowed him to build strong relationships with his patients, while his patients are able to stay in their homes.
"The relationships I'm able to build with the patients and their families have a whole different flavor," he said. "Sitting in their living rooms with them, I'm getting to know the patients and their families at a new level. My job satisfaction is very high as a house call physician."
Patients in the program typically are in their 80s or older, have at least one chronic illness that has required repeated and costly hospitalizations or readmissions, and are in the final stages of their lives. Many simply want to live a better quality of life as long as possible.
With house calls, patients and their families or caregivers are spared the burden of getting to the hospital or doctor's office. Often, the patients simply don't want to be hospitalized anymore or undergo excessive testing. The care Dr. Shah provides is what he would provide in the hospital, mostly with basic equipment.
"The vast majority of these patients don't need the high-tech tools," Dr. Shah said. "They're nearing the end of their lives. You just rely on good physical examination skills and understanding what the family wants. We need to be judicious about what we do and look at the big picture and do what makes sense."
In the home, physicians can take and instantly read digital X-rays, do EKGs, obtain bedside echocardiograms or sonograms, and perform a number of lab tests with handheld devices.
If high-tech tools are needed, many companies provide portable, in-home services.
House calls once were fairly common in the U.S. In the 1930s, up to 40 percent of doctor visits were house calls. By the 1990s, Medicaid funding cuts left house calls nearly extinct.
Dr. Shah began doing house calls as a student at Baylor College of Medicine in Houston, working with Carmel Dyer, MD, a renowned geriatrics specialist. "It was just an eye-opening experience," he said.
He came to UT Southwestern in 2007 and looked to expand the teaching of trainees in this unique venue. Now he wants to expose as many students as possible to house calls. All third-year internal medicine students rotate through a geriatrics experience during their internal medicine clerkship and make a few house calls with him. All internal medicine residents rotate on house calls during their geriatrics portion of intern year.
While house calls benefit patients, they help the health care system too. According to a Kaiser Family Foundation analysis, the top 10 percent of Medicare patients use 58 percent of health care resources at an annual cost of $48,210 per person. Many of the patients in UT Southwestern's program fall within that 10 percent.
There's growing evidence that in-home doctor visits cut costs. One study of 179 patients showed a drop in hospitalizations from 61 percent to 37 percent and stays at skilled nursing facilities from 38 percent to 18 percent in seven months. In another study, Medicare costs fell $3,031 per house call six months after hospital discharge. Other studies show similar results.
More hospitals are also beginning to see the value of house calls programs in reduced costs and readmissions.
Dr. Shah said that while Medicare covers some costs, it doesn't cover it all. For doctors who can keep their overhead low, this type of practice works. But until reimbursements are better aligned, house calls won't become more common
"These programs could grow, but this is not going to be the dominant way of providing care," he said.
Still, Dr. Shah continues his work, fueled by his passion for his practice and the relationships with his patients. He wishes there wasn't always a waiting list for his program and that he could serve more patients. He also wishes students and residents would consider doing house calls in the future.
"If I could only do one thing, it would be house calls," he said.