Flight Crew to the Rescue
While on-call at the Air Evac base in Sherman, Texas, Julie Earnest, R.N., B.S.N., M.B.A., may respond to as many as five medical emergencies within a 24-hour period.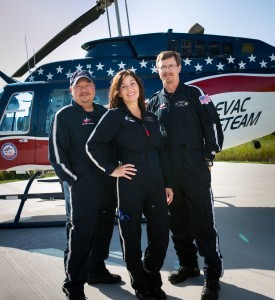 Medical emergency helicopters only respond to critical-care situations. During a flight, Earnest works alongside a paramedic and a pilot. There is no doctor on board. She relies on protocols, doctor orders, medical control, and her nursing judgment. The team has one hour – called the Golden hour – to transport a patient to a hospital to maximize their chances.
Starting her nursing career at Parkland Memorial Hospital's ER, Earnest was drawn to the fast-paced demands of the critical-care environment. With her desire for adrenaline-surging, heart-pumping action, it didn't take long for medical flight care to catch her attention.
"Within my first year in Parkland, I knew I wanted to be a flight nurse," Earnest said. "When flight-team calls came in, my heart would beat faster, and I couldn't wait for them to arrive. The flight nurses seemed so smart and so passionate. They were just so heroic."
The wife of a narcotics officer for the Texas Department of Public Safety and a mother to 3-year-old Emma and 11-week-old Elin, Earnest is a full-time UT Southwestern float pool nurse and a part-time flight nurse for Air Evac, the largest independently owned and operated membership-supported air medical service in the United States.
After eight years of flight-nurse experience, Earnest works with her paramedic in complete synchronization.
"You don't even have to talk to your partner," she said. "You function as a team. I know what he's going to do, and he knows what I'm going to do."
As a mom, pediatric trauma cases affect her the most.
She recalled one incident from last summer when she responded to a possible pediatric drowning in southern Oklahoma. On arrival, swimmers had pulled a 4-year-old boy who had been submerged for approximately six minutes. CPR was already in progress by local EMS. Earnest and the paramedic loaded the child in the helicopter and continued CPR while the helicopter raced toward Children's Medical Center in Dallas.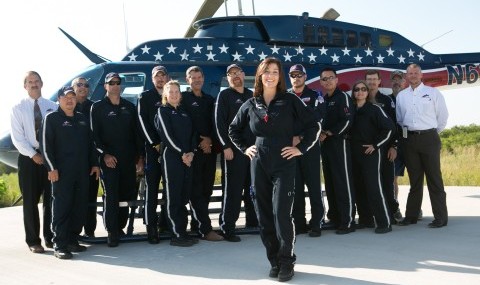 "We continued CPR in flight for 35 minutes," Earnest said. "That is a long time when there is only two of us. Upon landing we got our first pulse back. I have never worked so hard for so long with just myself and my partner. Giving up was simply not an option."
Three days later, the little boy was discharged from the hospital with a few broken ribs from the CPR but no brain damage.
"He is one of many success stories that happen when a helicopter crew is called," she said. "I know that little boy would probably not be here if it wasn't for the local EMS crew and the aid of a fast-flying helicopter and crew."
Despite her growing family and full-time obligations as a UTSW float pool nurse, Earnest is nowhere near ready to give up flight care.
"I love it; I can't give it up," she said. "I get to drive home everyday knowing that I made a difference."