Young hepatitis researcher stays on focused path
For Doan Dao, who came to the United States as a Vietnamese refugee, a residency in Internal Medicine at UT Southwestern will bring him one step closer to his dream of a career in medical research.
Mr. Dao has overcome challenges in earning his medical degree.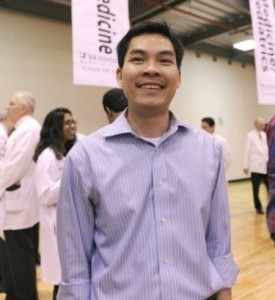 When his family immigrated, he was 18 with an English vocabulary of only about 200 words. He gained fluency in Houston, where he briefly repeated a few high school courses before graduating in the top 10 percent of his class. He then enrolled at UT Austin, majoring in biochemistry.
Prior to his senior year at UT Austin, Mr. Dao got a summer internship offered through the state's Joint Admission Medical Program, which benefits economically disadvantaged students. The months he spent in a UT Southwestern neuroscience laboratory convinced him to pursue a medical career.
"My personality fits well with research," he said. "When I'm working on something, I keep thinking about it, and about why things happen the way they do. Figuring it out really motivates me."
For the next few years, Mr. Dao's focused personality will remain at UT Southwestern, his first choice for a residency. On Friday, he matched for a spot in the Physician Scientist Training Program, a prestigious, highly selective program that provides young physician-scientists with specialized options for scientific training at the medical center. Mr. Dao's track in Internal Medicine will be GI/Hepatology.
Participants have the option of starting a fellowship after two years of training. They are exposed to highly individualized mentorships, have the opportunity to train in the labs of internationally renowned faculty, and are eligible for augmented salary support during their fellowship.
It took Mr. Dao six years to finish medical school, because he conducted significant research on a subject close to his heart – hepatitis B virus (HBV) infection. Chronic HBV cases are widespread in Vietnam and other Asian and African countries. Members of Mr. Dao's own family have been affected by the virus. The Institute of Medicine reports that about 65 percent of people who have the condition are unaware of their viral disease until they develop liver cirrhosis and/or liver cancer.
With guidance from his mentor at UT Southwestern, William Lee, M.D., Professor of Internal Medicine and head of the Clinical Center for Liver Diseases, Mr. Dao investigated the acute liver failure that is secondary to HBV. As the result of his work, he was the lead author on several studies that were published in Hepatology, Digestive Diseases and Sciences and the Journal of Medical Virology. Other mentors included Michael McPhaul, M.D., Professor of Internal Medicine and of Clinical Sciences; Steven McKnight, Ph.D., Chairman of Biochemistry; and James Richardson, D.V.M., Ph.D., Professor of Pathology, Molecular Biology and of Plastic Surgery.
While a medical student, Mr. Dao also organized and led the Dallas Fort Worth Hepatitis B Free Project, an ongoing effort between the Asian Pacific American Medical Student Association at UT Southwestern and the students at the Texas College of Osteopathic Medicine in Fort Worth. The program offers no-cost screening and vaccinations for individuals who have never been exposed to hepatitis B. So far, the project has served 412 people, about 9 percent of whom were found to have chronic HBV infection and were subsequently directed to medical care.
"I am grateful for the opportunities in America," Mr. Dao said. "I work hard to give a little back to the community because I consider myself a more fortunate individual than many."