Lessons from Olympics apply to postdoc's life
As Olympic athletes head home after the 2012 London Games, many will begin new chapters in their lives. Some will apply the lessons of their sports to their lives and work, as Vipa Bernhardt, a 2004 Olympian and current UT Southwestern postdoctoral student, has done.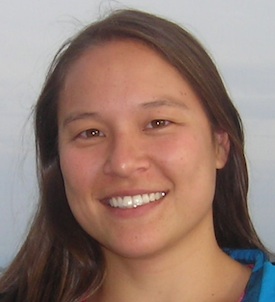 Dr. Bernhardt competed in the 2004 Athens Games, swimming for her native Germany and finishing 13th overall in the women's 100-meter breaststroke. She trained for the 2008 Beijing Games but didn't make the team. In 2010, she earned her PhD in biomedical sciences at University of Florida, where she swam for the school alongside 2012 gold medalist Ryan Lochte.
She's now studying at the Institute for Exercise and Environmental Medicine under Tony Babb, Ph.D., Associate Professor of Internal Medicine at UT Southwestern. Her research focuses on the mechanism of shortness of breath during exercise in obese individuals.
Dr. Bernhardt said that her swimming and competition experience helps in her approach to research.
"One of the things swimming taught me is how to deal with defeat and disappointments," she said. "Swimming races is a lot of trial and error until one finds the right recipe of what works for oneself and what doesn't. Depending on the outcome of a race, one has to make adjustments. Sometimes these adjustments are small, such as an immediate change during the competition, and sometimes bigger, like changes in practice strategies."
"In research, failure is a common occurrence as well and one has to figure out what happened and how to make adjustments in order to fix the problem," she added.
Swimming and training also helped her succeed in her studies.
"It's important to go through the motions, but it is even more important to know what you are doing and why you are doing it. This applies to both sports and research," she said.
When she didn't make the 2008 Olympics team, Dr. Bernhardt took a year off from swimming. She returned to the pool in 2009, taking up underwater hockey.
She said underwater hockey is a team sport unlike anything she's ever played. Games are played at the bottom of a pool, with players wearing swimming fins and snorkeling equipment.
"Nobody can hold their breath forever so the whole team must work together to succeed," Dr. Bernhardt explained. "Every player has a specific position and needs to know where their teammates are at all times. Scientific research is similar in that one person can only do so much, but if a whole team is there to support, everything can be done a lot more efficiently."
As for her Olympic experience, being around all the world's athletes from a variety of sports in the Olympic Village was amazing.
"Qualifying for the Olympics showed me the results of the years of dedication that I put into swimming," she said. "Hard work pays off."
Vipa Bernhardt Swimming Accomplishments
5-time Southeastern Conference (SEC) Champion, 2004-2006
19-time NCAA All-American, 2003-2006
Several University of Florida school records
2006 University of Florida Most Valuable Swimmer
2005 World University Games in Izmir, Turkey (4th, 5th, 7th, 8th, 10th places)
2004 Summer Olympic Games in Athens, Greece, (13th place)
2003 World Championships in Barcelona, Spain (9th, 14th place)
2000 European Championships in Valencia, Spain (7th place)