Overview
Radiation Oncology Annual Report
Read through our annual report to learn more about our education, research, and patient care endeavors.
Mission of the Department of Radiation Oncology

Provide the highest quality radiation treatment for patients
Complement other cancer specialties at Simmons Cancer Center
Perform cutting-edge translational and clinical research
Conduct state-of-the-art molecular biology research
Provide excellent educational programs for physicians and scientists
Experts and Pioneers in Our Field
Our medical professionals have a reputation for providing exceptional, compassionate care to cancer patients, using state-of-the-art technologies, some of which are the first of their kind in the United States. In addition to advancing the use of cancer-fighting technology, our faculty members hold leadership positions in the Radiation Therapy Oncology Group (RTOG), the primary organization for radiation therapy clinical trials.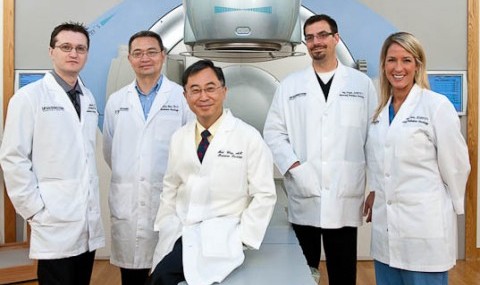 The Department of Radiation Oncology at UT Southwestern Medical Center is a pioneer in the new field of stereotactic radiation therapy, which includes stereotactic body radiation therapy (SBRT), image-guided radiation therapy (IGRT), and intensity-modulated radiation therapy (IMRT). Our expertise benefits not only our patients, but the medical, physics, and biological science professionals who participate in our training and education programs.
Our Clinics
On the UT Southwestern campus, radiation therapy activities take place at the W.A. Monty and Tex Moncrief Radiation Oncology Building, as well as the new Radiation Oncology Building. Gamma Knife and CyberKnife radiosurgery procedures take place in the Annette Simmons Stereotactic Center at Zale Lipshy University Hospital.