FEPP Participant Process
Individuals with psychosis can have powerful emotional responses to criticism and family conflict.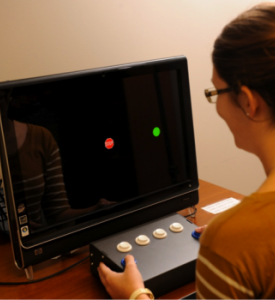 Though medications are the foundation of good treatment and often provide considerable relief from many symptoms of psychosis, it is important to work with the family of someone with psychosis.
Working with the family is known to improve the quality of life of those with psychosis as everyone works together to help reduce and eliminate the symptoms and distress experienced by the person with psychosis. It also helps address the distress family members may experience when living with someone experiencing psychosis.
The study includes several parts, each designed to evaluate brain function or the effects of the illness in different ways. The following research procedures are provided at no charge to study participants.
Tests of thinking abilities to understand how information is processed
Eye movement and EEG (brain wave) recordings to evaluate whether brain activity is affected
Magnetic resonance imaging (MRI) to monitor brain anatomy and function
Genetic studies to determine the effect various genes have on how behavior and brain function change during drug treatment
First Six Weeks
The first six weeks of evaluation, research procedures, and treatment take place at the UT Southwestern Medical Center site of the First Episode Psychosis Program. During this time, participants are told about the research nature of the FEPP, including the clinical/diagnostic evaluations, treatment program, and brain function tests.
Research participation is required to join First Episode Psychosis Program. Participants receive written informed consent documents that explain the study and all of their questions are answered. Families remain involved in this process to the extent desired by the participants. The sole exception: individuals under 18 must have their parents involved.
Prior to beginning the study, research coordinators work with the participants to ensure that they understand all possible risks and benefits, how to withdraw at any point, if needed, and what to do if they encounter problems. Before a decision is made to start psychiatric medication, participants are thoroughly evaluated with diagnostic evaluations and research study procedures over a one- to five-day period.
The same diagnostic tests are repeated four to six weeks after treatment begins to determine the effects of treatment.
After Six Weeks
The clinical care of participants is transferred to our collaborative team at the Metrocare Services' site of the First Episode Psychosis Program, led by Osman Ali, M.D. Transfer to a private community provider is an option.
Services available at the Metrocare site include case management, peer support, family programs, and additional research study opportunities. Medication treatments, therapy, and rehabilitation are also available. With the participant's permission, the research study team remains in close contact with caregivers and family throughout the treatment phase of the study to address any questions and ensure that optimal care is provided.
After One Year
Participants are invited back to UT Southwestern to evaluate their clinical progress and repeat brain and cognition tests.