A Day in the Life of a Research Track Resident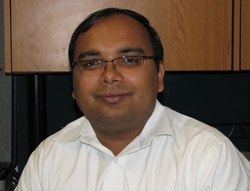 Hi! I am a third-year psychiatry resident. My week involves seeing patients in outpatient and psychotherapy clinics, going to lectures and seminars, meeting with my supervisors and mentor, and working on my research. I will take you through my typical Monday.
After a short walk across the street from my apartment, I start my day in the research lab of my mentor, Subroto Ghose, M.D., Ph.D. My research focuses on glutamate receptor expression in human brains using donated brain tissues. Prior to starting my residency, I had very limited experience in lab research, so I often turn to Abhay Shukla, Ph.D., a postdoctoral fellow in the lab, to help me troubleshoot problems.
Every Monday morning, I meet with my psychotherapy supervisor, a practicing psychoanalyst with more than 40 years of experience. We review my process notes from the week before and discuss the progress of my patients. Then it is back to the research lab, where I check the progress of an experiment that I started earlier in the morning.
After a lunch with other lab members, it's time to see my cognitive therapy patient. I video-record these sessions, with the patient's consent, so that I can review my work prior to meeting with my cognitive therapy supervisor on Tuesday mornings.
In the afternoons, I return to the lab and meet with Dr. Ghose. These discussions tend to be quite diverse, ranging from neurobiology of psychiatric illnesses to my future career plans. Dr. Ghose has guided me through designing my own project for the Resident Research Track. One of the many great things about our program is that there is no limit on the number of residents on Research Track. This has resulted in seven out of 14 of my classmates opting for Research Track. There is never a dull moment in the weekly RT conferences.
What I most appreciate about our department is the easy access to world-class researchers. This has allowed me to explore my different research interests, such as quality of life changes with cognitive behavioral therapy or evaluating the attitudes towards working in correctional facilities. I am enjoying this opportunity to enhance my research skills.
Every three months, I participate in the diagnosis meetings of Dallas Brain Collection (DBC). The DBC is one of the nation's few psychiatric brain collection programs that receives tissues from the medical examiner's office, the Willed Body Program, and the Transplant Service at UT Southwestern. Prior to the diagnosis meetings, we independently review all the available clinical information of the deceased and arrive at diagnosis for each case. We then develop a consensus diagnosis together at these quarterly meetings
My day usually ends around 5 p.m. when I wrap up my work and head back home. Most weekends, I meet up with my classmates to have a good time. Usually it involves eating out, watching movies or games, karaoke, or just enjoying the nice weather on a patio but occasionally we stray into the likes of Dallas Symphony (mainly because UT Southwestern residents get deeply discounted tickets). Brian, my co-PGY-3, loves Dallas because it has a team for every major sport but I love the numerous Indian restaurants.
As a native of India, I have felt very welcomed in this very international institution. I look forward to completing my education and training, having prepared myself for future challenges in psychiatric care and research.
Manish Jha, M.D.
Research Track Resident, Department of Psychiatry