A Day in the Life of a Research Track Resident
My Background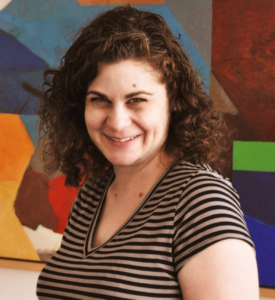 I grew up in Houston, where my dad was a doctor (an academic radiologist) and my mother was a lawyer. For undergrad, I attended Amherst College in Amherst, Massachusetts, a small liberal arts college where I was a neuroscience major. After four long, dark, and cold winters, I was very happy to return to Texas to attend the University of Texas Medical Branch (in Galveston) for my M.D./Ph.D. My Ph.D. is in neuroscience, and my research focused on the behavioral and molecular pathways involved in learned cocaine-environment associations in a rat model of cocaine dependence. I met my husband in medical school, and he completed his family medicine residency while I completed the M.D./Ph.D. program.
Why I Chose UTSW
When I was looking at residency programs, I knew what I wanted to attend a program with the opportunity to pursue my research interests with a switch from basic science to clinical/translational research. I didn't, however, want to sacrifice my clinical training. Training at UT Southwestern Medical Center has let me meet all of these goals. It has also let me train with amazingly diverse colleagues in a city that meets my husband's needs as a private practice family physician. I've been surprised to learn how much I've enjoyed our psychotherapy training, another strength of our program.
A Typical Day
As a Research Track resident, I have time reserved for research. I began meeting with my research mentor, Madhukar Trivedi, M.D., during intern year. As a second year, I had eight weeks (two blocks) of research time; one block of elective time and one fewer clinical rotations that my non-research track colleagues. As a third year, I have 20 percent research time (one day a week; one half day of clinic and two therapy patients less than my colleagues). My other days this year have been spent in our outpatient medication management clinic, teaching medical students, observing cognitive and behavioral evaluations in the Autism Clinic, attending didactics, and seeing/getting supervision for both psychodynamic therapy and CBT patients. I'm looking forward to fourth year, when I will have 80 percent research time (the other 20 percent of my time will be used for didactics, seeing psychotherapy patients, and attending psychotherapy supervision).
Where I Live
My husband and I live in a wonderful 2,500-square-foot house on a big lot with lots of old trees in North Dallas. I have a 15–20 minute drive to the Medical Center, and my husband drives about 25 minutes to his practice in a suburb north of the city.