Education & Training
The Department of Plastic Surgery is actively involved in the education of medical students, residents, and fellows. We also offer formal observerships that allow us to share our clinical expertise with physician colleagues.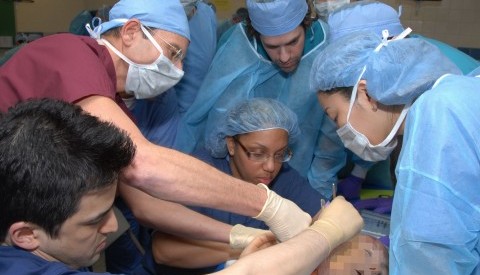 Medical Student Training

Jeffrey M. Kenkel, M.D., is the faculty coordinator for Plastic Surgery (SUR 1605). Students are instructed in basic techniques of complex wound management within the general area of plastic surgery including hand, facial trauma, reconstructive, microvascular, and aesthetic surgery. At completion of the course, students have obtained a better understanding and a balanced perspective of plastic surgery.
Residency Program
The Department offers two pathways into our residency training program, an Integrated pathway and an Independent pathway.
Fellowships
We offer fellowship training in the following areas:
Physician Observerships
The Department, as well as UT Southwestern, has an intense interest in and commitment to sharing clinical expertise with colleagues both nationally and globally who want to spend time observing the advanced plastic surgery clinical services provided here. Observers are defined as individuals who want to establish an uncompensated association with the University for a defined period of time, not to exceed three months without written approval of the Associate Dean for Medical Education.