Medical Student Education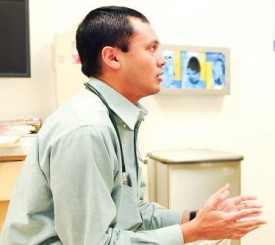 The education of UT Southwestern medical students remains one of the core missions of the Department of Pediatrics. A solid foundation in childhood health and illness has long been recognized as one of the central components of a well-rounded medical education, and we strive to offer students the opportunity to explore the full breadth of pediatric medical care through our many programs.
At the center of these offerings is the core clerkship in Pediatrics for third-year medical students. This required element of the medical curriculum consists of an eight-week inpatient and outpatient rotation through the many care units housed at Children's Health℠ Children's Medical Center Dallas, in addition to select locations at Parkland Health & Hospital System and, uniquely, through the offices of select community pediatricians from around the North Texas area who volunteer to participate in student education by hosting medical students in their offices.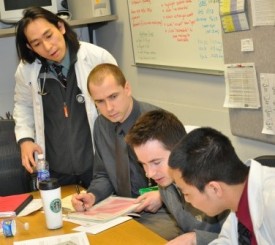 In the Medical Student Clinic (MSC), third-year students work directly with attending physicians from the faculty of the Department of Pediatrics at UT Southwestern and with local pediatricians who volunteer their time. Knowing that patients who present to MSC will only be seen by them and their attending physician provides students a higher level of responsibility than in many other aspects of their third-year training. Students also rotate through many of the subspecialty care clinics located throughout the hospital to gain exposure to the full breadth of specialized care provided by staff physicians.
A full curriculum based on the core competencies as published by the Council on Medical Student Education in Pediatrics (COMSEP) is taught through bedside clinical supervision, daily rounds, in addition to various didactic sessions and interactive case-based discussions facilitated by faculty in nearly all the divisions in the Department of Pediatrics. The entire curriculum is reviewed on an ongoing basis, based on feedback from medical school faculty, national regulatory agencies, and students themselves. Students rotating through the core clerkship continue to outpace national averages on standardized assessments. UT Southwestern students consistently score above the national average for comparable pediatric clerkships on the National Board of Medical Examiners subject exam in Pediatrics.
Fourth-year medical students at UT Southwestern have more flexibility to tailor their academic schedule to meet individual learning goals. Whether students want to gain a more in-depth exposure to pediatric subspecialties in preparation for an eventual career in pediatrics or just to strengthen their foundation in caring for children in advance of another career path, the department offers numerous opportunities to fourth-year students through the facilities at Children's Health℠ and Parkland. Students can immerse themselves in acute/intensive care experiences via rotations in the Neonatal Intensive Care Unit, the Pediatric Intensive Care Unit, Cardiovascular Intensive Care Unit, and Pediatric Emergency Medicine.
Extended experiences in any of the various subspecialty clinics, including Pediatric Hematology and Oncology, Nephrology, Gastroenterology, Endocrinology, and others are available for fourth-year students as well. The Department also offers, and continues to strive to increase the number of, international-health elective opportunities for students. Medical students rated their experience on their Pediatrics Clerkship in 2008–2009 as overwhelmingly positive. Student feedback from course evaluations has remained consistently positive, specifically as it relates to autonomy, promotion of clinical skills, and preparation for internship. On the 2009 graduation questionnaire, 93.3 percent of UT Southwestern students rated their educational experience as "good" or "excellent," the highest such combined score for any clerkship in the past 5 years.
Faculty from the Department of Pediatrics also participate, often in leadership roles, in the more didactic curriculum of the first two years of medical school, including such key courses as genetics, biochemistry, and medical ethics. Beginning with the 2007–2008 academic year, faculty members in the Department also served as mentors in the new colleges system at UT Southwestern. Each mentored a group of six medical students in both first- and second-year classes and delivered curricula such as professionalism and ethics, communication skills like taking patients' histories, diagnostic and physical exam skills, and clinical reasoning and interpretation skills through weekly small group meetings.
The Department takes great pride in the quality of teaching provided by the entire faculty. At the 2010 Excellence in Education Annual Reception and Award ceremony, four faculty members in the Department received teaching awards.
Perhaps most telling, 26 students from the graduating medical school class of 2010 chose to pursue a career in pediatrics or some combined program including pediatrics.