Faculty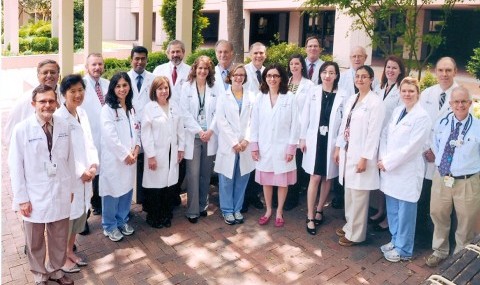 The Division of Neonatal-Perinatal Medicine consists of neonatologists and pediatricians who are committed to providing the highest level of clinical care to the infants they treat, to conducting cutting edge research, and to the education of postdoctoral trainees. Our faculty's research interests span a wide range of topics, including pulmonary vascular biology, neonatal resuscitation, and long-term follow-up, to name a few.
Current and former members of the Division have achieved considerable prominence nationally. Honors received by the faculty include:
Drs. Luc Brion and Pablo Sanchez were listed in Best Doctors in America in 2009
Pablo Sanchez, M.D., was listed in Best Pediatricians in Dallas in D Magazine in 2009
Dorothy Sendelbach, M.D., was awarded Physician of the Year by Parkland Health & Hospital System in 2009
Rashmin Savani, M.D., was awarded the William Buchanan Chair in Pediatrics in 2007
Philip Shaul, M.D., was elected President of the Society for Pediatric Research in 2006 and was awarded the Lowe Foundation Professorship in Pediatric Critical Care Research in 1997
Charles Rosenfeld, M.D., was awarded the McGregor Professorship of Pediatrics in 2003
Learn about our faculty's research.
Neonatologists
Rashmin Savani, M.B.Ch.B.
Professor
Director, Division of Neonatal-Perinatal Medicine
Associate Director, Division of Pulmonary & Vascular Biology
The William Buchanan Chair in Pediatrics
Interests: Bronchopulmonary dysplasia, hyaluronan and its receptors in inflammation, angiogenesis, and organogenesis
Timothy Brannon, M.D.
Assistant Professor
Interests: Neonatal and newborn care, electronic medical records, and bioinformatics
Luc Brion, M.D.
Professor
Director, Fellowship Program
Interests: Fellowship training, evidence-based medicine, renal disorders, Neonatal Research Network, and other multi-center clinical trials
Lina Chalak, M.D.
Assistant Professor
Interests: Hypoxic-ischemic encephalopathy, brain injury in the newborn, and bedside neurologic monitoring
Arlene Davis, M.D.
Assistant Professor
Interests: International health
William D. Engle, M.D.
Professor
Interests: Bilirubin metabolism and neonatal hyperbilirubinemia, neonatal blood pressure, and late preterm infant
Becky Ennis, M.D.
Assistant Professor
Interests: Ethics and palliative care, neonatal outreach, resident education
Natalie W. Frost, M.D.
Assistant Professor
Interests: FETAL Program; complicated neonatal resuscitation; estrogen and estrogen receptor modulation of BPD
Mambarambath Jaleel, M.D.
Assistant Professor
Interests: Mechanical ventilation, neonatal nutrition, neonatal resuscitation, and electronic medical records
Venkatakrishna Kakkilaya, M.D.
Assistant Professor
Interests: Non-invasive ventilation; informed decision making in the NICU; nasap CPAP: optimal delivery systems and weaning strategies in ELBW infants
Sunjun Kang, M.D.
Assistant Professor
Interests: Neonatal and newborn care, community advocacy, and fellow education
Vishal Kapadia, M.D.
Assistant Professor
Interests: Newborn resuscitation; perinatal asphyxia; bronchopulmonary dysplasia (BPD); pulse oximetry; non-invasive monitoring; oxidative stress and free radical injury, use of oxygen during initial stabilization phase and during hospital stay in neonates
J. Wells Logan, M.D.
Assistant Professor
Interests: Diaphragmatic hernia; cerebral blood flow; neonatal neurology; blood pressure, neonatal brain injury; the relationship between blood pressure and cerebral perfusion in critically ill newborns; potentially modifiable risk factors for high risk newborns
Julie Mirpuri-Hathiramani, M.D.
Instructor
Interests: Necrotizing enterocolitis and gut immunology
James E. Moore, M.D., Ph.D.
Associate Professor
Interests: Necrotizing enterocolitis (NEC); congenital diaphragmatic hernia; neonatal ECMO; hypoxia ischema and neuroprotection; tissue perfusion and inflammatory changes in NEC
Charles R. Rosenfeld, M.D.
Professor
George L. MacGregor Professorship in Pediatrics
Interests: Uteroplacental blood flow, development of the rennin-angiotensin system, fetal growth restriction, neonatal nutrition, neonatal origins of metabolic syndrome, and PDA and blood pressure regulation
Pablo J. Sanchez, M.D.
Professor
Interests: Neonatal and congenital infections, and Neonatal Research Network and other multicenter trials
Philip W. Shaul, M.D.
Professor
Vice Chair of Research
Director, Division of Pulmonary and Vascular Biology
Lowe Foundation Professorship in Pediatric Critical Care Research
Interests: Endothelial cell biology, nitric oxide, caveolae-lipid rafts, estrogen, and HDL and CRP signaling
Julide Sisman, M.D.
Assistant Professor
Interests: Neonatal neurology, hypoxic-ischemic encephalopathy, and amplitude-integrated EEG
Audra Stewart, D.O., M.P.H.
Assistant Professor
Interests: Neonatal and newborn care, congenital hearing loss, and advocacy
Myra H. Wyckoff, M.D.
Associate Professor
Interests: Newborn resuscitation, resident education, and non-invasive monitoring
Developmental Care and Follow-up
Roy Heyne, M.D.
Professor
Interests: Developmental follow-up of complex high-risk and very low birth weight infants, and community advocacy
Newborn Pediatrics
Gregory Jackson, M.D., M.B.A.
Professor
Interests: Neonatal hyperbilirubinemia, neonatal infection, and late preterm infants
Susan Raff, M.D.
Assistant Professor
Interests: Neonatal and newborn care, and electronic medical records
Joseph Schneider, M.D., M.B.A.
Clinical Assistant Professor
Interests: Neonatal and newborn care, clinical bioinformatics, and electronic medical records
Dorothy Sendelbach, M.D.
Associate Professor
Interests: Breastfeeding, neonatal hyperbilirubinemia, newborn nutrition, and late preterm infants
Muraleedharan Sivarajan, M.D.
Assistant Professor
Interests: Neonatal and newborn care, and resident education
Elizabeth K. Stehel, M.D.
Associate Professor
Interests: Breastfeeding, resident and medical student education, and neonatal infection