Research
Endocrinology division faculty are involved in both basic and clinical research. The Division works with laboratories in other departments and institutions, providing fellows an opportunity to expand their research interests and learning opportunities.
Basic Science Research
Research within the division is grouped into several main themes.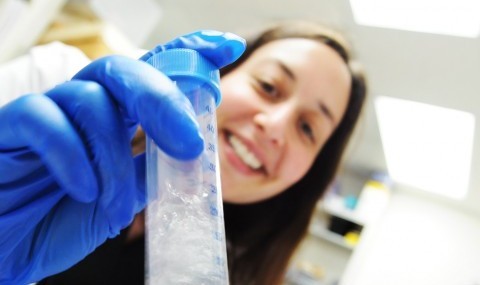 Drs. Soumya Adhikari and Kathryn Sumpter have conducted a pilot study of a powerful anti-inflammatory agent – anakinra – in children with new-onset Type 1 diabetes to see if it might be safely used to prolong the honeymoon period in which some insulin secretion remains. Additional studies are planned with a more powerful related agent.
Michele Hutchison, M.D., Ph.D., conducts NIH-supported basic research on the hormonal regulation of long bone growth with particular attention to the role of IGF-I, and has recently demonstrated that the neurotrophin receptor TrkB regulates growth plate chondrocyte development. She is currently examining the involvement of the COX enzymes in bone growth, which has significant clinical implications because the COX enzymes are targeted by common NSAIDs such as ibuprofen. She is also interested in the connection between vitamin D deficiency and insulin resistance in obese youth, having found a high prevalence of vitamin D deficiency among patients in the obesity clinic that this is associated with biochemical changes predisposing to Type 2 diabetes. She is engaged in a current study aimed at determining whether correction of vitamin D deficiency has any effect on insulin resistance in obese youth. She has also studied the natural history of progression to insulin dependence among children with Type 2 diabetes.
Perrin White, M.D., has studied several genetic diseases of steroid hormone biosynthesis and metabolism including the most common forms of congenital adrenal hyperplasia. Recently he has concentrated on translational research including studies of gene expression in white blood cells from children with either Type 1 or Type 2 diabetes mellitus, and a pilot study of a potent anti-inflammatory agent, anakinra, in patients with new-onset Type 1 diabetes.