Research
Since 1994, Dr. Rebecca Gruchalla has had sustained NIH funding for research in pediatric inner city asthma. In 1996, she became a member of the Inner City Asthma Multicenter Study group (Dallas-site PI), which became an NIH-sponsored contract (Inner City Asthma Consortium – ICAC) in 2002. The initial contract was a six-year contract for $55.8 million, and its purpose was to investigate the mechanisms of asthma in inner city children, as well as to develop novel treatments for this disease. While the initial contract ended in September 2009, it was competitively renewed for another five years, through 2014. Once again UT Southwestern is a participating site, along with Boston University, Children's Memorial Hospital in Chicago, Children's National Medical Center in Washington, DC, Henry Ford Health System in Detroit, National Jewish Health in Denver, Johns Hopkins University in Baltimore, Columbia University in New York, St. Louis Children's Hospital, and University of California, San Francisco.
The current NIH-funded ICAC study is an asthma registry study, and UT Southwestern continues to be one of the top recruiting sites for this study and, along with select sites, is involved with two additional studies:
An inner-city asthma phenotype study: an epidemiologic, multi-center, cross-sectional study that will define the phenotypic characteristics of difficult-to-treat asthma, among 650 children between the ages of 6 to 17 years.
A Biomarker-based pilot study of cockroach sublingual immunotherapy in cockroach sensitive children with asthma and/or perennial allergic rhinitis: a randomized multi-center trial that will compare two doses of glycerinated German cockroach allergenic extract versus placebo, administered via the sublingual route in 84 children ages 5 to 12 years with perennial allergic rhinitis, asthma, or both.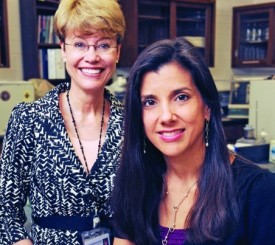 Drs. Rebecca Gruchalla (left) and Michelle Gill led research that suggests allergic reactions to pet dander, dust mites, and mold may prevent people with allergic asthma from generating appropriate immune responses to respiratory challenges like the flu virus.
Through ICAC, several important collaborations have been established with various basic scientists on campus:
Dr. Michelle Gill (Pediatric Infectious Disease), Dr. Nitin Karandikar (Pathology & Neurology), and Dr. David Farrar (Immunology and Molecular Biology).
The Gruchalla/Gill lab focuses on the role of dendritic cells (DCs) in the pathogenesis of asthma. By defining how DCs' function is affected in patients with asthma, we hope to better understand how to interrupt, and eventually design strategies to prevent, the deleterious immune responses associated with the clinical symptoms of allergic asthma.

Our results to date were published recently in the Journal of Immunology in a manuscript entitled, "Counter regulation between the FcεRI pathway and antiviral responses in human plasmacytoid dendritic cells," (Gill, MA, Bajwa G., George, T.A., Dong, C., Dougherty, I., Jiang, N., Gan V., Gruchalla, R.S. J Immunol:2010, 184:5999-6006). In this manuscript, we showed that allergic stimulation of DCs via activation of FcεRIα, an allergic receptor that is increased on dendritic cells in asthma patients, impairs the capacity of these critical immunoregulatory cells to generate interferon-alpha, a protein essential in activating antiviral immune responses.

The implications of our results are that asthma patients who are exposed to allergens (which activate FcεRIα on dendritic cells) have impaired immune responses to respiratory viral infections, such as those caused by influenza or human rhinovirus. These data are very exciting in that they may, in part, explain why respiratory viral infections cause asthma exacerbations in patients with this disease.
In addition to evaluating the role of dendritic cells in asthma pathogenesis, we also have been studying T lymphocyte responses in this disease through collaborations with Dr. David Farrar and Dr. Nitin Karandikar, who are well-established immunologic investigators at UT Southwestern. Dr. Farrar's laboratory recently discovered that type I interferon, the same protein that we found is insufficiently produced by DCs from asthma patients, is actually capable of reversing a type of T cell (T helper 2 cell) that participates in the pathogenesis of asthma itself. This exciting finding suggests that type I interferon, a drug currently used to treat patients with diseases including hepatitis C and multiple sclerosis, may result in a reversal of these asthma-causing cells and thus may prove to be a possible treatment for asthma in the future. Dr. Farrar's results have been published recently in the Journal of Immunology, and Dr. Gill was a co-author of this study (Huber JP, Ramos HJ, Gill MA, Farrar JD. Cutting Edge: Type I interferon reverses human Th2 commitment and stability by suppressing GATA 3. J Immunol:2010, 185:813-7).

Dr. Karandikar's laboratory is studying a different type of T lymphocyte in asthma, T regulatory cells. Dr. Karandikar has spent most of his career determining how immune therapy modulates these cells in multiple sclerosis. He is now taking the knowledge he has gained through this research and is applying it to asthma. More specifically, Dr. Karandikar's lab provided the first direct evidence that therapy with Copaxone induces not only CD4+, but also CD8+ T regulatory cell responses. Moreover, Copaxone-specific CD8+ T regulatory cell responses are deficient in untreated patients with multiple sclerosis, and they are restored during Copaxone therapy. Thus, this group has uncovered a novel mechanism through which this FDA-approved drug may mediate its immunological effects.

In the context of allergy and asthma, immunotherapy using specific allergens provides a clinical and immunological situation quite akin to that of Copaxone treatment. The relationship between allergen-specific CD8+ T regulatory cells and allergen-specific CD4+ regulatory T cells and clinical efficacy of allergen immunotherapy is poorly understood. Thus, in order to gain more insight into the mechanisms of allergen-based immunotherapy and the role of regulatory T cells in this therapy, Dr. Karandikar is performing a pilot study in association with the CR-SLIT ("A Biomarker-based pilot study of cockroach sublingual immunotherapy in cockroach sensitive children with asthma and/or perennial allergic rhinitis") immunotherapy trial. The proposed studies are addressing the hypothesis that CR SLIT will induce CR-specific CD4+ and CD8+ regulatory T cells with enhanced ability to suppress CR-specific effector CD4+ T cell responses.
Dr. David Khan is conducting various research projects in adults focused on understanding the mechanisms of nasal polyp disease, mood disorders and asthma, rush immunotherapy, and assessment tools for rhinitis and urticaria.
View a list of active IRBs.