Meet Our Residents
2016-2017 Chief Residents
It is with great pride that we announce the 2016-17 Chief Residents for the Pathology Residency Program. On April 1, 2016, the two new Chief Residents in Pathology took office. Both are outstanding residents with strong backgrounds in educational and administrative activities. They will serve through March 31, 2017. We look forward to our 2016-17 Chief Residents serving as teachers, role models, and colleagues to our residents:
Christopher Hauch, M.D. - AP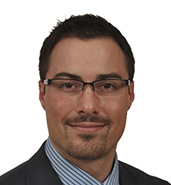 Chris is a native of Michigan. He received his B.S. degree summa cum laude in Biomedical Science from Western Michigan University in Kalamazoo, where he was a member of the Phi Beta Kappa and Alpha Lambda Delta Honor Societies and participated in a two-year undergraduate research project elucidating the population genetics of a species of wasps by analysis of their microsatellite and variable tandem repeat genetic profiles.
He gravitated further from his original career goal of the law with volunteer duties in local surgery and emergency departments and part-time work in the university's research animal care facility. However, a chance pathology elective in his senior year of college gave him an early awareness of the possibilities of a career in pathology.
Before medical school, Chris was a middle school wrestling coach for a season and volunteered as a hospice care companion. At Ross University School of Medicine, he placed in the top of his class academically and was chosen to serve as student representative on the Dean's Grievance Committee. He confirmed his interest in pathology with electives at Covenant Pathology Associates in Saginaw, MI.
As a resident at UT Southwestern, Chris began in an AP/CP track but switched to AP-only at the end of his first year of training, as his professional focus crystalized. Chris's interpersonal and organizational skills were recognized by his selection as co-Chief Resident for the 2016-2017 term. He will be staying at UT Southwestern after the conclusion of his residency for a fellowship in Neuropathology, and beyond that he plans a fellowship in Forensic Pathology for 2019.
Chris's domestic pleasures include morning coffee with his wife and outdoor grilling and barbecuing for friends and family. He also enjoys horror and suspense thriller novels and listening to the music of Def Leppard, Whitesnake, and Guns n' Roses.
Megan Wachsmann, M.D. – AP/CP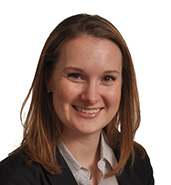 As an undergraduate in Biochemistry at the University of Texas in Austin, Megan was the youngest-ever recipient of a Beckman Foundation Scholars Award for her research project on HIV inhibition with aptamer therapy. After graduation, she worked for two years in Molecular Diagnostics at the M.D. Anderson Cancer Center on assays for tumor markers, minimal residual disease, and therapeutic effectiveness.
As a student at UT Southwestern Medical School, Megan did a summer project on RNA silencing in a zebrafish model with Dr. James Amatruda and took two years out of the medical school curriculum for a Master's program under Dr. Ellen Vitetta on dual immunologic targeting of tumor cells and angiogenesis in pancreatic cancer xenografts. Megan served on UT Southwestern's Medical Student Elective Committee and as a student representative on the Women in Science and Medicine Advisory Council.
She has a deep personal interest in oncology and initially felt that this would be best fulfilled through an Internal Medicine residency at the University of Massachusetts, where she was for the 2012-2013 academic year; however, she concluded that her true calling lies with pathology and laboratory medicine, and joined the Pathology residency at UT Southwestern through the 2013 National Residency Match.
In her first year with us, Megan has further pursued her interest in oncology through research projects with Dr. Agnes Witkiewicz, presenting abstracts on "MCT4 defines a metabolic subtype of pancreatic ductal adenocarcinoma with poor prognosis and provides a potential therapeutic target" and "Composite alteration in glycolytic metabolism and autophagy are associated with poor prognosis in pancreatic ductal adenocarcinoma" at the 2014 meeting of the U.S. and Canadian Academy of Pathology, and she has continued this trajectory of scholarly activity with two additional abstracts on "Composition of the immune infiltrate in pancreatic adenocarcinoma and impact on survival" and "C-MYC amplification in pancreatic ductal adenocarcinoma is associated with poor outcome and adenosquamous subtype" at the 2015 USCAP meeting.
Megan's leadership qualities were recognized in her selection as co-Chief Resident for the 2016-2017 term. She plans to remain at UT Southwestern for sequential fellowships in Molecular Genetic Pathology in 2017 and Gastrointestinal and Liver Pathology in 2018.
Away from work, Megan enjoys live music, sporting events, running, dancing, reading, cooking, great food, picnics, and time spent with family and friends.