Meet Our Residents
2017-2018 Chief Residents
It is with great pride that we announce the 2017-18 Chief Residents for the Pathology Residency Program. On April 1, 2017, the two new Chief Residents in Pathology took office. Both are outstanding residents with strong backgrounds in educational and administrative activities. They will serve through March 31, 2018. We look forward to our 2017-18 Chief Residents serving as teachers, role models, and colleagues to our residents:
Seema Jabbar, M.D. – AP/CP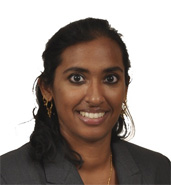 Seema was born in Los Angeles but went to college at Emory University in Atlanta, where she was inducted into Phi Beta Kappa and graduated in only three years with a B.S. in Biology. She spent one summer as a research technician at the Centers for Disease Control and Prevention and also worked as a teaching assistant and tutor in biology and organic chemistry. She pursued undergraduate research on the effect of corneal electrical stimulation in a mouse model of retinal degeneration, which led to a year as a research assistant in the Department of Ophthalmology. At the Medical College of Georgia, Seema again worked as a tutor and freshman mentor and also lectured to allied health professionals. She distinguished herself academically with awards for excellence in anatomy and anatomical sciences and was inducted into the Alpha Omega Alpha Honor Society. Although active in the Ophthalmology and Neurology student interest groups, an elective in Pathology settled Seema's specialty choice, and she did a subsequent medical student elective at UT Southwestern in late 2013. As a resident at UT Southwestern, Seema was attracted early on to Cytogenetics but has settled on Cytopathology as her fellowship choice. Seema's hobbies include pencil drawing and pottery.
Paul Yell, M.D. – AP/CP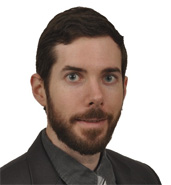 Paul is originally from Corpus Christi, Texas, and received his B.S. degree summa cum laude from Baylor University on its "University Scholars" track, with a curriculum of studies that included both biology and philosophy. He entered medical school at the University of Texas Health Science Center at Houston with the intent of pursuing Family Medicine, and his activities there included participation in the Texas State Preceptorship Program in rural family medicine, serving as an advisor in the National Youth Leadership Forum on Medicine, and participating in the MedKids educational outreach program for elementary school students. He served as the vice president of the student interest group for Family Medicine, and in 2012 he matched to the Central Washington Family Medicine Residency Program in Yakima, Washington. He soon realized that his professional interests lay in Pathology, however, and he left residency and took a postdoctoral research position with Dr. Charles White of the Division of Neuropathology at UT Southwestern, which he held until entering our Pathology residency program in 2014. While in Neuropathology, he was the point person for digital slide imaging and applied his knowledge toward refining image analysis algorithms for an NIH-funded study of white matter pathology in the brains of autopsied dementia patients and for adapting the technology for the educational endeavors of the division. As a Pathology resident, Paul has become involved in several further projects in Neuropathology and he will remain at UT Southwestern for a Neuropathology fellowship to being in 2018. He also applied his skills in digital slide imaging to the benefit of the educational resources of our renal pathology rotation. Paul lists his outside activities as playing tennis, lifting weights, running, playing piano, and reading literature, popular science, and philosophy.