Careers in Cell Biology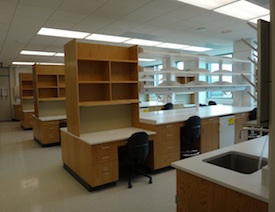 We moved into brand-new laboratory space on the North Campus in June 2013, joining other basic and clinical research departments in the new Biomedical Research Building. This move provides an opportunity to recruit new colleagues. Our lab design allows for open connections between groups and we are seeking colleagues whose research programs can benefit from a synergistic and interdisciplinary collaborative environment both within the department and across the medical center.
The central question in cell biology in this post-genome era is how genotype confers heterogeneous phenotype, both during normal cellular differentiation and in pathological states. We seek colleagues interested in understanding complex cellular behaviors and the mechanisms and pathways that control them. This complexity is manifested in all cellular processes, including signal transduction, vesicular trafficking, cell migration and morphogenesis, stress responses, and also in disease states. Look for our recruitment ads on sciencejobs.org and in other venues.
We are also open to hearing from exceptional candidates at all faculty levels throughout the year. Inquiries should be addressed to Sandra Schmid, Ph.D., Chair. sandra.schmid@utsouthwestern.edu
Please include your CV and indicate in your cover letter the significance and impact of your research accomplishments to date, your future research interests, and how your research program will benefit from and be a benefit to the Department of Cell Biology and UT Southwestern Medical Center.