Student Profiles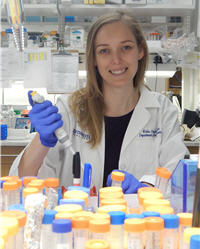 Katie Schaukowitch
Neuroscience Graduate Program
Mentor: Tae-Kyung Kim, Ph.D.
Hometown: Palo Alto, California
Awards/Fellowships: NIMH T-32 training grant, Society for Neuroscience travel award, Keystone Symposia for the Neuroepigenetic travel award
I was always interested in science, and biology in particular throughout school. Taking a cognitive science course in college introduced me to neuroscience, and how there is still a lot we don't know about the brain.
I found the research going on at UTSW to be really exciting, and everyone in the program was knowledgeable and welcoming. After my interview weekend, it just felt like a really good fit.
"There is exciting research going on, amazing facilities and resources, and an overall great environment to do science at UTSW."
My research project aims to understand the role of a recently discovered class of long noncoding RNAs that are transcribed from the enhancers of genes that respond to neuronal activity, named enhancer RNAs (eRNAs). The genes that are turned on in response to experience are known to be critical for learning and memory, and deficits in these processes are often seen in psychiatric disorders such as autism or schizophrenia. Understanding how eRNAs can facilitate the transcription of their target genes adds another layer of regulation to the process that is able to turn on specific sets of genes in response to specific stimuli.
At UT Southwestern there are top researchers in the field studying diverse aspects of neuroscience. Coming in under an umbrella program of biomedical sciences, even if you already know the program you want to join, is helpful as it exposes students to the other types of research being performed on campus, and fosters collaboration, which is particularly important in such an interdisciplinary field as neuroscience.
---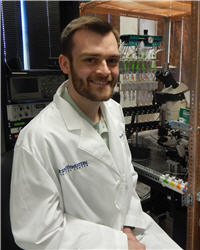 Wayne Doyle
Neuroscience Graduate Program
Mentor: Julian Meeks, Ph.D.
Hometown: Benicia/Napa, California
Awards/Fellowships: T32 training grant, Honorable Mention for National Science Foundation grant application
I first became interested in biology due to an amazing physiology teacher that I was lucky to have in high school. She showed me that biology could be fun, exciting, and full of unknowns just waiting to be explored. I quickly realized that I loved planning experiments and the thrill discovering something previously unknown about how biology works. After finishing the experiments needed for my first publication I realized that I wanted to pursue research as a full-time career.
I was extremely impressed by the quality and the breadth of research being performed at UT Southwestern. I quickly realized being a graduate student here would train me to become a skilled scientist with experience in a wide range of techniques and research areas due to the strong level of collaboration among different laboratories. On a more personal note, my parents worked and met at UT Southwestern so I grew up hearing about the strengths of UT Southwestern and Dallas.
"The best part of the Neuroscience Program is its open and collaborative nature between faculty, laboratories, and students."
The research being performed in the Neuroscience Program covers everything: from how synapses function on a per vesicle basis to how neural circuit activity can produce behaviors and store memories. This wide range of research ensures that no matter what your research interests are you will be able to find a laboratory and a project. The diverse knowledge of our faculty and the strong level of collaboration among laboratories give trainees the resources needed to produce strong research and become well-rounded, successful scientists.
I work in the laboratory of Dr. Julian Meeks and we study the accessory olfactory system, a specialized chemosensory pathway present in rodents and many other animals, as a model to understand how the brain is able to sense, process, and respond to information about the environment. I am investigating a new class of chemosensory cues for this system, and trying to determine how neurons extract information from these cues in the presence and absence of neuromodulators like noradrenaline. This research will allow us to gain a better understanding of how the brain interprets environmental stimuli and how that interpretation can be altered through the release of specific neuromodulators.
---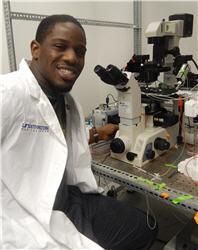 Olusoji (Yemi) Afuwape
Neuroscience Graduate Program
Mentor: Ege T. Kavalali, Ph.D.
Hometown: Lagos, Nigeria
Awards/Fellowships: NIMH MD/PhD Student Conference Travel Award Recipient, Carl Storm Underrepresented Minority Fellowship Recipient
As a kid, I daydreamed quite often about discovering something that will be taught in schools. Back then, I mostly was inspired by great physicists but as I grew older I became more interested in unraveling the mysteries of the brain and how it functions.
I believe the Neuroscience Program at UT Southwestern in one of top programs in the country due to the combination of both the science here as well as the people doing the work. Regardless of the profile, faculty are approachable and available to meet with students. This is very encouraging, especially for a student yet to decide on a lab.
"I chose UTSW for both its clinical excellence as well as its exceptional molecular scientific research."
In most undergraduate neuroscience courses, we are taught about synaptic transmission and the release of neurotransmitters from synaptic vesicles. We are taught about the SNARE proteins and how they complex together in the presence of calcium to release neurotransmitters in the synaptic cleft allowing for transmission. However, it is still unclear how synaptic vesicles are recycled to sustain this cycle. This process is becoming a focus of interest in some neurodegenerative diseases such as Parkinson's Disease (PD) as more PD genes are functionally implicated in the recycling of synaptic vesicles. My project specifically studies the protein dynamin and its function in synaptic vesicle endocytosis.
Exceptional scientific research is done here at UTSW by world renowned scientists. In addition to that, Dallas is a very graduate-student-stipend friendly city in comparison to other places. So not only do you get great training, you get to live a very comfortable life outside of lab. You can't put a price tag on that.