Student Profile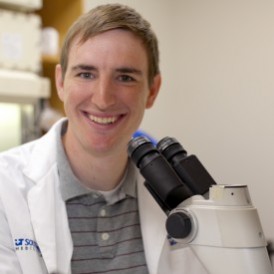 A self-avowed "science nerd" who has been fascinated with microbes all his life, Robert Orchard studies the molecular mechanisms of bacterial pathogenesis. His research emphasizes the biochemical, cellular, and pathogenic means that secreted "effector" proteins exert on host cells. The goal of the research is to better understand both microbial pathogenesis and the cellular functions targeted.
"Because microbes have a close connection with their host, I feel that studying host-pathogen interactions provides an opportunity for me to perform research that provides information on both human physiology and infectious disease," Robert said. "Additionally, the Molecular Microbiology Graduate Program at UT Southwestern Medical Center prepares students with a wide array of topics including immunology, bacterial physiology, virology, and even cell biology. Graduates are well situated to pursue careers in a diverse set of fields, which is what attracted me to this Program."
Robert is from Abilene, Texas, and earned a bachelor's degree in microbiology from Texas A&M University.
Robert Orchard
Molecular Microbiology Graduate Program
Mentor: Neal Alto, Ph.D.