Student Profiles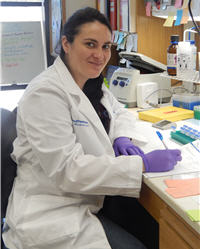 Ashley Hoover
Immunology Graduate Program
Mentor: Nicolai van Oers, Ph.D.
Hometown: Mountain View, Oklahoma
Awards/Fellowships: NIH NIAD T32 Training Grant Fellowship, Ruth L. Kirschtein National Research Service Award (F31 Predoctoral Fellowship), Academic Excellence Award
As a first generation college student, I was somewhat adrift in what career to pursue, as I was interested in so many different disciplines. With a big interest in science, I began taking classes that pre-medical students take. Once introduced to research, I knew it was the career for me. While I enjoyed my time in an organic chemistry laboratory, I knew I wanted to do my graduate research and future research in something directly related to human disease.
Choosing UTSW for graduate school was easy for me. As a student you enter into an umbrella program so you do not have to choose what field of study you want to specialize in right away. This allows the students to explore their interests and rotate in laboratories, which are not in the same field of study or department, to really discover what science interests them most. Additionally, UTSW provides state of the art research and core facilities in which to perform research. This university provides an excellent opportunity to perform cutting edge research as well as receiving feedback from experts in the respective field. With the localization of three hospitals being here on campus, it makes acquiring patient samples and bench-to-bedside research much more feasible in order to progress in ones research to treat human disease. More importantly, this university allows students to be highly competitive for receiving individual fellowships and grants by providing an environment necessary for cultivating young independent scientists.
"The opportunities for collaboration on this campus are immense and several top notch private investigators call UTSW their home."
The Immunology graduate program at UT Southwestern has generated several successful scientists over the years including a Nobel Prize winner. As one of the oldest Immunology departments in the country, this program has continued to grow and adapt as time and knowledge has progressed. First and foremost students are a top priority as they are here specifically for training and education. Feedback on course work, seminars, and the qualifying exam is important to the faculty and something they take seriously when it comes to trying to provide a better education for the students. This openness and willingness to change and listen to the staff and students has allowed this program to continue to flourish and provide a top notch education for students entering graduate school and undergoing training.
My current research is focused on defining the role of a microRNA, miR-205, in the functions of the thymus, an organ solely responsible for the development of T cells. This miR regulates T-cell output during normal and stress conditions by regulation of chemokine/chemokine receptors, and the thymus master transcriptional regulator Foxn1 in thymic epithelial cells.
---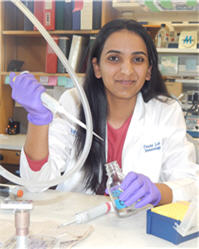 Aakanksha Jain
Immunology Graduate Program
Mentor: Chandrashekhar Pasare, Ph.D.
Hometown: Jaipur, India
Award: Streilein Award for best performance in the IGP qualifying exam
I believe that research in basic science has all the qualities that one can ask for in a dream job. The pursuit to find the unknown is not only highly engaging and thrilling but also gives you a real shot at making a difference on a large scale.
The outstanding faculty including many Nobel laureates, National academy members and Howard Hughes investigators at UTSW put it on top of my list. The umbrella program at UTSW was another very attractive feature to me. Coming in from an engineering background I wanted the opportunity to explore different fields of research before joining a specific program. The graduate school curriculum is designed for such open minded people, which is something not many schools offer.
"There is a deep seated culture of collaboration that helps projects move forward faster and equips us to take new directions."
In my research, I am trying to understand how our immune system, specifically T cells, start attacking our own cells in diseases like rheumatoid arthritis, multiple sclerosis etc. I have identified the immune checkpoints that keep the T cell responses restricted in a non-pathogenic scenario while making sure to mount a rapid response during infections. The idea is to unravel basic biology of T cell responses in order to inspire improved therapeutic options for both autoimmune diseases as well as immune suppression.
The research labs associated with the program have made significant contributions to the field of innate sensing, autoimmunity as well as host-commensal interactions. The faculty is very friendly and focused on quality training. Having access to cutting edge technology like a highly advanced sequencing core, germ-free mouse facility etc. allows us to ask challenging questions that have never been possible to be answered before.
---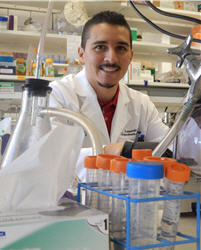 Leo Estrada
Immunology Graduate Program
Mentor: J. David Farrar, Ph.D.
Hometown: Ciudad Juarez, Mexico
Awards/Fellowships: Cell and Molecular Biology Training Grant fellowship, Minority student training supplement to mentor's R01 grant, Integrative Immunology Training Program fellowship
After taking an international baccalaureate diploma program in a pre-engineering high school, I decided I wanted to divert my studies and instead learn more about biological sciences. That is when I decided to start my studies in Microbiology at the University of Texas at El Paso. Like many other people, I started as a pre-med student, since I did not know there was more aside from being a physician. After taking Molecular Cell Biology, I was introduced into the research side of the biological sciences. I talked to a professor in the department and started my endeavor into Immunology research.
"My program allows me to understand and utilize many different techniques that can be useful across disciplines."
I am currently working on the effect of adrenergic signaling on cytotoxic T lymphocytes (CTLs). Adrenergic signaling on CTLs is exerted through nor-epinephrine binding to the beta2-adrenergic receptor (ADRB2). We have found that signaling through the ADRB2 down-regulates immediate CTLs effector functions and promote the formation of long-lasting memory. Our research is relevant to many areas of human health, including viral and intra-cellular bacterial infections, cancer, and vaccinations, among others.
The interdisciplinary nature of the program faculty, efforts of current students to increase the standards of training and collaboration within the program, great interest of faculty in the training of students and a top research institution are all reasons I believe are what makes the Immunology program at UT Southwestern on of the top programs in the country.
---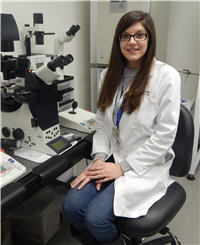 Julia Hankins
Immunology Graduate Program
Mentor: Bruce Beutler, Ph.D.
Hometown: Carrollton, TX
Awards/Fellowships: Mechanisms of Disease Training Grant, Integrative Immunology Training Grant, Streilein Chair's Discretionary Award, NSF Graduate Research Fellowship Honorable Mention
I first got started in research during my undergraduate studies. I was able to have many diverse experiences then– in a chemistry lab studying inorganic nanoparticles and in a microbiology lab studying plant/bacteria symbiosis. I really enjoyed these different fields and wanted to continue to do research that was medically related. What I enjoy about research is that it is never unimportant. Discoveries build upon each other, so that even if you don't cure a disease, you may find a discovery that is vital to developing a cure in the future.
I currently study lupus, an autoimmune disease that affects the whole body. In my research I am studying the genetic causes of lupus in a new mouse model we developed in order to identify possible therapeutic targets that have been missed in the past.
"I truly felt then, and still feel now, that everyone at the school wants to see you develop and succeed as a scientist."
The most exciting part of graduate school at UTSW for all programs is the interactions with the medical students and physicians on campus and at the many associated hospitals. I have had several collaborations with physicians, which enabled me to see patients and aid in their research. Since this is a teaching medical school, M.D.s are always willing to help teach students, which provides many opportunities to work on research that is directly-related to human disease. This aspect of UTSW is not found at all schools, which may focus on teaching or basic research alone. Instead, UTSW provides a very well-balanced atmosphere for students that include the teaching and basic research opportunities like other universities, but also the medical research and positive collaborative relationships amongst different fields.
The Immunology Program at UTSW is a small community of students and highly-innovative professors. I find all the professors to be very interactive with students and really aim to improve their abilities. They provide many opportunities for students to grow by offering poster sessions, presentations, and private meetings with important professors from other universities. I really appreciate how they are sincerely interested in what the students would like and need for their education and career development and try to supply those necessities.