Student Profile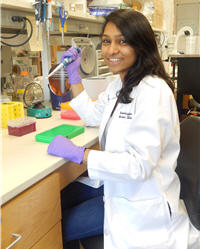 Hema Manjunath
Genetics, Development and Disease Graduate Program
Mentor: Joshua Mendell, Ph.D.
Hometown: Davangere, India
As a child, I was fortunate to have wonderful teachers and learning environments that allowed me to grow up indulging my curiosity. Doing research feels like a grown-up version of that same indulgence, and so it feels very natural to me. I realized this as soon as I started working independently in a lab – as an undergraduate summer student in Dr. David Berman's lab at Johns Hopkins Medical School – and immediately decided that I wanted a career in research.
I've always been interested in studying the biology of disease states and so, UT Southwestern, with its focus on disease research, was a perfect fit. Beyond this, the school presented opportunity to receive excellent graduate training in a collaborative atmosphere, which was very important to me. I am studying the molecular mechanisms of a pediatric kidney cancer called Wilms tumor; specifically, whether misregulated developmental programs in the fetal kidney result in the formation of these tumors in children. My research began with interesting preliminary data from clinical samples obtained here at UTSW and aims to end in important molecular understanding that will help develop better therapies for use in the clinic.
"One of the best things about being trained here is having access to a large network of people that you can collaborate with and learn from."
The GDD program provides a great learning environment for graduate students – with mentors who are invested in the success of their students, labs doing creative research in diverse fields and access to excellent personnel and resources. My research and overall scientific development have benefited enormously from interactions with physicians and scientists in my lab and outside it. Ultimately, as a scientist-in-training in the GDD program, I feel like I am part of a scientific community and I love that.