Student Profile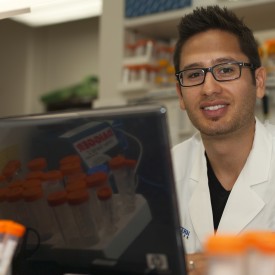 Miguel Angel Mata was born and raised in Ciudad Juarez, Chihuahua, Mexico. He moved to El Paso, Texas, in the summer of 1998 as a 12 year old.
"The first few years were difficult as I left some of my family and all my friends back home, but the rewards were going to be much greater in the long run," Miguel said.
Miguel became interested in science while taking basic biology courses at the University of Texas at El Paso (UTEP). As a way to pay for college, he applied to a scientific program that was available for minorities which exposed undergraduate students to scientific research, something he had never experienced before.
By the time he completed his undergraduate studies, Miguel knew he wanted to pursue a doctoral degree in Genetics and Development.
"UT Southwestern was the best fit for me, offering cutting-edge research and great sense of camaraderie among scientists," he said.
Currently, Miguel is working with a small molecule that impairs the replication of diverse viruses, and he is attempting to elucidate the mode of action of his compound.
"If you are looking for a university with diverse research, extraordinary student-PI relationship, located in a city that offers great food and professional sports, you should come to UT Southwestern," he said.
Miguel Angel Mata
Genetics and Development Program
Mentor: Beatriz Fontoura, Ph.D.