Student Profile: Kamini Krishnan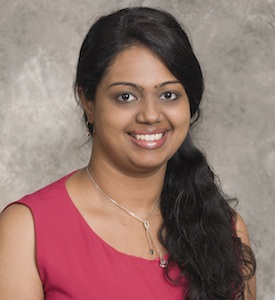 Kamini Krishnan's fascination with brain-behavior relationships began with her upbringing in culturally diverse countries. It led her to pursue dual bachelor's degrees in neuroscience and psychology as well as a Master's in Psychological Sciences at the University of Texas at Dallas.
Her research experience at UT Dallas began with rats, investigating neural plasticity in the auditory cortex at the Cortical Plasticity Laboratory.
During her master's studies, she investigated the efficacy of a novel cognitive intervention in individuals with traumatic brain injury at the Center for Brain Health at UT Dallas. Kamini's clinical experiences included interning at a private neuropsychological practice and volunteering for a crisis line. Her continued passion for neuroscience and therapeutic services led her to the Doctoral Program in Clinical Psychology at UT Southwestern Medical Center, with an emphasis in neuropsychology.
"UTSW's Clinical Psychology Program is well-suited to my interests given that it is housed in a medical setting and also offers a variety of clinical and research opportunities within the University and in the community, which is rare," Kamini said. "The in-house APA-accredited internship was a welcome bonus!"
During the past three years at UT Southwestern, Kamini has worked as a research assistant with Carlos Marquez de la Plata, Ph.D., Assistant Professor of Psychiatry, using neuroimaging techniques (such as resting-state functional connectivity and diffusion tensor imaging) to explore the neurobiology associated with neurological dysfunction in individuals with traumatic brain injury. She has also assisted Myron Weiner, M.D., Professor Emeritus of Psychiatry, Neurology, and Neurotherapeutics, investigate topics such as the stability of brief cognitive screening instruments.
She completed the first half of her internship with the Neuropsychology Lab at UT Southwestern, administering neuropsychological assessments, writing reports, and providing feedback to a diverse population of patients.
Kamini said she's excited to begin the second half of her internship at the Parkland Consult Liaison Service.
In addition to her research and clinical interests, Kamini serves as President of Clinical Psychology's Diversity Club and the Association of Neuropsychology Students in Training (ANST).