Student Profile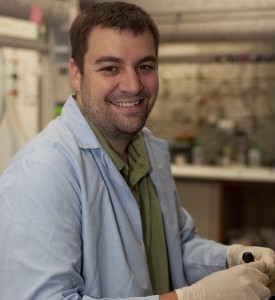 John Butler grew up in San Bernardino, Calif., and earned a Bachelor of Arts in Chemistry from the University of San Diego. While an undergraduate, John realized that a career as a physician was not for him. After being exposed to organic chemistry in academia and biotech, he decided to seek out interdisciplinary training in chemistry at UT Southwestern.
"Two factors influenced my pursuit of a Ph.D. at UT Southwestern: interdisciplinary training at the chemistry/biology interface and a free Internet application," John said. "The first reason is apparent in my research on the synthesis of complex natural products, which were selected based on their biological promise."
In his research, John has synthesized a family of natural products called kibdelones. These compounds selectively kill cancer cells by an unknown and novel mode of action. They also provide quite a synthetic challenge and have resulted in the development of new chemical reactions.
"The small size of the program that I am in allows for unique training and great interaction with the entire faculty," John said. "The unique academic challenge along with the favorable cost of living in Dallas has made graduate school here very enjoyable."
John Butler
Chemistry Training Track
2011 graduate
Mentor: Joseph Ready, Ph.D.